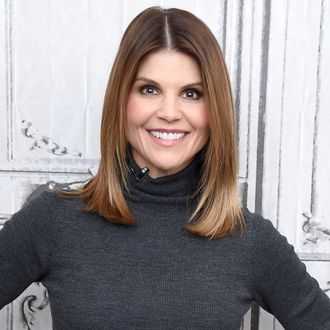 Lori Loughlin.
Photo: Gary Gershoff/Getty Images
Lori Loughlin was filming in Canada when federal authorities attempted to take her into custody yesterday, but she flew back to Los Angeles this morning to turn herself in for her role in the college admissions scam that overtook the news on Tuesday. Loughlin's husband, Mossimo Giannulli, was arraigned yesterday and has since been freed after posting bail. Deadline reports that the actress also went free today after surrendering her passport, agreeing to travel restrictions, and paying a $1 million bail bond.
Loughlin's fellow scammer parent, Felicity Huffman, was taken into custody on Tuesday after the story broke, and like Loughlin, is now free on bail. (Her bond was a more modest $250,000.) Both women are accused of participating in a widespread scam to manipulate the college admissions process for the benefit of their children. In the case of Loughlin and her husband, prosecutors allege that the couple paid $500,000 to an "admissions consultant" named William Rick Singer who helped to fraudulently present their daughters as crew-team recruits for the University of Southern California. Neither of them, in fact, row.
Singer, who runs a nonprofit college-prep company in Southern California, is at the center of the investigation, and is alleged to have been paid an estimated $25 million for his "services" over the years. In the context of Operation Varsity Blues, as the racketeering conspiracy case was dubbed by law enforcement, it is alleged that all those indicted worked in conspiracy to get underperforming students into some of the country's most elite higher-learning institutions by using bribes that ranged from a few thousand dollars up to $6 million. The case spans six states between 2011 and 2019, and involves forging photos of kids playing sports, paying off exam proctors, manipulating disability guidelines to get able-bodied students access to specialized testing conditions, and more.
According to TMZ, Loughlin's daughter Olivia Jade — who did get into USC and is currently a student there — is currently spending her spring break in the Bahamas with the chairman of the university's board of trustees, as she is a longtime friend of his daughter.