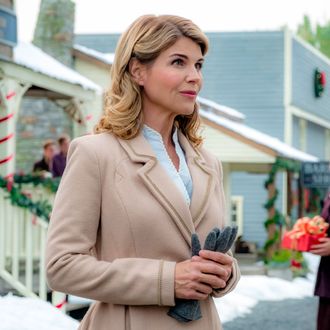 Lori Loughlin.
Photo: The Hallmark Channel
Days after the Hallmark Channel cut ties with Lori Loughlin due to her alleged involvement in the college admissions bribery scandal, her tentpole show for the network is taking an indefinite break as it figures out what to do next. The showrunner for When Calls the Heart, the popular drama Loughlin has been starring in for the past six seasons, confirmed on social media that while the show will continue on, the writers room needs some time to figure out how to deal with Loughlin's sudden absence. "We know millions of fans are on pins and needles wondering what will happen now," a statement from Brian Bird read. "Let us reassure you, When Calls the Heart has always been bigger than the sum of its parts, and it has not been cancelled. With the full support of the network, we have gone on a creative hiatus to do some retooling on the remaining season 6 episodes. That process has already begun. Hope Valley will return to your TV screens as soon as we can bring the episodes to you."
In addition to the Hallmark Channel — the home of When Calls the Heart, as well as Loughlin's long-standing Garage Sale Mysteries film series — Loughlin will also not be returning to her other primary acting gig, Fuller House. Netflix sources confirmed that the streaming service has "no plans" to have Loughlin reprise her role of Aunt Becky in the upcoming final season.