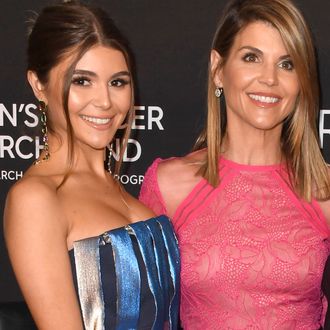 Olivia Jade Giannulli and Lori Loughlin.
Photo: Frazer Harrison/Getty Images
Few things have rocked Hollywood quite as much as the now infamous college admissions scam. And now it looks like even Bo Burnham's indie darling coming-of-age film Eighth Grade has found a direct tie-in. Refinery29 first reported what astute movie goer Lana Schwartz pointed out on Twitter: Olivia Jade, whose mother allegedly did a big crime to get her into USC, makes an appearance in the film when Kayla, played by Elsie Fisher, watches one of her videos. But don't flip out, it's not the blowjob tutorial, that honor went to Dr. Kat. It's the other thing teens use YouTube for: make-up tutorials! It's a good watch if you're interested in learning how to doll yourself up for class OR court. And, bonus trivia: if this is reminding you you'd like to rewatch Eighth Grade, it's currently streaming on Amazon Prime.