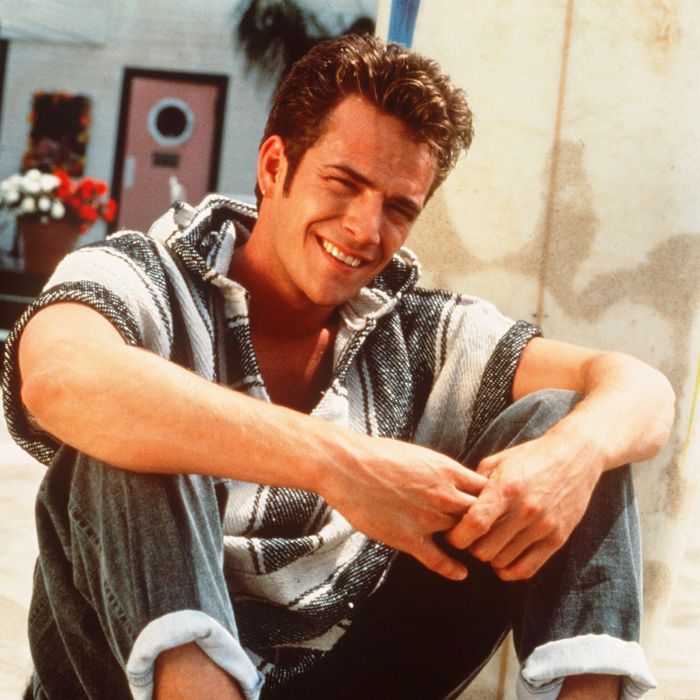 Luke Perry.
Photo: Spelling/Kobal/REX/Shutterstock
The first time I remember seeing Luke Perry wasn't as the iconic teen heartthrob Dylan McKay from Beverly Hills, 90210, but a still image. Shirtless, eyebrows furrowed, a gun lazily held in his lap like an afterthought, on a 1992 cover of Vanity Fair. Rather than the typically closed-off machismo of stars of his ilk, Perry projected a chill kind that read as an invitation.
For an entire generation, Perry, who died following a stroke on Monday, reimagined the sensitive bad boy with such an authentic cool, much of teen pop culture continues to exist in his shadow. Like all actors who exist at the intersection of virility and vulnerability, Perry was often compared to James Dean. But he added a new texture to this lineage. He wasn't fiery like Dean could be, or as angelically tender as other '90s icon River Phoenix. He offered something different — a sort of centered quality that gave me the distinct impression whenever I watched him cut a mean leather-clad figure in Beverly Hills, 90210 that he knew the secrets of the world.
Perry was, of course, more than Dylan McKay. He brought the same vein of vulnerability that made 90210 a cultural touchstone to everything he did — from the Buffy the Vampire Slayer film, to his brief cameo among the space operatics of The Fifth Element, to a ten-episode run on HBO's gritty prison drama Oz.
But 90210 is the image most of us conjure when thinking of Perry, and there will never be another phenomenon quite like it. It set the template for teen soaps, reflecting the emotional excess and confusion of a generation at a time when various cultural boundaries — about selling out, capitalism, and desire — were being readdressed. At the center of it all was Dylan McKay. He's such a force in 90210, it's surprising to remember that he doesn't appear until the third episode. When we meet him, he's a dark figure emerging from the shadows in the computer lab to defend Scott Scanlon (Douglas Emerson) from two hulking bullies, while Brendan Walsh (Jason Priestley) stands by in slack-jawed wonder. "I am not in a good mood today. In fact, I'm feeling a little hostile," he says in a measured tone as his immaculately coiffed chestnut hair and glare seem perfectly lit by the fluorescent lighting in ways no mere mortals ever experienced. He doesn't raise his voice or draw his fist, yet he stuns everyone in the room into silence. He's menacing without being violent, tender with an edge of intrigue. In his first few minutes on the show, Dylan conveys a quality all teens yearn for: a complete understanding of yourself and your place in the world. When he's seen a few minutes later, he's crouched on the steps reading, as the rest of the world passes him by. You get to see him full-on now. The black Chuck Taylors, black jacket, jeans, and white shirt update the iconography Dean established in Rebel Without a Cause.
Without Perry's fiercely tender portrait of a teenage bad boy with hidden depths, shows like Gossip Girl, Dawson's Creek, and, of course, Riverdale wouldn't exist. These shows are playing with the tools that Perry, and 90210, created. Many actors that populate teen soaps, or are trying to craft their niche as stars, have tried to replicate Perry's particular blend of charisma and tenderness. You can see echoes of it in the careers of Noah Centineo, Timothée Chalamet, and, of course, Cole Sprouse, whose vision of Jughead is a pale imitation of Perry's effortless cool. Each of these actors uses vulnerability as part of their star image. Perry still has an allure all these years later because he felt more earthbound and more sincere than other visions of the tenderhearted bad boy that have come along since. Ultimately, what Perry had was authenticity.
Recently, Perry has been most associated with his starring role on the CW's Riverdale. What could have been a forgettable, passing-of-the-torch role as the father to K.J. Apa's Archie Andrews holds a surprising amount of pathos. Perry walks as if with an awareness of his own past — both as the teenager the show imagines Fred Andrews once was, and the icon he represents in the minds of those who grew up with Dylan McKay. Whenever he extols advice to Archie — who often decides to operate by his own set of rules — he gives the impression that this wisdom was hard-fought for, during his own wild, bygone years. After all, Perry himself survived the stardom that came with 90210, when he was in his early 20s. Watching him on Riverdale only brings to the fore how instrumental his work on 90210 remains in the pop-culture landscape.
I met Perry a couple years ago, when I moderated a panel on Riverdale at Vulture Festival. While the screams and cheers may have been for the new crop of would-be teen-soap icons surrounding him, I was most excited to be in Perry's presence. He carried himself with the same genuine warmth and centered coolness I remember staring up at in awe as a kid. He was the kind of man who suggested, with a mile-long stare and a wry grin, that in being cool, we didn't have to sacrifice the vulnerabilities and tenderness that make us human.