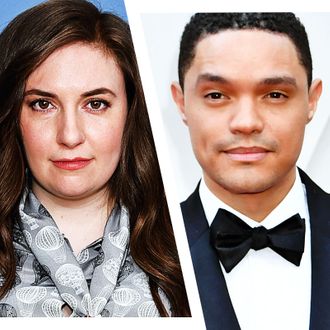 Lena Dunham and Trevor Noah.
Photo: Getty Images
Looks like Lena Dunham, Trevor Noah, Russell Brand, Hannibal Buress, and Patti LuPone now have more than just normal celebrity stuff to talk about. They've all signed on to work with Luminary, a new subscription-based podcast service launching this spring. Big-shot hosts Leon Neyfakh, Guy Raz, and Adam Davidson are also developing shows, which will be available exclusively on Luminary.
Luminary, which will charge users $8 per month, aims to be the Netflix of podcasts, co-founder Matt Sacks explained to the New York Times. Yesterday, the company revealed that it had raised nearly $100 million from sources like New Enterprise Associates, the venture-capital firm where Sacks used to work. The subscription service will launch with more than 40 ad-free shows.
Offerings on the platform include brand-new shows from Dunham and Noah, as well as pay-walled continuations of Under the Skin with Brand and Handsome Rambler with Buress. LuPone's project takes things in a different direction. She worked with Hedwig and the Angry Inch creator John Cameron Mitchell on a musical podcast called Anthem: Homunculus, the cast of which also includes six Tony Award winners (Glenn Close is one of them).
New York Magazine is also a partner; we'll be launching a new show called Tabloid devoted to exploring tabloid scandals in-depth. Others developing new projects for Luminary include Conan O'Brien, Celeste Barber, and Malcolm Gladwell. Corinne Fisher and Krystyna Hutchinson's Guys We Fucked will also be moving there.
Podcasting remains largely an ad-based business, and Luminary's bold foray into premium content promises to be a major shake-up.