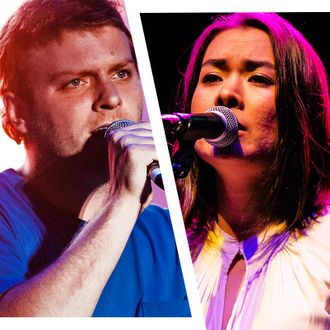 Mac and Mitski.
Photo: Getty Images
Earlier today, sweet, typically harmless indie boy Mac DeMarco announced his next album, Here Comes the Cowboy, and shared its first single, "Nobody." Perfectly innocuous. Utterly unremarkable. Right? Ho boy, you wish! As it so happens, be it by sheer coincidence, troll-y marketing, or willful ignorance, we've heard it all before. Just last year, actually, when light of our lives Mitski released her treasured album Be the Cowboy, well ahead of our present yee-haw cultural dominance. Its standout single? Also titled "Nobody."
How mad is the internet right now at the presumed theft by an average man of a woman's great work, you ask? Off the charts!
Mitski's original didn't fly under the radar — the album topped several year-end lists, including Vulture's — so how could Mac have been so clueless? Well, as it also happens, he preemptively acknowledged his project's likeness to Mitski in a statement from his rep, saying, welp, he never even listened to her album or knew it or her song "Nobody" existed until he'd already titled his, so no harm no foul. "This one is my cowboy record," he elaborated. "Cowboy is a term of endearment to me, I use it often when referring to people in my life. Where I grew up, there are many people that sincerely wear cowboy hats and do cowboy activities. These aren't the people I'm referring to."
For Mitski's part — whose opinion is the only one that matters here — she's not peeved. In fact, she finds the whole thing silly, as should we all, because look at who we're talking about. "'I'm 100% sure mac & I just went fishing in the same part of the collective unconscious!" she tweeted, noting that she and Mac share a publicist and so this was all likely a stunt not meant to roil the far corners of Indie Music Twitter. She continued, "I LOVE my personal conspiracy theory that she heard the album+track titles but kept quiet thinking maybe some Mac fans will mistakenly find me loll."
Okay, but who will invite Hozier's "Nobody" to weigh in on this debate?