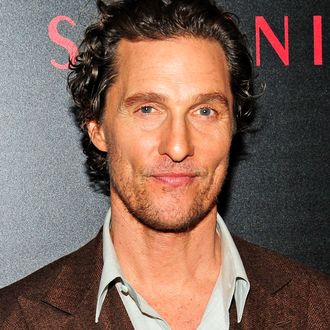 Matthew McConaughey.
Photo: Paul Bruinooge/Patrick McMullan via Getty Image
In The Beach Bum, perma-tanned Matthew McConaughey plays Moondog, Harmony Korine's newest pop poet-philosopher. But if GQ's profile of Korine is any indication, the real star of the movie isn't McConaughey (or Zac Efron, or Jonah Hill, or Isla Fisher) — it's McConaughey's ability to simply describe the character he plays. "Moondog's a verb. A folk poet. A character in a Bob Dylan song dancing through life's pleasure and pain knowing every interaction is another 'note' in the tune of his life," McConaughey told GQ, via e-mail. "His bliss of being high, hammered and freshly fucked, he'd rather shoot the lock than use the key. Not interested in the truth, he is inconsiderately ruthless in his quest for transcendence."
A close second to McConaughey's description of Moondog is his description of Korine. "Harmony, like Moondog, is ruthless," McConaughey said. "He demands that the world entertain him. His appetite for destruction makes him a birther of creations. He's inconsiderate, fair-weather, a great liar, will never promise anything, is non-possessive and has no affiliations. He needs controversy. To him, a boring person is a sinner. He needs the world to feed him and he wants to eat. He wants amusement, and will seek out less and less demanding people to be around so to get it. He obviously has the discipline to create art but I'll bet the idea of discipline enrages him." This should be a fun press run.