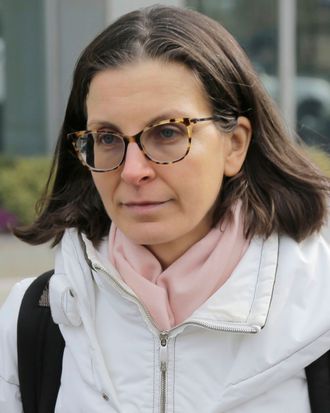 Clare Bronfman.
Photo: Seth Wenig/AP/REX/Shutterstock
Clare Bronfman, the Seagram liquor heiress charged alongside NXIVM leader Keith Raniere and Smallville actress Allison Mack in the infamous sex-cult case, nearly fell in court Wednesday during a dramatic proceeding in which it was revealed that disgraced celebrity lawyer Michael Avenatti had negotiated with prosecutors on her behalf.
Bronfman was asked by Brooklyn federal court judge Nicholas G. Garaufis whether Avenatti was now one of her attorneys. She presently counts Mark Geragos, who is reportedly an unindicted co-conspirator in Avenatti's extortion case with Nike, among her lawyers.
"It is now the court's understanding that she has an additional attorney who was in negotiation with [prosecutors] for her, but did not file a notice of appearance," the judge said, referring to the paperwork one must file to officially be an attorney on a case.
"I want the truth, did she retain Mr. Avenatti to represent her in this case? Yes or no?" Garaufis asked.
There was then a brief sidebar, apparently regarding this question. After it concluded several minutes later, Bronfman suddenly seemed unsteady on her feet and appeared on the brink of falling to the table.
An ambulance was called. After four firefighters and two EMTs arrived, Bronfman was then placed on a stretcher and taken into a conference room.
It was later revealed in open court that Avenatti and Geragos had met with prosecutors last week.
The Albany, New York–based NXIVM worked like a "pyramid scheme," offering courses "promising personal and professional development" that cost thousands. Participants, called Nxians, were encouraged to bring others in for classes. By recruiting others, Nxians could ascend the group's ranks, prosecutors alleged. Raniere was accused of leading a master-slave sect in NXIVM, named DOS. In this "secret society," women were allegedly branded with the 58-year-old's initials — and forced to have sexual relationships with him.
According to prosecutors, Bronfman had used her wealth to bankroll NXIVM's activities. They also alleged that Bronfman and Raniere "conspired to commit identity theft" by trying to get email usernames and passwords of people they thought were his "enemies and critics."
After the apparent medical episode, one of Bronfman's lawyers, Donna Newman, told the judge, "Ms. Bronfman is not feeling well… her skin has not come back to color. I believe she blacked out."
Bronfman exited court shortly after, holding Geragos's arm.