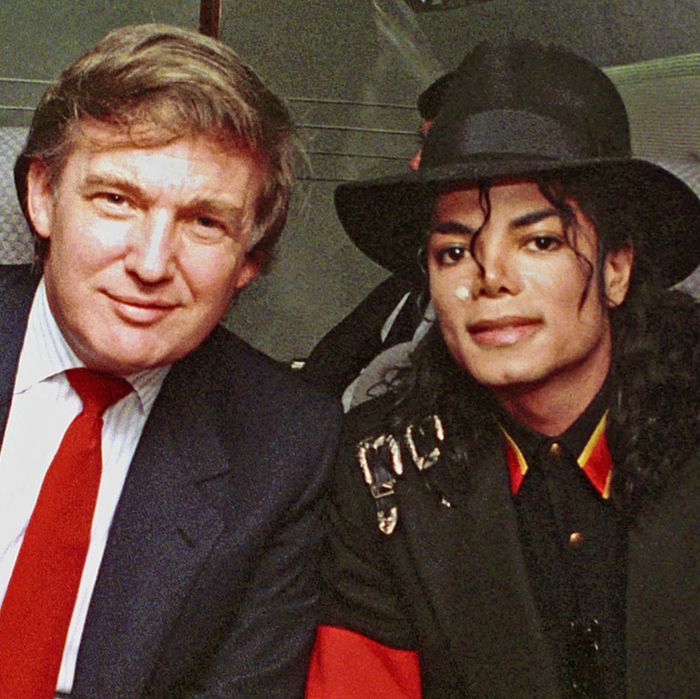 Photo: Donna Connor/FilmMagic/Getty Images
In the wake of HBO airing Dan Reed's Sundance-rattling, lawsuit-prompting doc Leaving Neverland, the late Michael Jackson's alleged history of child molestation and abuse has once again surged to the forefront of the cultural conversation. And once again, that conversation includes those who staunchly defend Jackson and his legacy, just as it did back in 2003 when Jackson was formerly charged, and later acquitted in 2005.
But one voice has been notably, if perhaps unsurprisingly, absent from the renewed conversation: that of President Donald Trump, who had a long and sustained friendship with Jackson and repeatedly spoke publicly in his defense.
Throughout the 1980s and '90s, there were few more famously wealthy Americans than Donald Trump and Michael Jackson, so it's unsurprising they'd find themselves moving in similar circles, stepping out publicly at the same fashionable fundraisers and photo ops, and relating to one another's lavish tendencies, be it gold toilets or private amusement parks. Their friendship continued into the 2000s, and despite the two men's rapidly diverging paths, Trump continued to publicly support Jackson up through his 2009 death and beyond, painting the late King of Pop as "misunderstood" as recently as the lead-up to the 2016 election.
Again, President Trump has not commented publicly on Leaving Neverland; but the renewed controversy surrounding Jackson's history inevitably reopens the book on one of his most curious grown-up companionships. Here, then, is a select, annotated timeline of the friendship of Michael Jackson and Donald Trump.
March 3, 1988: In the midst of Jackson's marathon tour for Bad, the successor to his record-shattering Thriller, he swung through New York for a benefit concert and wowed thousands at Madison Square Garden. It was a performance the New York Times called a "mammoth pop-soul Halloween party." A then-41-year-old Donald Trump was among those in attendance, and as he recalled to Larry King in 2009, "I spoke to him for a little while. He was low-key, and I'd think, 'There's no way this guy is going out to that stage to perform.'" It's fair to assume Jackson likewise wouldn't have assumed his new acquaintance would one day be president.
Unknown dates, 1989: In Ivana Trump's 2017 memoir, Raising Trump, she detailed how Jackson, then 30, was a regular (supervised) playdate hang with Ivanka, Don Jr., and Eric. (Ivana alludes to Jackson having lived in Trump Tower at that time, though we have been unable to corroborate that.) According to Mr. Trump's first ex-wife, Jackson and her three children would watch MTV or play video games or, naturally, "build Trump Tower in Legos." And don't even get her started on that time M.J. popped in for Ivanka's school performance of The Nutcracker.
April 6, 1990: Today, Trump's Taj Mahal casino in Atlantic City is essentially a glorified way station for seniors shuttling from bus depots to all-you-can-eat buffets. But when it opened on April 2, 1990, the fervor was intense, as if Trump had successfully airlifted the glamorous heyday of mid-century Las Vegas to a sleepy seaside town on New Jersey's shoreline. (As you can see, the hotel/gambling mecca was very on the nose with its theme.) Then, on April 6, Trump welcomed to the premises his ace in the hole, Michael Jackson himself, for a guided tour that just happened to be captured by media throngs and screaming fans. It was, as late Lifestyles of the Rich and Famous host Robin Leach commented at the time, downright Beatlemania-esque. Hell, poor Elle Macpherson nearly got swept away by the adoring crowds. Jackson's VIP glimpse was capped off with a meal at a made-to-order Taj restaurant, with Jackson "flanked by tiny fans."
April 8, 1990: While Jackson was occupied at the Taj, he received news that Ryan White — an Indiana teenager whose struggle to survive the AIDS virus, which he contracted from a blood transfusion, made him a subject of national attention — had passed away. In a surreal scene, cameras captured Jackson, with Trump in tow, arriving at the White family home to pay condolences, with Jackson even climbing inside Ryan's Ford Mustang — which had been a gift from M.J. — as a copy of Bad played on the stereo. When asked by a reporter why the two men had appeared together, a Trump spokesperson answered, "Mr. Jackson spent the weekend at the Taj Mahal as Mr. Trump's guest, and Michael Jackson asked him to come along."
Winter 1994: When Jackson began dating Elvis Presley's daughter, Lisa Marie, they apparently got more familiar with each other in the cozy confines of Trump's Mar-a-Lago estate in Palm Beach, Florida. In Trump's own telling, Mar-a-Lago helped surface the pair's simmering chemistry, having written in his book The Art of the Comeback, "I was there, and the magic of Mar-a-Lago brought it out, because after they left, it didn't work so well. I can tell you, for at least a period of time, these two folks were really getting it on."
May 26, 1994: That fine spring day, Jackson and Presley wed in what was widely viewed as a hasty matrimony between two pillars of music royalty, if not an outright effort to draw attention away from mounting accusations of child molestation against Jackson. The marriage did indeed dissolve less than two years on, which must have been crushing to their biggest supporter: Donald Trump. As Trump shared with media after they'd tied the knot, "Those two really get along great, and they're very happy." He also sneaked in the factoid that they were "at the top of the Trump Tower now." Turns out the super-couple had been hunkering down in the glistening monolith for an undisclosed length of time leading up to their secret exchange of vows. Jackson would not be the only notorious figure to find residence there.
June 16, 1995: This was the day Jackson released HIStory, a provocatively titled collection coming on the heels of aforementioned molestation accusations and related settlements. One track, "Money," is a fairly rote calling out of soul-selling haters and frauds, though for years fans have debated whether Trump is among a roll call of names Jackson mutters in the background just over three minutes in. (You be the judge.) Though his intention in doing so could also be argued, as the name-checking is preceded by a message to earn "with dignity." All evidence points to Jackson believing Trump was an exemplar of such an ethos.
December 18, 2003: On this day more than 15 years ago, Jackson was formally charged with seven counts of child molestation and two counts of administering an intoxicating agent. From that point until Jackson was acquitted in June 2005, the performer was presumed guilty across large swaths of public opinion. Trump, however, never wavered in his support, telling Larry King and others throughout that period some version of, "I'm gonna stick up for him because nobody else is, and I don't believe it." His remarks would frequently be punctuated with reminiscence about how much Jackson enjoyed his time in both Trump Tower and at Mar-a-Lago.
Unknown date, mid-2000s: Shortly after marrying Trump in 2005, third wife Melania at last crossed paths with the gloved one. In a 2016 interview with DuJour, Melania recollected how Jackson invited her and her new husband over for dinner at New York's historic Pierre Hotel. In a snippet that got DuJour plenty of online referral traffic, the soon-to-be First Lady revealed that while Donald excused himself to commiserate with an art dealer, "Michael said to me, 'Hey, when Trump comes back, let's start kissing so he will be jealous!'" Alas, there was no smooch, Melania assures (lest you were concerned) but, "We were laughing so hard."
June 25, 2009: The day Michael Jackson passed away at the age of 50. Almost immediately (as foreshadowing for where we are in the wake of Leaving Neverland), obituaries and reflections walked the tightrope of touting his artistry, rehashing a challenging childhood and insulated life of superstardom, and being candid about the allegations that swirled around him and his relationships with young children. Trump, at the peak of his Apprentice popularity, was widely available for comment, and was quick to maintain that Jackson was "not a molester" and merely "loved children." (He did allow that Michael's overall condition appeared to deteriorate over the last decade of his life.) He was not able to attend Jackson's funeral, though he insisted to Larry King, lest there by any doubt, that "they invited me, and they called me so many times." But above all, Trump remembers the times they shared … especially at his namesake New York Tower and Mar-a-Lago resort in Palm Beach.
February 19, 2016: During a CNN town hall hosted by Anderson Cooper, then-presidential candidate Trump spoke of Jackson (not that he'd ever stopped), opining, "He lost tremendous confidence because of honestly bad, bad, bad surgery," and that under such circumstances, "you can even lose your talent." Michael's brother, Jermaine, was not pleased, tweeting that "friends don't pay tribute by peddling b.s. theories." A couple of years later, while a guest on London-based Heart Radio, Jermaine addressed the question of whether Michael would support President Trump today by saying pointedly, "What he was saying in his music are all the problems we are facing now, and his music, especially Donald Trump, he really needs to listen to 'Man in the Mirror.'"
August 27, 2017: Maybe it's fitting that Jackson's daughter Paris got the final word in regarding this unlikely friendship. At that summer's MTV Video Music Awards, Paris proclaimed from the stage, "If we were to stand up all united as one, our impact, it would be huge. And that's not fake news." She underscored her meaning later that night with a (now-deleted) tweet reading, "Step up donny boy @realDonaldTrump."