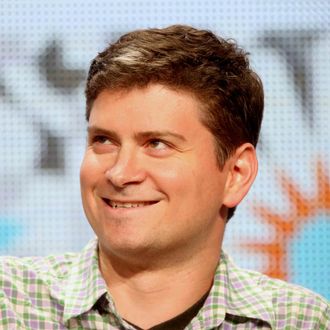 Mike Schur.
Photo: Frederick M. Brown/Getty Images
The Good Place creator Mike Schur apparently still considers Universal Television (and by extension, NBC) his happy place. In what is almost certainly a multimillion-dollar deal, the Peacock-owned studio has renewed its long-term writing and production deal with Schur, continuing a relationship that extends all the way back to his late 1990s debut as a writer on Saturday Night Live. Recent reports in the Hollywood trades indicated multiple studios had made offers to Schur's reps, hoping to woo the man who had a hand in creating Parks and Recreation and Brooklyn Nine-Nine and served as writer-producer on NBC's iconic comedy The Office. But Schur, no doubt rewarded with a massive financial boost to his already lucrative agreement with the studio, opted for stability.
In a statement, Schur said the studio's execs have "provided me with all the support and freedom and guidance a writer and showrunner could ever ask for." The other reason for sticking around, and saying no to some of that sweet, sweet streaming cash? "There's a ton of stuff in my office, just like boxes of papers and decorative candles and junk, and it would be super annoying to have to move it all," Schur said. For its part, Universal and NBC last month parted ways with longtime collaborator Mindy Kaling, who left her longtime home at the company for a huge deal at Amazon Studios. Up next for the Emmy-winning scribe: a new NBC half-hour he's exec producing (Abby's) and another season of The Good Place. No word on whether Universal and NBC insisted that Schur find a way to revive his sitcom alter ego.