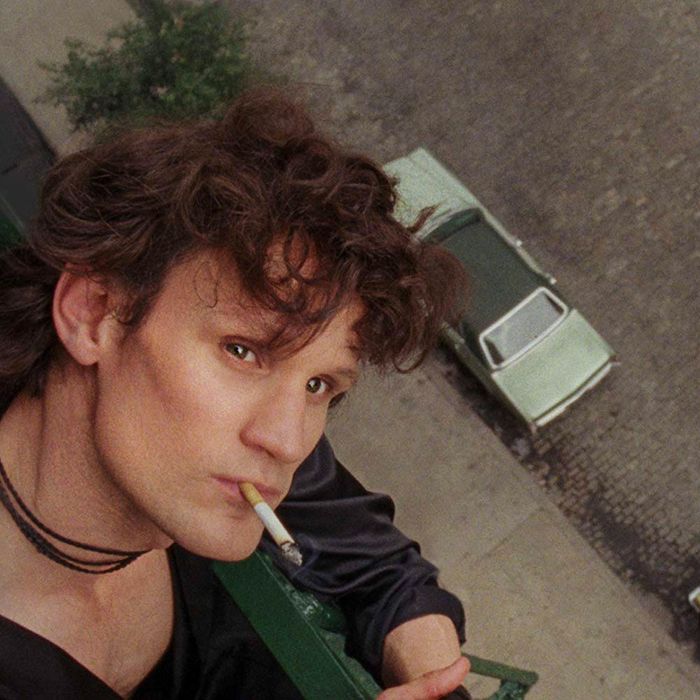 Photo: Samuel Goldwyn Films
After the rousing but sanitized-for-PG-13 Freddie Mercury biopic Bohemian Rhapsody, get ready for a PG-13-at-heart portrait of the aggressively transgressive gay photographer Robert Mapplethorpe. I don't mean that Mapplethorpe is literally PG-13: The plethora of large penises (both in the film and in Mapplethorpe's original photos, displayed in all their glory) puts it squarely in the no-one-under-17-admitted camp. But unless you're disturbed by pickle shots (in which case why are you watching Mapplethorpe?), the movie is shock-free. It's Mapplethorpe Vanilla.
That most amiable of the sundry Dr. Whos, Matt Smith, plays the title character well enough within the film's conception, which is to make its subject an innocent who becomes icier and more emotionally detached with success and then dies from AIDS along with many of his models and lovers. After a prologue that features stills of the real Mapplethorpe taking communion and standing before an American flag, Robert abandons college (and the ROTC) for New York, where he tries to make his name as a painter. After he befriends the young poet Patti Smith (Marianne Rendón) — the film's meet-cute scene apparently did happen — the pair settles down in a snug little apartment in which Beatrix Potter's bunnies would not be out of place. They're just so cute. Rendón has big eyes and no trace of punk — she's a Patti Smith without armpit hair. When Mapplethorpe can't sell his work, Smith says of his non-buyers, "I don't think they see the world like we do." But how do they see the world? This is another rebel-artist movie in which the characters are defined by their attitudes rather than their ideas.
There are many reasons that biopics are treated with condescension, but the most important is that they tend to place less weight on individual moments than on the trajectory. Mapplethorpe doesn't linger long enough to have a present tense. It hits its marks and breezes on. It's not inept — there are few bad scenes. It doesn't risk enough to be bad. The director, Ondi Timoner, is an accomplished profile-documentary filmmaker, but she doesn't use expressionistic means to show you the world through her protagonist's eyes the way the greatest artist biopics do. (Julian Schnabel's At Eternity's Gate is perhaps too strenuous in that effort, but you know he's a real film artist by how he attempts to channels van Gogh's aesthetic.) Mapplethorpe alludes to his strict Catholic upbringing (his stick-up-the-ass dad is brought on to illustrate), and he tells a male lover that "beauty and the devil have always been the same to me." But we don't feel the force of his Catholicism — or anti-Catholicism — in the images. We see muscular male bodies, white and black, sculpted by light, but if it weren't for the appearance of the actual photos we wouldn't understand what he was aiming for.
To be fair, Mapplethorpe does have those photos — they're built into the conception of the film and they resonate like mad. The deep blacks (to which onlookers allude) connect them to the great Catholic painters, but to frame them — as Timoner does — primarily as objects of beauty rather than assaults on the values with which Mapplethorpe was raised is to neuter them. One of the film's strengths — the casual affection between the characters, their gayness no big deal — also mutes its power. Where is that devil of which Mapplethorpe speaks?
We do get the scaffolding of Mapplethorpe's career from 1969 to his death in 1989, along with glimpses of various patrons and lovers. John Benjamin Hickey has an easy, amiable presence as the collector Sam Wagstaff, who helps build bridges to the New York gallery scene and is there to remind us that photography took a while to be reckoned as art. (But was it really that far out of the art mainstream in the mid-'70s?) It's a surprise, though, when Wagstaff comes upon Mapplethorpe in bed with two of his models and then decamps, heartbroken: Did he really think Mapplethorpe didn't sleep around? Other scenes are meant to show Mapplethorpe's gradual estrangement from humanity. Renouncing all family ties, he forces his younger brother, Edward (Brandon Sklenar), an aspiring-photographer, to endure numerous insults for the privilege of being his assistant. Then one of his model lovers, Milton Moore (McKinley Belcher III), prized for the magnificence of his phallus, leaves Mapplethorpe when he realizes that he is primarily an object to the photographer. Er, what did he think he was?
Patti Smith drops out of Mapplethorpe early, by the way. I've heard she's very proprietary about her relationship with Mapplethorpe (see her evocative memoir, Just Kids), which might be why the portrait is so nonspecific (snippets of her poetry would have helped characterize her) and why she only returns for the briefest of visits when Mapplethorpe is in the final stages of his illness. (That scene feels obligatory, as if Timoner couldn't leave it out but wants to get through it as quickly as possible.) It's a sign of how underwhelming Mapplethorpe is that those last scenes make us sad that we've lost the artist but not the man, whom we've barely come to know. It's as if the most defiantly cocksure photographer of the 20th century was a virtual capon.