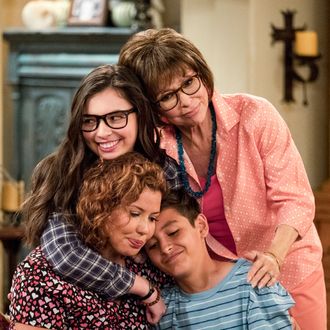 Sad group hug.
Photo: Adam Rose/Netflix/Adam Rose/Netflix
Despite positive reviews and the holy presence of Rita Moreno, One Day at a Time won't be continuing on at Netflix. The streaming service announced today that it's canceling the Cuban-American remake of the Norman Lear sitcom after a three-season run. While Netflix doesn't release consistent viewership numbers for its shows, it took longer than usual to renew the series for its third season, implying those numbers were not strong. "It's been a great honor to work with the legendary Norman Lear on One Day at a Time," Netflix chief content officer Ted Sarandos said in a statement. "I've personally spoken with Norman, and co-creators Gloria Calderón Kellett and Mike Royce, to express my gratitude to them, all the writers, the dedicated crew and the cast including the brilliant Justina Machado and dazzling Rita Moreno for creating a series with such humor, heart and humanity. This was a very difficult decision and we're thankful to all the fans who've supported the series, our partners at Sony, and all the critics who embraced it. While it's disappointing that more viewers didn't discover One Day at a Time, I believe the series will stand the test of time."
A source at producer Sony Pictures TV tells Vulture the studio does plan to shop One Day to other networks, holding out at least some hope the series could survive. Netflix execs have struggled to make One Day work from the get-go. It's not that the show wasn't watched by anybody. "It has a good audience," Netflix VP of original content Cindy Holland told Vulture last year. Sarandos explained to us that the series spoke to "five or six different viewer groups" and that those viewers had "a very strong affinity for that show. Latino for sure, LGBT for sure, female for sure. And it tells a different story than is being told on Netflix." But despite having a core constituency — and rave reviews — the series never became the breakout hit Netflix had hoped it would. "We have been a little perplexed as to why its audience base hasn't broadened beyond that core passionate fan base," Holland said. Last year, Holland suggested Netflix needed to do more to get the word out about the show, and to drive subscribers to check it out.