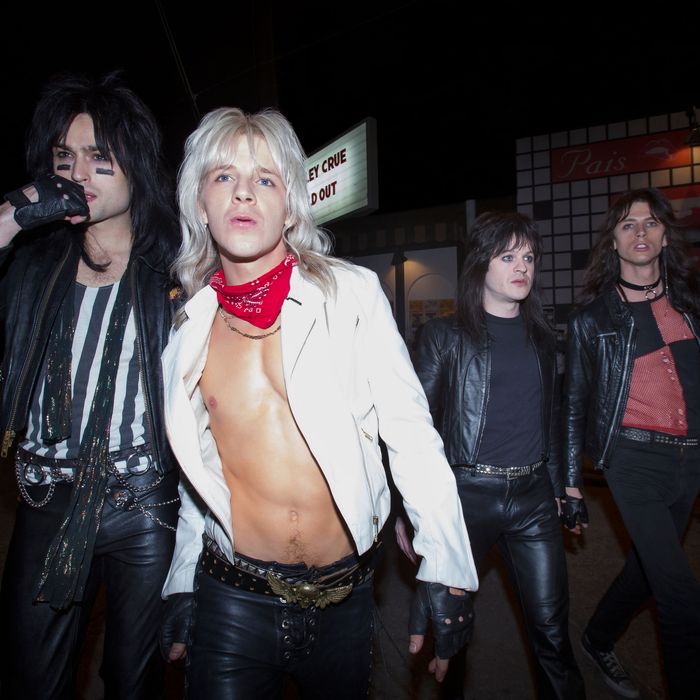 The Mötley Crüe of Netflix.
Photo: Jake Giles Netter/Netflix
The saga of rock band Mötley Crüe is one of the most dramatic in rock 'n' roll history, mixing on-tour shenanigans with episodes of death and self-destruction. The band's members detail as much in the 2001 book The Dirt: Confessions of the World's Most Notorious Rock Band, co-written by Neil Strauss, which, after nearly a decade, is finally receiving a cinematic adaptation from Netflix. In the hands of director Jeff Tremaine and adapting writers Amanda Adelson and Rich Wilkes, however, the tale of Nikki Sixx, Tommy Lee, Vince Neil and Mick Mars isn't exactly the glam-metal Wolf of Wall Street presented in the the 425-page book. Instead, The Dirt movie puts forth a considerably cleaner image of the band in 2019, embracing a handful of specific events from decades ago, while glossing over significant others (namely an account of rape, which is mentioned twice in the book).
If you're curious about how The Dirt memoir differs from its new Netflix counterpart (featuring Pete Davidson as an A&R rep and sudden movie star Machine Gun Kelly as Tommy Lee), read on. Spoilers are ahead.
The Storytellers
In the book: The Dirt autobiography is like Akira Kurosawa's Rashomon but in tight leather pants, in which the adventures of Mötley Crüe are recounted from the different perspectives of the four main members and beyond. Adding their two or three cents are the likes of Elektra Records boy genius Tom Zutaut, manager Doc McGhee, replacement lead singer John Corabi, and even Sylvia Rhone, a record executive who responds to the time Nikki Sixx called her the C-word in Spin magazine (and on stage) in 1998.
In the movie: The Dirt movie has a voice-over-driven narrative that relies heavily on slap-happy, family-loving drummer Tommy Lee (Colson Baker, better known as Machine Gun Kelly) and the tormented recollections of bassist Nikki Sixx (Douglas Booth). Lead singer Vince Neil (Daniel Webber) and guitarist Mick Mars (Iwan Rheon) sporadically provide commentary, as well. The movie also involves select non-Crüe members breaking the fourth wall, like when Doc (David Costabile) muses on the band's recklessness, or when Tom Zutaut (Pete Davidson) cautions the audience against introducing a significant other to the extremely horny band.
The Crüe's Early Days
In the book: Nikki and Mick first meet at a liquor store. Nikki is working, while Mick is on a quest for cheaper booze to bring to the show he's playing that night. Nikki ends up going to see Mick play the show, but the two lose contact thereafter. Fast forward to Tommy and Nikki connecting through mutual musician friends. Together, they come across a classified ad offering a "loud, rude, aggressive guitar player" — who happens to be Mick. He shows up to a jam session with Tommy and a "pansy" guitarist named Robin. If you're to believe Tommy, Mick fired Robin on the spot, but Mick says he was told to do it. Soon after, the three of them encounter Tommy's high-school friend Vince at a show with his covers band Rock Candy. Vince initially doesn't follow up on Tommy's invitation to check out his new band, but right when Rock Candy is falling apart, Tommy calls again. The band makes it official in 1981.
In the movie: A starstruck Tommy meets a disillusioned Nikki after a show for Nikki's soon-to-be-defunct band London. Together, they both notice Mick's classified ad offering a "loud, rude, aggressive guitar player." Mick shows up to a jam session, rocks louder than anyone, and fires poor Robin on the spot. Still in need of a lead singer, Tommy suggests the trio attend a party where his old buddy Vince is performing. There, they witness Vince's onstage power over women and set their sights on bringing Vince in.
The Origin of that Name
In the book: Years before he met Nikki, Tommy, and Vince, Mick says someone called his former band, White Horse, a "motley-looking crew." The phrase stuck with him, and he wrote it down as the potential name for a future group. The spelling of the name eventually changed from Motley Crew to MOTTLEY CRU to Mötley Crüe.
In the movie: In the band's roach-filled abode mere steps from the nightclub Whisky a Go Go, Nikki suggests the name "X MASS," for shock value. When that's shot down, Tommy offers a crude drawing of penises to support his idea, "The Fourskins." But it's when Mick writes down "Motley Crew" and says, "I've been waiting a long time for this day," that everything clicks. Nikki adds the final spelling touches.
The Role of Tom Zutaut
In the book: Record-company prodigy Tom Zutaut helps sign Mötley Crüe after catching their show by chance, even though he's a mere sales assistant at Elektra Records at the time. He's there when Mötley Crüe remixes and rerelease the band's first album, 1981's Too Fast for Love. Though Tom appears with the band for a few years after that, he's out of the picture before 1989's Dr. Feelgood. Later, Tom joins Geffen Records, signs a little band named Guns n' Roses, and tries to get Nikki to produce their first record. (Nikki does not.)
In the movie: Tom Zutaut (good ol' Pete Davidson) appears as an amalgamation of different executives, sometimes clashing with manager Doc McGhee (when Elektra is trying to get them to finish their album Theatre of Pain and get back on the road) and later Nikki (when Tom tells Mötley Crüe they won't do good on their record deal and will be retaining the rights to the band's songs). Aside from being a sidekick who gets bullied by the band members, he mostly exists as a means of explaining how Elektra did later give Mötley Crüe back the rights to their songs in the late '90s.
The Role of Doc McGhee
In the book: Manager Doc McGhee signs on to help the Crüe after the band's first manager, the "psychotic yuppie" Allen Coffman, goes AWOL. Vince calls Doc "a drug dealer with good business sense," who has his own connections with smugglers; Tommy shares a story about how he and Heather Locklear accidentally helped bust one of Doc's criminal associates. Doc gets fired from the band after a shady concert in Moscow where the Crüe ends up opening for Bon Jovi, to their complete dismay. Doc is replaced by Doug Thaler, and Dr. Feelgood becomes a No. 1 album very shortly after.
In the movie: Doc (David Costabile) is the chaperone, the rambunctious gang's glorified babysitter. As the straight man to their antics, Doc is shown handcuffing Tommy to a bed at the end of a montage that details a wild day in his life, which includes Tommy snorting his infamous Zombie Dust — a mix of sedative Halcion and cocaine. Played off as likable yet disposable, Doc is unceremoniously fired when he brings Nikki's estranged mother to meet the angsty bassist for an ill-judged Christmastime reunion.
The Role of Doug Thaler
In the book: Referred to in multiple instances as Doc's "yes-man," Doug Thaler helps wrangle Mötley Crüe during its heyday, and is promoted to manager after Doc's firing. As Vince becomes further estranged from the group, Vince writes that "if Doug had more been more than a yes-man, he could have saved the band." Eventually, Doug is fired when Mötley Crüe initiates a total staff turnover after the tour promoting their sixth album, Mötley Crüe, fails.
In the movie: Tremaine's film makes a joke explicitly about its decision to cut Doug Thaler from the movie. In the end, Doug isn't important enough to the era on which this Mötley Crüe movie focuses.
The Mötley Wives and Girlfriends
In the book: All four members of Mötley Crüe have numerous romantic interests throughout The Dirt memoir, though relationship statuses, and offspring, are fairly tangential to the narrative. The relevant story lines include but are not limited to: At the start of his career, Vince marries a woman named Beth Lynn, and then marries a mud wrestler and model named Sharise Ruddell, who gives birth to their child Skylar. Tommy's "first real girlfriend" is a woman named Jessica, who everyone calls Bullwinkle (her alleged ability to projectile ejaculate kicks off the book and the movie); Tommy later marries Heather Locklear, becomes engaged to model Bobbie Brown, and later marries Pamela Anderson — and is sentenced to jail for six months after he assaults her. Nikki is romantically linked to Lita Ford of the Runaways and later Playboy playmate Brandi Brandt. Mick is already a father by the time Mötley Crüe kicks off, and is romantically linked to a woman referred to as The Thing and a backup singer named Emi Canyn.
In the movie: The relationships in Tremaine's The Dirt are limited to: Vince's marriage to Sharise, with whom he has a baby named Skylar, before they eventually divorce. Tommy's engagement to Roxy (Jordan Lane Price), whom he hits after she calls his mother a "cunt," and his later marriage to Heather Locklear (who divorces him after he's seen out in public with a porn star). Nikki's love interest is heroin itself ("the sweetest thing I've ever known"), made clear in a hazy sequence in which the image of a naked, faceless woman melds with that of a needle on a tray. Mick, the oddball of the group and a man of select words, never gets a mate. (Yes, that means Pamela Anderson is absent from the movie.)
The Other Rock Stars
In the book: The universe of Mötley Crüe contains a constantly rotating roster of randomly assorted rock stars. There's David Lee Roth, portrayed as both a coke-fueled partygoer and a professional mentor for Vince. When Mötley Crüe joins the Bark at the Moon tour (after being kicked off a KISS tour for "bad behavior"), they're exposed to Ozzy Osbourne's particular brand of invincibility, as well as Sharon Osbourne. Vince talks of giving a young Axl Rose vocal tips before the two angrily collided after Guns n' Roses guitarist Izzy Stradlin assaults Sharise. Nikki recalls urinating on Rick Nielsen's jacket, despite proclaiming to be a big fan of Cheap Trick. Oh, and around the time of the Girls, Girls, Girls tour, Aerosmith apparently left a note on Mötley Crüe's jet, describing the Crüe as "crashing and burning" and making clear that Steven Tyler and Joe Perry "had been there and could help us."
In the movie: The movie is very select about the other rock stars it brings into frame. David Lee Roth (Christian Gehring) makes an appearance, snorting coke in the Mötley Crüe apartment and barely flinching when a mirror crashes down on his head. And Ozzy Osbourne (Tony Cavalero) reenacts that time he snorted a line of ants and licked up his own urine.
The Car Accident
In the book: To kick off the recording of their third album, Vince hosts a barbecue at his mansion that runs for three or four days and nights. A lot happens. Mick almost drowns in a beach nearby, after passing out among the waves. Tommy is there partying with the guys of Hanoi Rocks, including their drummer Razzle. On his way to a nearby liquor store with Razzle, drunk driver Vince gets in a car accident, killing the Hanoi Rocks member and causing brain damage in the two passengers of the other car involved. The fatal incident kicks off the band's rift with Vince.
In the movie: The whole band is at Vince's mansion and a light-hearted scene ensues, providing moderate comedy and brief plot development — chiefly, we find out that Vince's wife Sharise is pregnant just before he drunkenly drives off with Razzle (Max Milner). And the movie takes the opportunity to make this party the moment Tommy meets future wife Heather Locklear (Rebekah Graf).
Nikki's Brush with Death
In the book: Nikki meets a sage in Hong Kong, who tells him on the 21st of December that he's going to die by the end of the year. On December 23, 1987, Nikki almost dies from a heroin overdose at the Franklin Plaza Hotel in Hollywood, after he takes an injection from a friend of Ratt guitarist Robbin Crosby. Nikki has an out-of-body experience; he watches as a horde of fans who followed him to the hotel peer at his body as it's being carried out on a stretcher. According to Vince's account, Nikki breaks out of the hospital shortly after.
In the movie: Nikki overdoses on heroin, but an eager paramedic who knows the rock star by name refuses to let Nikki die in his ambulance. Cue a morose Vince watching a news report that erroneously proclaims Nikki has died. Vince hugs his daughter Skylar, underscoring a portrait of Mötley Crüe as family men at heart.
The Role of John Corabi
In the book: John Corabi, former lead singer of The Scream, is brought into Mötley Crüe after Vince quits in 1992. (Tension had been mounting for years, and Vince's refusal to embrace sobriety proves one of the last straws.) John refers to his experience working on the album Mötley Crüe as "the best year of my life." However, after a failed tour to promote the album, record execs turn on John. Over sushi, a tearful Tommy tells him that he's out of the band.
In the movie: John is seen but not heard in the movie, like during an MTV News clip that disses Vince, or later when John walks on stage for a lightly attended concert. John's involvement with the band is used minimally in the script to highlight a low point for the group, and to underscore Vince's eventual reunion with his rock 'n' roll family.
The Reunion
In the book: After the failure of Mötley Crüe and Vince's own solo efforts, it becomes clear that no one from Mötley Crüe, including the band's original lead singer, is a rock star without the rest of them. Nikki and Tommy meet with Vince and a handful of attorneys, under the impression that such a meeting will cause Vince to stop suing them for 25 percent of their future profits and $5 million in damages. John is not allowed in the room at this time. With Tommy referring to the event as "fucking millionaire divorce court or something," the former bandmates fight for two hours, but eventually agree to bring Vince back into the band.
In the movie: Nikki, Tommy, and Mick reunite and head to a boating-themed watering hole frequented by Vince after the death of his 4-year-old daughter, Skylar. There, Nikki pleads with Vince to rejoin Mötley Crüe, dubbing the group a family and apologizing for not being there when Skylar passed. There is no mention of any lawsuit.
Happily Ever After?
In the book: Vince quits the band for a few days after physically fighting with Nikki. Tommy quits the band in 1999 after Vince sucker punches him. Randy Castillo replaces Tommy while Tommy pursues his solo project, Methods of Mayhem. The 2001 book ends with the new lineup of Mötley Crüe recording their 2000 album, New Tattoo.
In the movie: The Dirt essentially ends about two-thirds into the book. It jumps right from their intimate reconciliation to a concert that depicts the heroes reassembling. Voice-overs express that over time the Crüe "shit on a lot of people and did things that we regret every single day … but somehow, we're still here, in it together … that's fate. That's family." Text appears on-screen, to the tune of "Home Sweet Home": "Mötley Crüe played together for another 20 years."
What Didn't Make It Into the Movie?
The autobiographical details that didn't make it into the movie range from impish knavery to utter toxicity. Goofier passages from the book were omitted, like when Mick gets hammered in Tokyo, puts on a Godzilla mask, smashes glasses, and tries to breathe fire out of his ass. Or when Nikki pranks John Corabi on tour by dousing his hotel-room door in hair spray and setting it on fire. There's no mention in the movie of flying knives at Nikki's apartment or a "sick sexual circus" during the Dr. Feelgood tour. And we see nothing of Vince moving in with Rob Lowe after leaving Mötley Crüe in 1992, when, according to Vince, "the two of us went crazy."
The most obvious cinematic oversight, however, is the film's decision to delete the time Tommy and Nikki allegedly sexually assaulted a drunk woman. In the book, Nikki reflects upon the event, writing, "For ten years solid, we had been invincible." (The book later notes that Nikki made threats against a sex worker, and spoke twice about his desire to kill his ex-wife Brandi.) After the book was published, Nikki denied the rape ever happened. "I don't actually recall that story in the book beyond reading it," Sixx told Rolling Stone. "I have no clue why it's in there other than I was outta my head and it's possibly greatly embellished or [I] made it up."
Is it possible to know what's truth and what's fiction in the Mötley Crüe story, regardless of the medium?