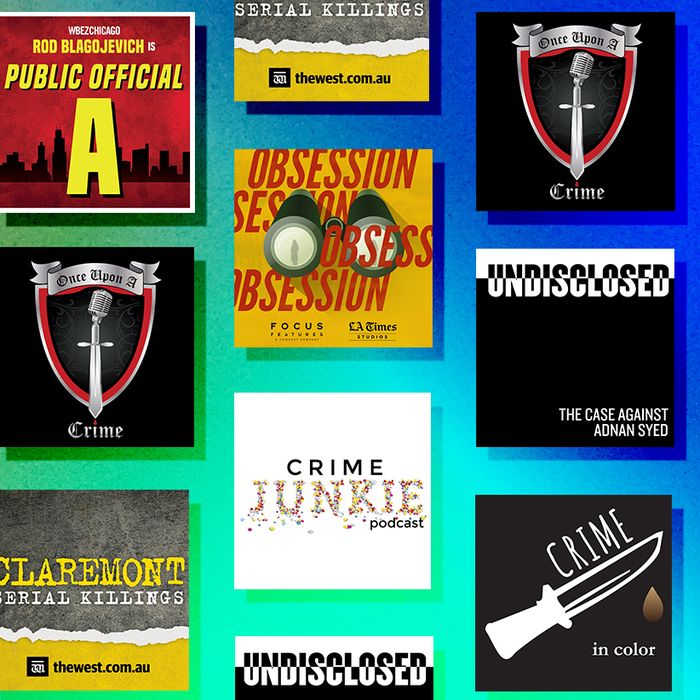 The true-crime podcast universe is ever expanding. We're here to make it a bit smaller, a bit more manageable. There are a lot of great shows and each has a lot of great episodes, so we want to highlight the exceptional, the noteworthy. Each week, our crack team of podcast enthusiasts and specialists will pick their favorites. To read the last edition, click here.
Obsession: "The Stalkers"
Obsession delves into, yes, obsessive behaviors, as they relate to the film Greta (the podcast comes from Focus Features, timed to that movie's release; synergy!) but also more deeply in the real world. Episode four focuses solely on stalking and how it is often a precursor to more violent behavior. From O.J. Simpson and Nicole Brown Smith to the murder of Rebecca Schaeffer by her stalker, the episode highlights some of the most notorious cases. Marcia Clark also features heavily in the episode, as she worked on both the Simpson and Schaeffer cases and knows a thing or two about how obsession, and especially stalking, can lead to horrible ends. The podcast's blending of true crime and pop-culture perspectives forces listeners to question the way the media has trained us to think about stalking. —Hillary Nelson
Listen: Spotify | Apple | Website
Public Official A: "I Talk Too Much"
Four of the past seven Illinois governors have ended up in prison following their time in office. One of these is Rod Blagojevich, the subject of Public Official A from WBEZ Chicago. If the name Blagojevich sounds familiar, it's probably for one of two reasons: the FBI tape of his fabulously profane telephone call about monetizing the Senate seat vacated by the newly elected Barack Obama, or his stint on Celebrity Apprentice, where he apparently got on quite well with our current president (a relationship he hopes will lead to a pardon). The series has just concluded with "I Talk Too Much," which details not just the disgraced politician's conviction on federal corruption charges but also his and his family's post-conviction lives. This series benefits from extensive interviews with Blagojevich's wife, Patti. Though her self-pitying can get tiresome, she provides, intentionally and not, a window into both his crimes and his denial. Host Dave McKinney keeps things light and briskly paced, and in the end, we're left with a picture of Blagojevich, convicted but not humbled, waiting on a pardon from a president who may or may not remember he is in prison. —Toby Ball
Claremont Serial Killings: "Taskforce, Tears, and a Suspect"
This new podcast out of Australia details the cold case of three young women murdered in the tony suburb of Claremont, just outside of Perth, West Australia, in the mid-1990s. All three of the victims had spent an evening out with friends before vanishing, and it is thought that at least two had called for a taxi home. Part of this episode details the extensive police investigation into local cabbies (like, all of them), while the rest zeroes in on one of the early suspects — a civil servant named Lance Kenneth Williams. Knowing now that another man (Bradley Robert Edwards) is currently behind bars awaiting trial for these murders makes this episode feel a bit like filler, but it's a necessary component of a sprawling, two-decade search for justice. —Amy Wilkinson
Listen: Spotify | Apple | Website
Crime in Color: "The Murder of Faith Hedgepeth"
Nineteen-year-old Faith Hedgepeth's 2012 murder remains unsolved because, as Crime in Color's co-host J.V. puts it, the Durham, North Carolina, police department overlooked "some basic ass shit." Why didn't the police talk to any of her neighbors? Why didn't they search the woods behind her apartment building? Why, out of the 22 murders that took place in Durham in 2012, was Hedgepeth's the only one whose case files were repeatedly sealed? Hosts J.V. and Keyerra regularly go deep into cases involving people of color, such as Hedgepeth, a member of the Haliwa-Saponi Native American tribe. And that's key: It's not a coincidence, they argue, that Hedgepeth's case was so mishandled and why the case files were sealed for more than two years — it wasn't taken seriously from the beginning. If the massive errors early in Hedgepeth's murder investigation don't make you shake your head in exasperation, nothing will. —Chanel Dubofsky
Listen: SoundCloud | Apple
Crime Junkie: "Update: April Tinsley & the Monster in Fort Wayne"
Crime Junkie host Ashley Flowers is particularly passionate about the gruesome murder of 8-year-old April Tinsley, which went unsolved for decades, and this episode offers about as happy of an ending as you could hope for with a case like this — an interview with one of the people responsible for the arrest of her killer, John D. Miller, last July. April's case is just one of several long-dormant cases to be solved using Parabon genetic genealogy, which any true-crime fan will know as the controversial technique that snagged the Golden State Killer. (Check out Sarah Weinman's terrific article about forensic genealogy, how it works, and how legally complicated it could be over at Topic.) What's particularly interesting is how enthusiastic Captain Kevin Smith is about the possibilities of Parabon, which, in certain lights, seems rather chilling. The idea of folks uploading their DNA en masse to various websites to be used to track down not just murderers and sex offenders but also lower-level criminals like burglars and so on seems a little Big Brother–ish, but hey, if you wanna send your spit to 23andMe, who am I to stop you? Naturally, everyone's favorite golden-haired hero Paul Holes figures briefly in the narrative, because of course he helped at least a little. Flowers did a deep dive into the case in April 2018, around the time of the 30th anniversary of the little girl's murder, and followed it up with an interview with the girl's mother, Janet Tinsley, so you should definitely go back and listen to those first if you haven't already. —Jenni Miller
Listen: Spotify | Apple | Website
Once Upon a Crime: "Murder Memories: Chapter 1: Eileen Franklin — Part 1"
Eye witnesses are notoriously unreliable for a host of reasons, though it typically boils down to the fallibility of the human brain. A number of podcast episodes of late have covered the intriguing mechanics of our beautiful, messed-up minds, including the "Three Sides to Every Story" episode of To Live and Die in L.A. and the "King of Cold Cases" episode of Murder Book. This week, Once Upon a Crime starts its own series about a fascinating phenomenon — repressed memories — kicking off with the story of Eileen Franklin, a woman who 20 years after her childhood best friend was murdered finally recalls the grizzly details. Including the perp — her own father. This first episodes explains the key players and their backstories, so we'll have to wait for the second episode to get to the real meat of the thing, but this is a promising introduction to what could be a fascinating series about what's real — and what's all in our heads. —Amy Wilkinson
Listen: Spotify | Apple | Website
Undisclosed: The Case Against Adnan Syed: "Episode 1"
First, I'll say this: If you were a Serial season-one junkie and you're not watching the four-part HBO documentary The Case Against Adnan Syed, you're nuts. And to that end, there has never been a better time to check out to Undisclosed, the podcast helmed by Rabia Chaudry, the Syed family friend who brought his case to Sarah Koenig in the first place. The film builds a new investigation around the material in Chaudry's best-selling book, but the Undisclosed podcast team is adding even more with new episodes. Listeners get a unique, insider view of how the film got made, details about the case and potential evidence that Serial listeners may not have heard about, and the team's reaction to the recent, devastating legal development that may keep Syed in prison for life. And in this week's episode, there's something else that caught my ear … a compelling theory about Hae Min Lee's murder case that went unexplored in Serial — that she very likely could have been killed by a stranger. —Rebecca Lavoie
Listen: Spotify | Apple | Website
Maddie: "They've Taken Her, Red Flags, Man With No Face"
Journalist Mark Saunokonoko promises to make you question everything you know about the disappearance of Madeleine McCann in Maddie, a new podcast from Australian news outlet Nine.com.au. Just 3 years old when she vanished, Madeleine's is arguably among the world's most famous missing-persons cases. Her disappearance in 2007 from a resort town in Portugal has saturated the media for a decade, inspiring multiple books with theories about what could have happened to her. Saunokonoko spent two years researching the case and dives into various angles, from suspicion that her parents, British doctors Gerry and Kate McCann were involved, to conflicting reports about a man seen carrying a child the night she went missing, to police now saying that an aborted crime-scene reconstruction could have helped solve the case. The first three episodes include a comprehensive account of the night Maddie disappeared while her parents were dining at a nearby bar with friends. The podcast's extremely detailed reporting will appeal to listeners who like to put themselves in the shoes of investigators. And for those who want even more immersion, Nine.com.au has a complete online companion to the podcast with case timelines, maps, and photographs. —Lara Bricker
This week's contributors: Toby Ball, Lara Bricker, Chanel Dubofsky, Rebecca Lavoie, Jenni Miller, Hillary Nelson, and Amy Wilkinson.