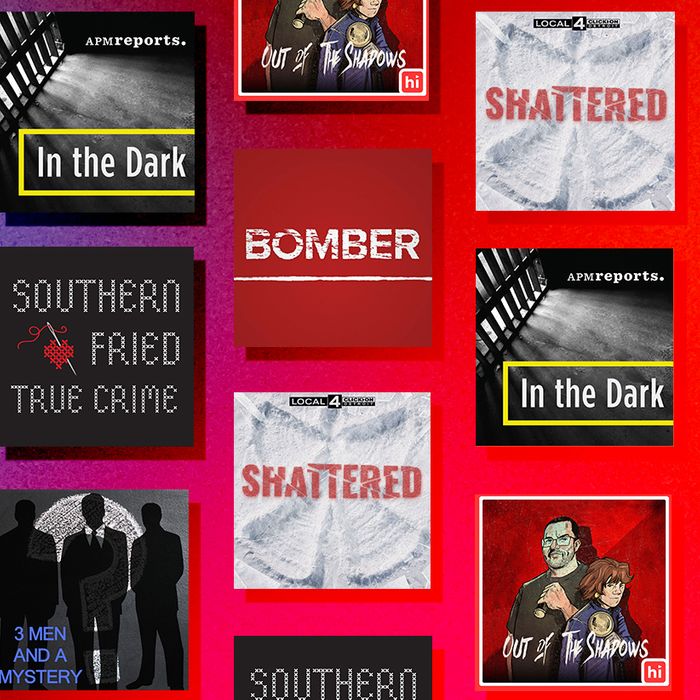 The true-crime podcast universe is ever expanding. We're here to make it a bit smaller, a bit more manageable. There are a lot of great shows and each has a lot of great episodes, so we want to highlight the exceptional, the noteworthy. Each week, our crack team of podcast enthusiasts and specialists will pick their favorites. To read the last edition, click here.
Out of the Shadows: "Maskell's Confidential Student Secretary"
Hosted by Shane Waters, an investigative podcaster, and Gemma Hoskins, one of the researchers/investigators from the Netflix documentary The Keepers, this podcast interrogates the unsolved 1969 murder of Sister Cathy Cesnik, a teacher at Baltimore's Archbishop Keough High School, as well as the sexual abuse by Catholic priests that went on at the high school. The podcast picks up where the documentary left off, and Waters and Hoskins (a Keough alumna) speak in depth with those who appeared in the film and others who didn't. Lil Hughes, who became Father Joseph Maskell's confidential secretary when she was a 16-year-old sophomore at Keough, right around the time Sister Cathy disappeared, was the person Out of the Shadows listeners most wanted to hear from, according to the podcast's Facebook group. It was Hughes's job to record Maskell's counseling sessions with her peers, and it was some of these documents that Maskell had buried at a Baltimore cemetery in 1990. Hughes was abused by Maskell (a giant trigger warning in general for this podcast if you've experienced sexual abuse), and her conversation with Shane and Gemma is all at once chilling, tender, and infuriating. —Chanel Dubofsky
3 Men and a Mystery: "Timeline of the Tracie Hawlett & J.B. Beasley Murders"
Before you ask: No, Steve Guttenberg is not a co-host. This new investigative podcast follows true-crime YouTubers John Lordan, Gray Hughes, and Mike Morford as they search for answers on a 20-year-old cold case. In 1999, Alabama teenagers Tracie Hawlett and J.B. Beasley were on their way to a birthday party in a nearby town when they got lost. Despite getting directions at a convenience store, they never made it to the gathering, and were later found shot and dead in the trunk of Beasley's car. As the episode title indicates, this first installment matter-of-factly lays out the events leading up to and following the double homicide. The production values here are lo-fi, by design, and your mileage may vary. (Serial, this is not.) But an interesting wrinkle: In a short preamble, Lordan explains that over the course of recording their first handful of episodes, a suspect was arrested in conjunction with the case. Whether the three men's digging led to this development or it's simple coincidence, the podcast will no doubt have immediate resonance. —Amy Wilkinson
Bomber: "A Loud Boom"
A lot happened in 2018, so it's possible you've forgotten that for nearly three weeks, Austin, Texas, was terrorized by a serial bomber. This spree, and the hunt to find the perpetrator, is the subject of Bomber: Manhunt in Austin, a podcast from Vault Studios and ABC affiliate KVUE. In the first episode, "A Loud Boom," host Jason Puckett focuses on the first bomb, a package left on the porch of a finance professional named Anthony Stephan House, who was killed when he opened it. Because it was the first, the police initially considered it to be an isolated incident or even a self-inflicted event. The story is told through the eyes of four investigative reporters from KVUE who covered the story at the time. It is fascinating to hear their recounting of events as they tried to make sense of what had happened in the aftermath of this first bombing. This lens really sets Bomber apart from a lot of its peers. —Toby Ball
In the Dark: "Before the Court"
Curtis Flowers, the man whose case is at the center of In the Dark's acclaimed second season, had another day in court this week. But this time, the venue was a little bit bigger than the Mississippi courtrooms where Flowers has been tried an astonishing six times for four murders he probably didn't commit. And this time, it's not Flowers who's on trial; it's the process — and the person — responsible for him being on death row in the first place. The U.S. Supreme Court heard arguments Tuesday on Flowers's appeal and prosecutor Doug Evans's disturbing practice of discriminating against black people during jury selection, something the In the Dark team not only shed light on, but actually proved. Before the arguments, In the Dark released the first of four episodes covering the SCOTUS proceeding and providing additional context reporting on the case. If these episodes aren't on your must-listen list, put them there, because Madeleine Baran and her team are continuing to deliver journalism that no one else can touch, proving that impeccable reporting can actually make a difference, even getting the attention of the highest court in the land. —Rebecca Lavoie
Shattered: "Child Killer, Chapter 1: The Beginning of the End"
The third season of this Detroit-centric podcast focuses on the unsolved child murders that took place in the affluent Detroit suburb of Oakland County, Michigan, in 1976 and 1977. (Since the Oakland County Child Killer has never been caught, there may have been more victims.) In this season's premiere, host Jeremy Allen sets the stage for listeners by giving some background on Detroit and its suburbs, then talking to locals on how it affected them, either as children or as parents themselves. He also uses archival news footage to give listeners a taste of how these murders captured local attention, which is a nice touch, and talks about several other murders that took place around the same time but haven't been connected to the OCCK — yet? At the very least, they contributed to the increasing fear and terror. The OCCK and the knotty mysteries have captured the attention of true-crime sleuths, from Reddit to the recent Investigation Discovery two-part doc series "Children of the Snow," as well as a slew of true-crime books, so it will be interesting to see it from a local perspective. "The Beginning of the End" is a promising beginning, and I'll definitely be tuning in to the rest of the season. —Jenni Miller
Southern Fried True Crime: "The Stalking and Murder of Heather Palumbo-Jones"
Southern Fried True Crime's Erica Kelley is entirely unabiding of the misogyny and victim-blaming manufactured by the media following Palumbo-Jones's murder by her husband, Chris Jones, in 2013. The press, including Dateline, seized upon the fact of Palumbo-Jones's weight loss before her murder, as though that had anything to do with her husband's narcissism and his decision to stalk and kill her. (If you Google her name, you get headlines like "Weight Loss Got Her Killed.") Kelley is a great host, not just because of her commitment to no bullshit, but because she's an excellent storyteller who chooses truly ghastly cases from the Deep South. This podcast is all her, there's no conversation, just important details, and it's totally riveting. —Chanel Dubofsky
This week's contributors: Toby Ball, Chanel Dubofsky, Rebecca Lavoie, Jenni Miller, and Amy Wilkinson.