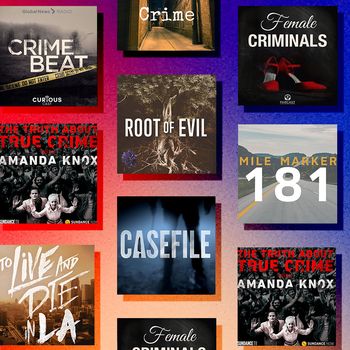 The true-crime podcast universe is ever expanding. We're here to make it a bit smaller, a bit more manageable. There are a lot of great shows and each has a lot of great episodes, so we want to highlight the exceptional, the noteworthy. Each week, our crack team of podcast enthusiasts and specialists will pick their favorites. To read the last edition, click here.
To Live and Die in L.A.: "Three Sides to Every Story"
What springs to mind when you hear the name Neil Strauss? Is it his brotastic book The Game: Penetrating the Secret Society of Pickup Artists? Or his many celebrity profiles in Rolling Stone? How about his years as a critic and culture reporter at the New York Times? What probably doesn't spring to mind is his work as a crime reporter. Because that's never really been Strauss's thing — until now.
In the new podcast To Live and Die in L.A., Strauss recalls the day he received a phone call from a private-investigator acquaintance named Jayden Brant, asking for help with the case of a 25-year-old missing woman named Adea Shabani. An aspiring actress from Macedonia, Shabani vanished from right outside her Hollywood apartment, and her family has hired Brant to find her. Strauss eventually agrees to join the search and dives headfirst into the world of the missing woman. In this third episode, Strauss and Brant receive some surprising new evidence that reveals that Shabani's disappearance isn't quite what it seemed — and the pair embark on separate journeys to track down one of their prime suspects. These first three episodes of To Live and Die in L.A. are an engrossing listen, to be sure, but I can't shake the niggling feeling that Strauss and Brant may be stepping on police toes while conducting their own investigation of this very-not-cold case. I've resisted the urge to Google the case specifics, thus far, so I'll continue to listen in good faith, hoping Strauss and Brant's contributions help — and not hinder — the search. —Amy Wilkinson
Mile Marker 181: "There at the 181"
On November 19, 2011, 20-year-old Jaleayah Davis was found dead on I-77 in Parkersburg, West Virginia, at mile marker 181. Her death was ruled an accident, but her mother, Kim Davis, is convinced that Jaleayah was murdered, and by the end of this episode, you probably will be too. Podcaster Emily Nestor, who's from the same part of the Mid-Ohio Valley as Davis, presents a timeline of the events, and reads from the transcript of the 911 calls from that night on I-77. The result: me, hackles up, rewinding over and over to make sure I was hearing it right and squawking to myself on the subway (in a chill way). Nestor says she's not out to solve the case, just provide information, but it's only the second episode, and I've already started drawing weird crime-scene diagrams and hypothesizing as to what Kristen was doing with Jaleayah's keys. —Chanel Dubofsky
Inside Crime With Angeline Hartmann: "Child in the Woods"
The second season of Inside Crime focuses on the 1999 discovery of a little boy's skeletal remains in a wooded cemetery outside of Georgia. Hartmann has a particular connection to the case since she was covering it as a reporter, and the details — down to his clothes and Timberland boots — have haunted her ever since. The second episode focuses on a mysterious phone call that investigators received from a woman in Florida who said she knew the little boy's name; unfortunately, the background noise was too much for them to hear much else, and they've never been able to track her down again. They're sharing her name now in the hopes that someone will come forward with more information; apparently, people are already reaching out with leads. The episodes are short and sweet, and will hopefully spark interest in this dormant case. —Jenni Miller
The Truth About Crime With Amanda Knox: "Ministry of Evil"
Yes, it's that Amanda Knox. Since last fall, Knox has narrated a companion podcast to Sundance TV's slate of true-crime docuseries. Season two, which just launched, takes on the story of Evangelical cult leader Tony Alamo and his wife, Susan, teasing the four-part documentary that's now airing on the network. Alamo's fire and brimstone cult is no less shocking than others we've heard about in recent podcasts; Uncover: Escaping NXIVM and Heaven's Gate come to mind. But the Alamo's path to becoming millionaires on the backs of their followers was fascinatingly unique: Members worked all day, often without food, to make bedazzled jackets, popular with celebrities like Michael Jackson, relabel expired food for resale, and other strange tasks. You'll want to listen to the end to find out how the Alamos finally fell. —Lara Bricker
Crime Beat: "Meika Jordan, the Broken Princess" and "I Dodged a Bullet"
Veteran crime reporter Nancy Hixt mines her more than 20 years of notes and case files for this new podcast focusing on the lesser-known felonies and misdemeanors of her native Canada. The show debuted this week with two stand-alone episodes, both of which warrant a listen — preferably in sequential order, as you'll likely need the second to serve as something of a palate cleanser to the first. That brutal episode details the story of 6-year-old Meika Jordan, who died in her father and stepmother's home after a reported fall down the stairs. Now, you needn't have graduated from the Columbo School of Detecting to know straight away that these parents are shady figures, but when the full scope of their crimes is revealed, well, it's truly shocking. The second episode — lighter by comparison though still firmly rooted in the field of murderous intentions — finds Hixt visiting a local businessman named Randy Safronovich to hear how he literally dodged a bullet during a home invasion. But this is not the first time that Hixt and Safronovich have crossed paths: Years earlier, Safronovich was at the center of another attempted murder plot. In both cases, Hixt is a knowledgeable and congenial narrator, and her intimacy with the cases lends an air of authority sometimes missing from other true-crime podcasts. —Amy Wilkinson
Female Criminals: "Princess Die: Diane Downs"
This particular two-parter is a real yikes-fest. Diane Downs, who was the subject of Ann Rule's book Small Sacrifices, shot herself and her three children in an attempt to win back the affections of her lover, who was not only married but also decidedly not interested in having children. One of her children survived and testified against her, and Downs has been in jail since 1987. The first episode delves into her emotionally (and perhaps sexually) abusive childhood, a tumultuous marriage with her high-school sweetheart, and her various emotional disorders that meant that she thrived on the attention of men and, strangely enough, being pregnant. The second goes more into her obsession with her lover, her ongoing quest to keep getting pregnant, her weird media tour, and her eventual conviction, escape, and recapture. In addition to the attempted murder of her daughter and the murder of her two sons, there's an additional sad coda to this story, and that's the daughter she was pregnant with during her trial, who was soon given up for adoption. Sorry, Duran Duran fans; "Hungry Like the Wolf" will never be the same for you after this. —Jenni Miller
Root of Evil: "George's Gift"
As covered before in this space, Root of Evil tells the true story that inspired TNT's limited television story, I Am the Night. Hosts Rasha Pecoraro and Yvette Gentile, the daughters of Fauna Hodel, use the podcast as a chance to delve into their family history. The TV show's season may have just ended, but the podcast continues: Episode three, "George's Gift," explores George Hodel's involvement with darker aspects of the avant-garde movement, the murder of his secretary, and the hideous abuse to which he subjected his family. Unlike the first two episodes, the third should come with a warning: There is very frank discussion of child sex abuse and incest, which is a difficult and potentially triggering listen. In all, though, this podcast is a fascinating look at a strange and troubled family. —Toby Ball
This week's contributors: Toby Ball, Lara Bricker, Chanel Dubofsky, Jenni Miller, and Amy Wilkinson.