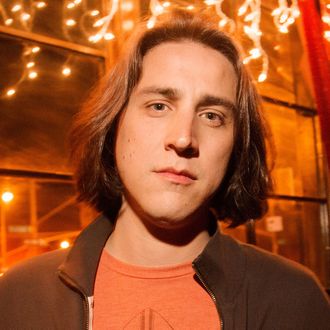 Jason Saenz.
Photo: Mindy Tucker
While it's not typical for us to cover local comedy shows, something unique is happening next week for a great cause in three major cities. Over 50 comedians in New York, Los Angeles, and Washington, D.C., will be performing in benefit shows to raise funds for comedian Jason Saenz, who had a major accident late last year after falling through a skylight that left him paralyzed from the waist down. Saenz's accident occurred just a month before his health insurance was set to kick in at his new job, which means that the comedian was not only left stuck with life-altering injuries but exorbitant costs for his medical care. A GoFundMe was set up to raise funds for Saenz in December (currently, over $187,000 has been raised), and next week, an impressive lineup of comedians — including Sasheer Zamata, Chris Gethard, Aparna Nancherla, Jermaine Fowler, Adam Conover, Rory Scovel, and Melissa Villaseñor — will perform on live shows with all proceeds going to Saenz.
Here are the details, with links to tickets and more info on each show:
Los Angeles show: Monday, April 1 at the Regent Theater




Sets by Jeff Ross, Jermaine Fowler, Adam Conover, Naomi Ekperigin, Rory Scovel, Sasheer Zamata, Matt McCarthy, Nick Turner, Adam Newman, Mara Herron, Amber Nelson, Nick Vatterott, Onassis Comedy, Brooke Van Poppelen, Grant Gordon, Eddie Della Siepe, with more to be announced.




Hosted by Ed Larson, Henry Zebrowski, and Jackie Zebrowski of Murderfist




New York show: Monday, April 1 at Arlene's Grocery




Sets by Aparna Nancherla, Chris Gethard, Ben Kissel, Melissa Villasenor, Jordan Temple, Ramy Youseff, Dan St. Germain, Reformed Whores, Noah Gardenswartz, Alison Leiby, Holden McNeely, Sean Patton, Seth Herzog, Chelsea White, Julia Johns, Travis Irvine, Onassis Comedy, Rojo Perez, Selena Coppock, Doug Smith, and Robert Dean




Hosted by Anthony DeVito and Greg Stone




Washington, D.C. show: Wednesday, April 3 at Source Theater




Sets by Brick Penguin (sketch comedy), iMusical (longform improvised musical comedy), Sean Murphy, Molly Murchie, Chris Ulrich, Mark Chalfant, Joe Randazzo, Ken Hays, Justus Hammond, Sean Ellis, Topher Bellavia, Catherine Deadman, Mike Bass, Daisy Rosario, Pete Bergen, and John F. O'Donnell




Hosted by Pete Bergen and Mikael Johnson
There will also be an auction at the shows and online to help raise funds for Saenz, with prizes like tickets to an SNL taping, tickets to the RuPaul's Drag Race finale, and tickets to Seth Meyers, Samantha Bee, and Trevor Noah's late-night shows. And if you're unable to make the live shows but still want to help, Saenz's GoFundMe page is still up and raising funds.