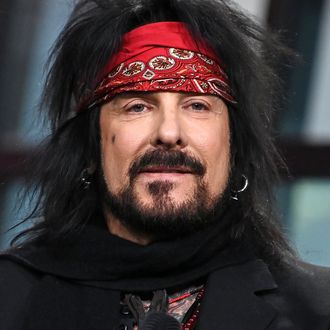 Nikki Sixx.
Photo: Slaven Vlasic/Getty Images
Netflix's new Mötley Crüe biopic has a lot of ground to cover what with all the general hedonism associated with the band. But one area of the band's legacy it'll omit is their confession that Nikki Sixx and Tommy Lee "pretty much" raped a young woman during a party, because Sixx now wishes to recant that story. Sixx first revealed the incident in the band's 2001 memoir, The Dirt, which the Netflix movie is adapted from. He wrote in the book that he began having a sex with a woman he knew in a closet, left to go use the bathroom, then convinced Tommy Lee to go back into the room and have sex with her in his place without her knowledge or consent. The next day, Sixx wrote, the woman called him and claimed she was raped by someone she'd hitchhiked home with, which made him think "he'd probably gone too far." He continued, "At first, I was relieved, because it meant I hadn't raped her. But the more I thought about it, the more I realized that I pretty much had."
Sixx now tells Rolling Stone (whose contributing editor Neil Strauss co-authored the memoir) that he doesn't remember that story and isn't sure why it was included in the book. "I don't actually recall that story in the book beyond reading it," Sixx says. "I have no clue why it's in there other than I was outta my head and it's possibly greatly embellished or [I] made it up. Those words were irresponsible on my part. I am sorry." (He claims Strauss also embellished the story; Strauss tells Rolling Stone he's contractually prevented from commenting.) Sixx says he wasn't sober yet when he interviewed for the book, and wishes he'd waited: "There is a lot of horrible behavior in the book. What I can tell you is that we all lived to regret a lot and learned from it. We own up to all our behavior that hurt ourselves, our families, friends, and any innocents around us."
The biopic's director Jeff Tremaine tells Rolling Stone that he instead focused on the "lighter" debauchery from the band's career — they reportedly had final veto on the script — like Tommy Lee cheating on Heather Locklear and vomiting on a stripper. According to Tremaine, the decision not to include the rape wasn't to dodge outrage in this #MeToo climate. "We are telling a true story that happened. You can interpret it however," he says. "I don't think we changed the tone of the movie to fit the times or anything like that." It's unclear if the details of domestic abuse from the book will also be excluded from the film.