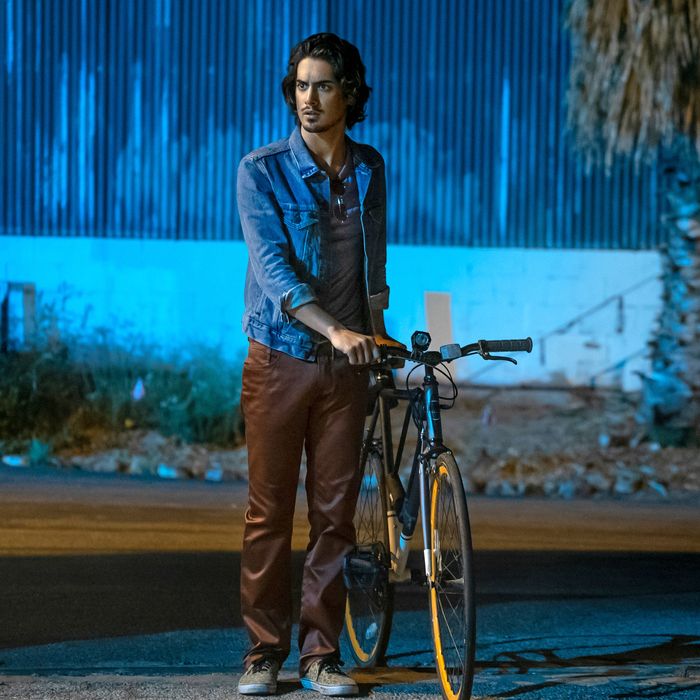 Photo: Katrina Marcinowski/Starz
Part satire, part relationship drama, part science fiction, and all goofball punk comedy, Now Apocalypse is a series in which otherworldly conspiracies lurk just beneath the surface of everyday life; pansexual characters monologue about creativity, beauty, and loneliness when they aren't hooking up in alleyways and on internet live-cams; and an orgasm causes a psychedelic explosion in the sky.
It could only have come from the mind of Gregg Araki (The Living End, Mysterious Skin, Smiley Face), a founding artist in the New Queer Cinema movement and a provocateur for almost 30 years. And it could only have premiered on Starz, a cable channel that's carved out a distinctive niche by injecting philosophical inquiry and explicit, at times porny, sex into proven genres of storytelling, including the big-city political thriller (Boss), the swords-and-sandals epic (Spartacus), the historical romance (Outlander), the grandiose R-rated fantasy-satire (American Gods), and the chilly, elliptical art-house puzzler (The Girlfriend Experience).
Caprica's Avan Jogia stars as Ulysses (no pressure with that name!), a layabout who noodles in the margins of the entertainment industry in Los Angeles, hooking up and smoking prodigious amounts of weed. He's first introduced having furtive sex with a married man and narrowly escaping discovery by his wife, experiencing a horrific vision on the way home, then ruminating about the experience into his cell phone. He insists his dispatches aren't a vlog, but "more like a place to download all the random shit that's in my head."
Ulysses has a crush on his straight roommate Ford (Beau Mirchoff of Awkward), an aspiring screenwriter with the torso, arms, and square jaw of a superhero (and the most elegantly pruned chest hair this side of Henry Cavill). Ford's regular girlfriend is Severine (Roxane Mesquida, of Araki's sci-fi comedy Kaboom), who's working on some sort of mysterious, top-secret scientific project and seems to view her own sex life as an experiment of a different sort. The principal cast is rounded out by Carly (Kelli Berglund, co-star of the Disney XD series Lab Rats, appropriately), who gets a friend to help refine her online dating profile — "confused and hot" is the target vibe — but ends up experimenting online with S&M role-playing. Things get incrementally weirder over time, as the characters navigate the ethical and emotional cesspool of Hollywood (there are multiple would-be Weinsteins in the supporting cast) and as Ulysses's paranoia starts to merge with whatever it is Severine is up to.
Now Apocalypse is far from a home run. Conceptually, some aspects feel more like missed opportunities than instances of prankish misdirection that are intended to toy with the audience. The show is more interested in the characters' sexual and professional adventures, elements that steer the series toward sexually frank relationship comedies like Insecure or You're the Worst. This isn't inherently a bad thing, but it is curious considering how much more deftly Araki has merged all this stuff with science fiction and conspiratorial thinking in the past (particularly in Kaboom and Mysterious Skin). In terms of pacing, the first four episodes are poky, not always in a pleasing way, and they barely give any play to the show's sci-fi or conspiracy aspects. Sometimes Now Apocalypse seems to remind itself that it's supposed to have forward momentum and answer the questions it raises; a couple of the episodes end with scenes that amount to the dramaturgical equivalent of a stoner remembering that he had something important to do at 3 p.m. and it's 2:55 now and there isn't enough time to get there, so he can't really do anything but curse himself for five minutes and then resume smoking.
Whether the above description entices or repels you will depend on your affinity for Araki, whose Smiley Face is one of the great stoner comedies of all time. He's never been known as a filmmaker who's obsessed with traditional setup-payoff storytelling, and it soon becomes clear that the "mythology" aspects of this series — involving hallucinated visions of lizard people, a conspiracy guru played by Henry Rollins, and the aforementioned top-secret government project — are a way to get viewers through the door so that the characters can ruminate on the simultaneous ridiculousness and cathartic awesomeness of sex; the way technology strengthens narcissism, depression, and loneliness; and the systematic destruction of traditional forms of expression that have been around for decades or centuries.
It's not all just a sour old-guy rant, though. Araki co-wrote all of the scripts with Karley Sciortino, the founder of the sex-and-relationships blog Slutever and the same-named Viceland series, and a cast member on Netflix's Easy, and it's intriguing to see how easily the same loquacious, lustful oddballs that Araki was depicting back in the '90s can be updated to 2019 with a few tweaks. The series is co–executive produced by Steven Soderbergh and Gregory Jacobs, who helped indie filmmakers Amy Seimetz and Lodge Kerrigan make two seasons of The Girlfriend Experience on Starz, and who've recently experimented with the murder-mystery-as-app (HBO's Mosaic) and shot commercial features with consumer technology (everything from low-res, early aughts video to iPhones).
It gets mighty self-reflexive at times, to the point of turning into a roundabout explanation of why Araki is doing TV. Various characters tell us that the feature-film industry only wants "four quadrant" blockbusters, preferably involving superheroes (though Ford is trying to sell a "psychedelic Lethal Weapon with cyborg vampires"); and that late capitalism, in combination with social-media platforms, have made "fine art and photography … pretty much obsolete," leaving TV shows like this one as the only remaining outlets for idiosyncratic yet potentially popular forms of expression.
A tautology, maybe, but not wrong: Now Apocalypse is another instance of TV serving as a lifeboat for veteran indie filmmakers to escape the sinking ship of popular cinema, which increasingly seems interested only in Disney-owned intellectual property (including Marvel, Pixar, and Star Wars) and in whatever independently funded, film-festival-certified small movies that studios think can win Oscars.
Qualitatively, this show is a bit of a mixed bag. It often falls prey to the same problems that have undermined other series by filmmakers who spent decades working in self-contained theatrical features, and either don't get that serialized TV is structurally a different animal, or else know and don't really care. But there's so much originality and audacity on display that even when the series isn't working, it's working. If it feels like it might be attuned to your vibe, and if you can stick with it long enough to get over whatever you expected it to be, it could grow on you. Araki completists will watch every episode regardless. Also, that jean jacket that Ulysses wears, with the words "I Have Seen the Future" and a rainbow coming out of a prism? I want one.