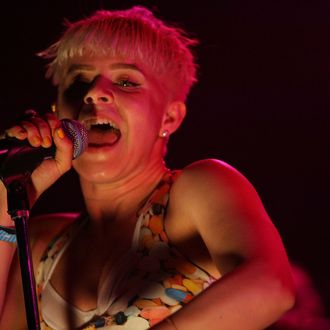 Robyn.
Photo: Karl Walter/Getty Images
Every wedding devolves into the scene that met subway riders Friday night: 20- and 30-somethings screaming "Dancing On My Own" as if their lives depended on it. Robyn concertgoers, refusing to let a good hang die and taking advantage of the fact that New York City's public transportation infrastructure is crumbling around them, turned the subway into an impromptu dance party. One can assume that the crowd, filtering out from her March 8 Madison Square Garden show, clocked each other by their sequined booty shorts and asymmetrical haircuts. "You were at the show?" they'd ask as they clutched their new best friends' forearms. Soon someone pulled out a Bluetooth speaker and everyone started singing.
And because the NYC metro is trash, they had time for multiple jams. Take pity on any poor soul who was just trying to sleep on the A platform that fateful night. This kind of thing would only happen after a Robyn concert. Her key demo (ex-theater kids) and her long absence from the pop culture scene combined to create super-extra superfans that know every deep cut and never want the party to end.