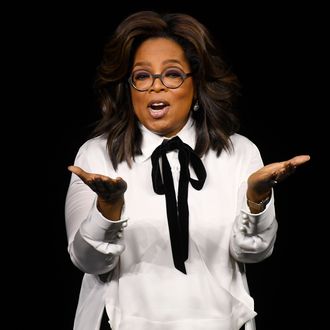 Oprah Winfrey.
Photo: David Paul Morris/Bloomberg via Getty Images
It's not as great as giving every Apple user a free car, but hey, good literature is just as powerful as a cushy four-door sedan, right? At its big event out West today, Apple unveiled — in addition to its slate of upcoming television shows and, uh, credit cards — that Oprah Winfrey will be bringing her beloved book club to the streaming service for our iOS era. The details are scarce as to how exactly Apple TV+ will be arranging the various threads of the club, so in the meantime, please allow Winfrey to be her own hypewoman while teasing what to expect.
"There's nothing more thrilling than being transported by a brilliant book — nothing," Winfrey, who surprised the audience, explained. "The only thing more gratifying than an extraordinary read is being able to share that experience with others, and we're going to do just that by building the biggest, the most vibrant, and the most stimulating book club on the planet. This is a club, imagine, where Apple stores stream a conversation with the author and me across all the devices, across all borders, uniting people to stories that remind us that no matter who you are or where you're from, every man, woman, and child looks up at awe at the same sky. So I want to literally convene a meeting of the minds through books." Oh, and also, you bet Winfrey knows her audience damn well: "Because they're in a billion pockets, y'all, a billion pockets."
Winfrey's book club was birthed as a recurring segment on The Oprah Winfrey Show in 1996, with its popularity among viewers and literature lovers alike nearly eclipsing the prominence of the show itself. It would later be revived as Oprah's Book Club 2.0 when she expanded her digital media empire in 2012. Her selections have since become increasingly rare, with the latest pick being Michelle Obama's memoir, Becoming.