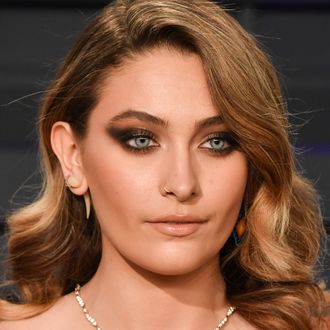 Paris Jackson.
Photo: George Pimentel/Getty Images
It was reported by TMZ that Michael Jackson's daughter, Paris Jackson, was hospitalized Saturday morning following a suicide attempt at her Los Angeles home, and that she's now in "stable" condition after being rushed to a nearby hospital by paramedics and police. However, Jackson is claiming this is nothing but lies, lies, and "more lies." Posting on Twitter to refute TMZ's report that the divisive HBO documentary about her father, Leaving Neverland, served as the alleged "trigger" of her self-harm, Jackson responded with rage and sarcastic emojis. "Fuck you you fucking liars," she wrote. "Lies lies lies." TMZ also claims Jackson is currently placed on a 5150 psychiatric hold.
The four-hour Leaving Neverland documentary, which was released on HBO this month, features extensive, graphic interviews with two adult men who claim Jackson sexually abused them when they were children. Some of the most disturbing allegations from Wade Robson and James Safechuck include stories of Jackson enticing them to engage in oral sex, brainwashing them and their families, and making them watch hardcore porn.
Earlier this week, Jackson addressed Leaving Neverland for the first time, writing on Twitter that there isn't much else she can add to the current conversation. "There's nothing I can say that hasn't already been said in regards to defense," she said in response to a user's inquiry. "That's not my role. I'm just tryna get everyone to chill out and go with the flow, be mellow and think about the bigger picture. That's me."