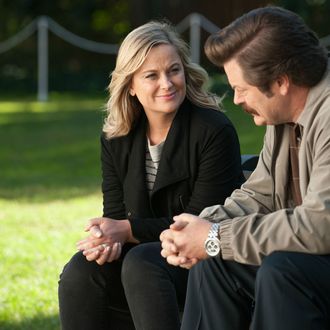 The Parks and Recreation universe spans over various years and multiple timelines, and not just because it's forever omnipresent in our hearts. The comedy that taught you to treat yo self ended in 2015 with several series finale time jumps up to the year 2035. Since the cast reunited Thursday at L.A.'s PaleyFest, fans may naturally be wondering: Where would the characters be since we saw them last? Leslie Knope and the crew have some thoughts. And don't worry, not many have (hypothetically) strayed too far from Pawnee, Indiana.
A major cliffhanger from the series left fans wondering if Leslie took the Oval Office since there was Secret Service at Jerry's funeral. Amy Poehler has no doubt that she'd run shit, just maybe not the country. "Remember, Leslie is Parks Department through and through. It would take a lot for Leslie to make it to Washington," she tells Vulture on the PaleyFest red carpet. "When we flash forward, Leslie was a bit more mature; she was at the end of her shit. But honestly, I don't know. I mean, I would love for Leslie to be president! That would be amazing. She would run stuff."
Although Jim O'Heir's Jerry would sadly be six feet under, the actor would love to see Leslie take the presidency. "I think Leslie is some big wave politically. I'd feel better if that was the case than what's happening today, so I'm gonna say yes," he says. "I think her and Ben are a big power couple." As for the others? "Andy and April, God knows they're living in some shack somewhere; I can't even imagine. But happy as could be," O'Heir says about Chris Pratt and Aubrey Plaza's characters. "Donna, she's got the latest Mercedes and every other damn thing. She's married. She's a happy girl, maybe had a baby, maybe not," he says, regarding Retta's character. "I'd like to think maybe, 'cause she'd be 'treat yourself' that baby."
Nick Offerman, whose character was one with the wilderness, pictures a serene life for carpenter Ron. "I imagine Ron as deep in the woods on a river or a lake in a canoe fishing with his children," he says. Fans may or may not see these theories play out since co-creator Michael Schur admitted during the panel that "the show made its argument." At least we always have streaming and Ron always has the forest.