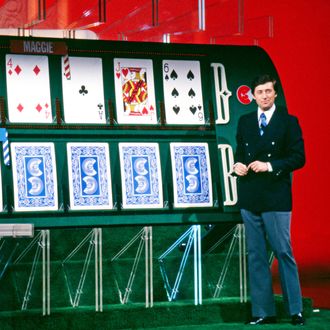 The classic
Card Sharks
.
Photo: NBC/NBCU Photo Bank via Getty Images
Get ready for big money and lots of Whammies: ABC is bringing back 1980s game-show classics Card Sharks and Press Your Luck. Vulture has learned the Alphabet network is partnering with producer Fremantle to reboot both series, with pre-production on new hour-long episodes already underway and taping slated to begin sometime this spring. The beloved buzzer-beaters join Celebrity Family Feud, Match Game, The $100,000 Pyramid, and To Tell the Truth on ABC's suddenly supersized roster of resurrected quizzers.
While Press Your Luck and Card Sharks had relatively short runs compared to the other shows on ABC's revival roster, both have remained popular (at least among game-show geeks) thanks to decades of syndicated reruns on networks such as Buzzr and GSN, before it dropped most retro programming. For those not familiar with the two series, they both revolve around simple question-and-answer formats paired with distinct twists. On PYL, three players answer trivia questions in order to rack up spins on the show's prize board. But each spin of the board comes with peril: At any point, all of a player's winnings can disappear in a flash if they land on the dreaded "Whammy." ABC says its new version of PYL will feature a new bonus round in which one player competes head-to-head with the Whammy "to win a fortune" (hopefully a fortune which includes both cash and prizes).
As for Card Sharks, its format has traditionally featured two players trying to guess how Americans responded to various opinion surveys ("How many people say they would leave their spouse for a starring role in a Marvel movie?"), and then a high/low game with supersized playing cards. It also has what's arguably the funkiest game-show theme song ever. John Quinn (Celebrity Name Game) and Scott St. John (Match Game) will serve as showrunners for the new PYL and Card Sharks, respectively, with Fremantle's Jennifer Mullin executive-producing both. Jack Martin (@midnight, Deal or No Deal) will also serve as an executive producer on PYL. Buzzer Blog first reported Fremantle had begun casting both revivals last month.
Card Sharks first aired on NBC from 1978 until 1981, with Jim Perry as host. The show was then revived in 1986, with a three-year run on CBS and a one-year run in syndication; another, very brief syndicated revival aired in the fall of 2001. PYL, hosted by Peter Tomarken, produced a little under 800 episodes during a three-year stretch on CBS between 1983 and 1986. It was then rebooted in 2002 by Game Show Network (now GSN) as Whammy! The All-New Press Your Luck. That version of the show lasted two seasons and 130 episodes. The last time either show produced a new episode for American television was back in the summer of 2006, when both were featured on the short-lived CBS series Gameshow Marathon, which re-created a bunch of different games each week, all hosted by Ricki Lake. Reruns of PYL and Card Sharks still air daily on the Fremantle-owned Buzzr.
ABC hasn't locked in scheduling or premiere dates yet for its revivals; it's also still looking for hosts. In the past, the network has aired its game reboots at various times throughout the year, both during the regular season and as part of a "Summer Fun & Games" lineup first launched in 2016. Last year, the combo of Feud, Pyramid, and To Tell the Truth averaged 5.4 million viewers on Sunday nights, winning the 8 to 11 p.m. summer ratings battle.