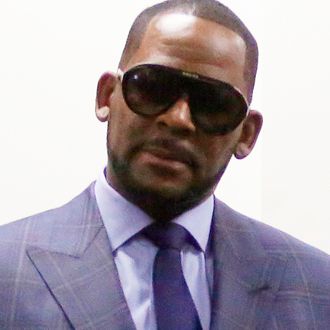 R. Kelly.
Photo: Joshua Lott/AFP/Getty Images
Just hours after R. Kelly went head-to-head with Gayle King in a heated interview about some of his alleged crimes, he's back behind bars for another. TMZ reported yesterday that Kelly has been arrested for unpaid child support, and will be booked and processed at the Cook County jail shortly where he'll stay until he pays what's owed. Kelly was last unable to post bond himself when he was arrested just weeks ago on ten charges of aggravated criminal sexual abuse and was ultimately released after a friend paid the bail minimum on his behalf. According to TMZ, Kelly has failed to pay his ex-wife and alleged abuse victim, Drea Kelly, more than $160,000 in child support for their three children, and was given until 10 a.m. CT on Wednesday to pay. He reportedly missed that deadline and arrived at court in Cook County for a hearing this evening where he was found in contempt and taken into custody. It is not yet known what new charges have been filed against him. According to TMZ, in order to be released, Kelly will have to pay the full $160,000.
Per the Chicago Tribune, Kelly's publicist, Darryll Johnson, said the singer showed up to the hearing with between $50,000 ans $60,000 but the judge wanted the amount paid in full. "As you know, he hasn't worked in a long time," Johnson said. (Kelly has toured for years amid the allegations.) Asked how Kelly can then maintain residence in the Trump Tower, Johnson said Kelly "has some money," but also said he does not know where Kelly can come up with this new bail. Johnson described Kelly's attitude going into the hearing as "happy," thinking he would not be jailed, but now "depressed, deflated, and upset." Kelly's next court date is March 13.