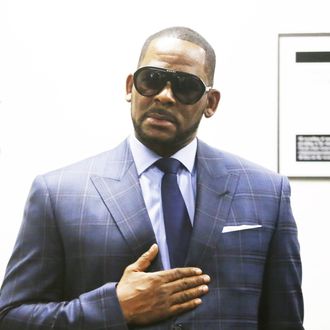 R. Kelly.
Photo: Nuccio DiNuzzo/Getty Images
Hours after the singer was arrested and taken into custody over unpaid child support, news broke that R. Kelly is now the focus of yet another sexual assault investigation, in addition to the ten counts of aggravated criminal sexual assault the singer was charged with in Chicago last month. According to the Detroit Free Press, the Detroit Police Department said they had received information from Chicago police about an unnamed victim who had allegedly been the victim of "criminal sexual conduct" in the Detroit area when she was 13 years old, possibly beginning in 2001.
"Based on the information received we have made several attempts to follow up with the victim," Police Chief James Craig said in a statement Wednesday evening. "We have reached out, at the direction of the victim, to her lawyer and we are eagerly waiting to speak to her concerning the allegations. Right now, we have not made contact with her."
According to CBS Chicago, the new victim allegedly had sex with R. Kelly in a hotel and a recording studio, having made contact with the singer through his personal assistant. Later, the unnamed girl allegedly traveled to Atlanta and stayed with R. Kelly. The singer has previously denied all allegations of sexual misconduct and assault against him.