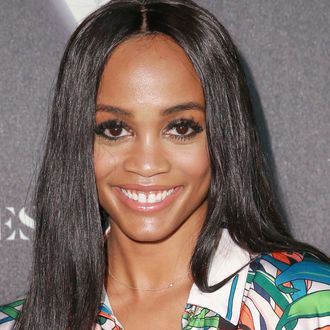 Rachel Lindsay.
Photo: Rich Fury/Getty Images
With two weeks to go until we find out if The Bachelor's Colton Underwood ever apologized to that fence and/or lost his virginity, the biggest question on the minds of viewers, after a season rife with higher than usual petty drama, is who will be ascending to the title of The Bachelorette's next lead. Well, if former Bachelorette Rachel Lindsay has her way, the franchise's producers will ignore the carousel of postundergrad blondes we've been subjected to during Underwood's season, and instead find someone from years past who possesses a basic maturity level. "I don't think it should be anybody from this season," Lindsay told Us Weekly when asked. "There's just so much cattiness going on. You don't know who to believe, you don't know what's true. I don't trust any of them."
Lindsay has two names in mind for the gig: Her fellow rose pals Danielle Maltby and Kristina Schulman, who she met while they all competed on The Bachelor during Nick Viall's season. Maltby and Schulman, Lindsay insists, are actually passionate about finding a life partner, compared to other Bachelor Nation contestants who are more interested in parlaying their newfound fame into becoming social media influencers. "She said this, she said that, and usually, when you get down to the top four, it's drama-free," she added about Underwood's women. "There's just so much going on. I don't like it! I can't see any of them being the next Bachelorette." Can't say we blame her for saying so, even if a pageant-centric season would be silly.