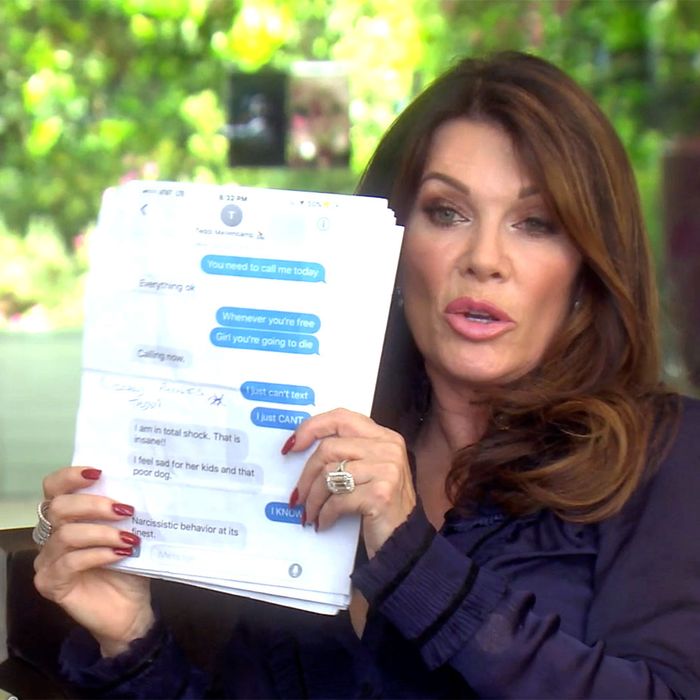 Since it is the fifth episode of this monumental ninth season of Rich Women Doing Things, according to the Eileen Davidson Accord, we can officially judge Denise Richards. Luckily for us, there is a lot about Denise to love. She seems fun, game, down-to-earth, and very ready to make fun of herself. Also, she comes along with her man Aaron, who is like a döner kebab slathered in testosterone and chest hair and covered in a one-size-too-small black T-shirt. (I have checked both his and her Instagrams and not one shirtless picture exists and this is an injustice that needs to be remedied immediately.)
If there is one scene that encapsulates why I love Denise so much, it is when she and Aaron are talking about when they can get married and the only available date is ten days away. However, Aaron says that date, September 8, is lucky because it is filled with eights and eight means infinity in numerology and that is a good omen for their union. In her confessional, Denise says, "I don't even care about this shit!" with a hearty laugh. Then, as Aaron continues, we cut to Denise again, who says, "I don't base my decisions on numbers but, I don't know, maybe I've fucked it up all along by doing that."
Denise is so fun and unaffected, but also willing to go along with all of the nonsense around her. I think that is going to make for a great cast member. Also a good omen is when she meets Lisar for a hike in Malibu and Lisar asks whom among the cast Denise likes. "I really like Erika. She's hilarious," Denise says. "And also LVP." She said that second bit while giving Lisar a look that says, "I know you're going to be disappointed in me, but that is my truth." Willing to make her own decisions and not just go along tribal lines is also going to make her a solid addition.
What Denise lacks, however, is an apparent desire to create drama. As we saw with Aaron, she will just go along with the malarkey in the moment, but make fun of it later in the confessionals. I think this could also end up being the case with the women and their squabbles: she might have great comments about them, but she's going to be checked out in the moment. There are worse sins for a Housewife, but we all know if she can't bring it, she'll be cut soon.
Kyle Richards also had a strong showing this week. I was totally won over by her scenes with her daughter, even though every single member of the family both cried and wore awful glasses at one point during their trip to D.C. to drop off Sophia at college. I am happy to see that Sophia will be attending the George Washington University, home to famous alumni such as Jackie Kennedy, Kerry Washington, J. Edgar Hoover, and Brian James Moylan.
Yes, we got to see Sophia piling herself into Thurston Hall, a decorum wasteland where nearly 1,000 freshman all live in the same building inhaling each other's beer farts and secondhand bong smoke. It is also the second most sexually active student dorm in the world, so good choice, Sophia. The worst part, though, is when her mother chides her about not knowing how to clean a toilet. Get this: all the dorms at GW have maids. Yes. They come in, vacuum the floors, empty the trash, and clean the toilets once a week. We even used to buy weed from our maid. True story!
It was great to see the Richards-Umansky clan gathered around the breakfast table in their suite at the Willard (one of D.C.'s fanciest hotels, which is right next to both the White House and the GW campus), all displaying real affection for each other. We also got to see Kyle's genuine pride for her daughter but sadness in her leaving. It was a very real and universal moment, minus the obvious trappings of wealth and Farrah, Kyle's oldest daughter, wearing a leather beret that forced my eyes to voluntarily gouge themselves out.
All of this sweetness and care is interrupted by even more bullshit about Dorit's dog. Yes, I know, but we have to address it. A lot of people have been saying, "If this season is all about the dog, I'm out." Well, get ready because this season is going to be all about the dog. However, it's not really about the dog. It's really about whether Lisa Vanderpump is willing to set up various and assorted members of the cast to do her dirty work.
There are definitely some revelations this episode, most of them having to do with Teddi's texts to John Lizard. Lisa confronts him at her house and I have never seen someone look so cowed and scared. It's like he's a business class lounge food-service employee that has to tell Kathleen Turner there isn't any whiskey left. This is a man trying to save his job, and his ass will say anything to get out of it. That might be why he says that Lisa never ordered him to tell Teddi about Dorit's dog, or ordered that the dog be around. Either that, or she actually never said it.
For her part, when Teddi visits Erika's chapel, she cops to the fact that she was plotting against Dorit because Dorit had ignored her at several public events they both attended and Teddi wanted a bit of revenge. (The only things worse than Dorit are the Chanel suspenders she wears when she goes horseback riding and talks about how she's ridden horses all over the world, and I have never prayed harder for a sinkhole to open up in Los Angeles.)
Kyle claims that Teddi admitted to this as well and showed Kyle all of her textseses between her and John Lizard. When Kyle and Dorit go to Lisa's house to hear her version of events and see the printout of the textseses that is now so bent and dog-eared it looks like Leonardo DiCaprio's copy of Dating Models for Dummies, Kyle is not surprised by Lisa's revelation about what Teddi said.
Here's what I think happened. Lisa told either John Sessa or John Lizard to tell Teddi about the dog. They told Teddi, who took the bait and decided that she was going to go after Dorit. However, when they got to Vanderpump Dogs she felt a little set up, or like it was too mean, and decided not to. The Johns went through with the plan and made sure the dog was there, which brought up the whole thing on camera and got us to where we are now.
It is clear that either Teddi or Lisa is lying about something that happened. Teddi has come clean about her involvement, but she was still not the one to initiate the setup. Lisa, meanwhile, has a big hole in her story that Kyle points out. Lisa says she has never talked to either John about this dog thing, but she also texted Dorit to tell her that Teddi knows about the dog. If she didn't talk to them about it, how would she know that Teddi knew? She had to have some conversation with someone at some point about this or else she couldn't have brought it up with Dorit. When Kyle pushes her on this, she swerves around it to get back to her point about Teddi being dishonest.
The problem with this fight is now it seems like no one is innocent. Dorit's original sin was screwing up the dog in the first place, Teddi was definitely scheming to make Dorit look bad (not that Dorit needs any help in that department), and Lisa laid the foundation for Teddi to do this. They're all awful. It's all horrible. And yes, we will be talking about the dog for the rest of the season.
It also became clear after the meeting at Lisa's house that Dorit, Kyle, and just about everyone else believes Teddi's version of events, for better or worse. Now here we are, trapped forever, like a dog chasing its own tail for so long it's gotten vertigo and puked all over the front lawn.