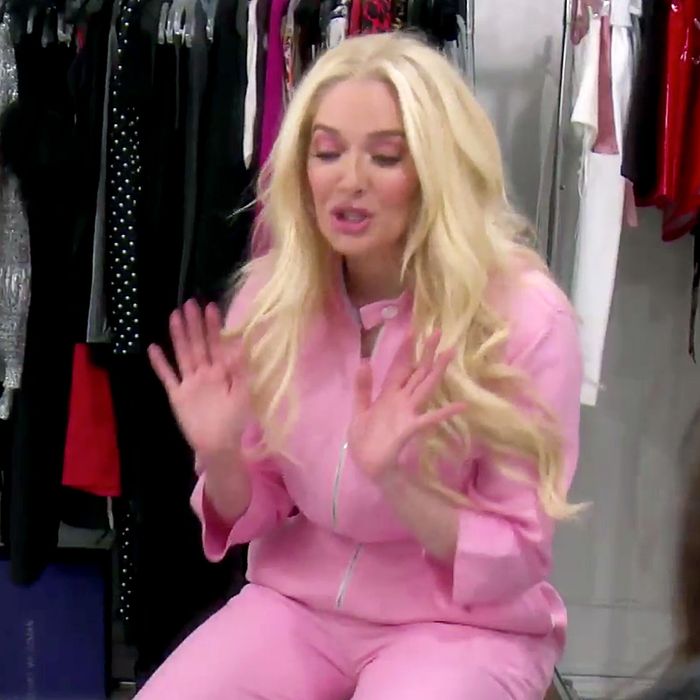 Would I have gotten married in two days like Denise Richards? Would I have walked down the aisle in a Daisy Duke romper covered in daisies to heavy metal music? Would I have stood with my big-dicked husband in front of a floral infinity sign that looks like a funeral arrangement for The OA? No. But would Denise Richards? Absolutely yes, and that is what makes this such an amazing wedding.
No one can believe that she's going to get the whole affair together in two days, but, as Denise explains, she planned every aspect of her wedding to Charlie Sheen and that marriage ended in tears and tiger blood, so what was the point of any of it? Her whole attitude to the wedding is best summed up when one of her daughters comes downstairs to say she can't wear the high heels that have been picked out for her. "Can I wear sneakers?" she asks. "Sure," Denise says. "I don't give a shit."
That "I don't give a shit" attitude is what I like the most about Denise and her approach to this wedding. She doesn't sweat the small stuff. She doesn't even sweat the big stuff. She has had all of her sweat glands Botoxed so that she never has to sweat (or maybe Aaron has just pounded the perspiration out of her).
Denise invites all of her ex-boyfriends to the party because she's still friends with them. Denise doesn't sweat it. She doesn't even sweat inviting Sheen, and says she wouldn't sweat it if he brought a prostitute for his date, which, if he attended, would have been an inevitability. Denise being so chill about her sexual past leads to an amazing moment with Lisar and Patrick Muldoon. He played Lisar's brother on Days of Our Lives and they had a little tryst. Whoa, isn't that against the law, even in California? At the same time he was also sleeping with Denise and neither of them knew about it. God bless Lisa Vanderpump for asking, "Which one was better?" (My money's on Denise.)
Most reality-TV brides would be carping on about "my special day" and making everything perfect for months. Remember when Scheana Shay was going to marry Shay Shay on Vanderpump Rules? Or what about the Bridezilla to crush them all, Katie Maloney? Denise isn't trying to mess with any of that. She's never too precious about her wedding and only wants something she and her fiancé will think is fun. Mission accomplished, and I couldn't be happier for the couple. (Now, if we could only figure out how to trick them into releasing a sex tape.)
I also kind of loved what everyone wears to the wedding — even Dorit, who I will never forgive for having a handbag with a giant bike chain attached to it. She looks perfectly summery for the outdoor wedding, wearing a polka-dot dress and a denim jacket. Camille has on a great maxi dress; Lisa wears one of her English sun hats and a striped dress that has her boobs front and center. (She must have been so busy getting ready that she forgot to fully charge Ken, because he falls asleep during the wedding.) Teddi actually doesn't wear one of her inappropriate hats, which is the best I can say for her.
(Oh, before I forget, what was up with that FBI Jesus hat on Denise's table when she's talking to the officiant at her wedding? It stands for "Firm Believer In Jesus," and if you have to spell out what an abbreviation means right under said abbreviation, then you are not a very good maker of abbreviations. To make it even worse, it also says "I love Jesus" on the brim, as if someone reading that hat might not be able to intuit that just based on the gross logo alone. And is this Denise's hat? Is she a sneaky Jesus Housewife? If so, can we demote her to Orange County where the lord is always speaking through the fake boobs of those women?)
The best outfit, though, is Erika Jayne showing up in one of Lisa Rinna's QVC jumpers. I bet she bought it with her own money. Anyone who follows Erika on Instagram knows she loves to lie in bed watching Lisar on QVC and order her clothes, and I just think that is the sweetest, funniest thing someone could do for a friend with a QVC line. But it turns against her while she's sitting in the sun for two hours waiting for Denise to walk down the aisle. Anyone who has worn a Halloween costume out of a bag will tell you that a poly blend breathes about as well as a pug under water. Lisar even talks smack about her own clothes. She should send us all a free duster to make up for it.
We also get to hear about how many of the women got married. Lisar and Harry Hamlin had a tasteful wedding where everyone surrounded them with lit candles, and it sounds like that was the best lighting she's ever going to get. Teddi and Edwin got married just with their family, and she looked like a blushing bride. Dorit, on the other hand, had a Great Gatsby/Roaring '20s themed wedding at the Rainbow Room in New York. If there is one thing that is more played out than Great Gatsby–themed parties it's having a tacky wedding at the Rainbow Room. That's Dorit's style in a nutshell. Of course Dorit had a Great Gatsby wedding. Next we're going to find out she had a pimps-and-hoes–themed gender-reveal party.
Speaking of Dorit, I thought we were going to get all the way through this entire episode with nary a mention of #Pawtergate (a.k.a. the Lucy Lucy Apple Juicy Affair), but in the final minutes of the program we get a big revelation. Dorit is sitting in her bedroom in her robe without any makeup on, talking about how she really needs to talk to P.K., the bride of Fatberg, about some "important payables." That line is hilarious. We all know they don't pay their bills. (Or at least that's what the lawsuits allege.) She suspiciously gets a text (from whom? The cloud? Her assistant? The producers?) with a link to an article in digital birdcage-liner Radar Online about her and the dog.
"Stabbed in the Back: Lisa 'Extra Hurt' By Long-Time Friend Dorit Over Abandoned Dogs," the headline says. Dorit reads the article and it mentions that LLAJ was a "chihuahua mix," something she says only Lisa and her employees would know. It also says that the dogs "nipped" at Dorit's children, which they claim is a British way to say it. I would also argue that an American who was trying to lessen the aggression that LLAJ displayed would also say "nipped" because if this person said the dog "bit" Dorit's kids then there would be far much less sympathy for the dog.
Dorit is instantly upset about the story because it seems like Lisa, or at least someone in her camp, wants this information public to hurt Dorit. I can see how this would be hurtful. It's one thing if this all comes out on the show where Dorit can at least defend herself. If it's coming out far before the season, the public gets to make up their minds about what happened based on just one side of the story. Whoever orchestrated this is a genius and also someone, I imagine, who would want to spend $300K on a pink kitchen so that the caterers will have someplace nicer to warm up the canapés.
Whatever is going on, it looks like next week we're going to get the huge fight between Kyle and Lisa, and I couldn't be more excited for anything — even a three-way with the newly married Richards clan.