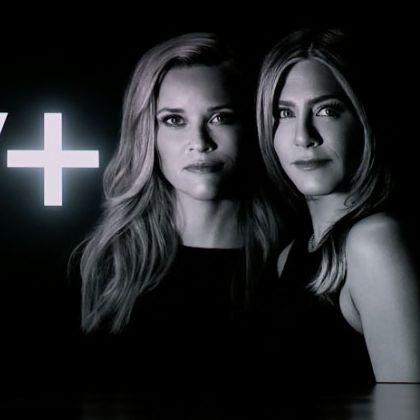 At its big TV event on Monday afternoon, Apple unveiled the first glimpses of its reformatted TV app, now called Apple TV+, and brought out some of its star talent to discuss the shows they're making for the tech company. Among the biggest names were Jennifer Aniston and Reese Witherspoon, who discussed their morning news show, which will officially be called The Morning Show. How much more did we find out about it? Not much!
According to Aniston, The Morning Show will include conversations people would be afraid to have "unless they're behind closed doors." Steve Carrell, who's playing an anchor on the show, also made an appearance at Apple's presentation, joking that he's playing a "bold and dynamic" character alongside Witherspoon and Aniston's leads. (The two actresses joked that you couldn't have an honest look at relationships between men and women with a cast that's only women.) Witherspoon promised that her and Aniston's roles are "aspirational female characters." Though they didn't mention it onstage, the series took inspiration from Brian Stelter's book Top of the Morning about The Today Show.
In addition to Aniston and Witherspoon, The Morning Show's cast includes Gugu Mbatha-Raw, Billy Crudup, Nestor Carbonell, and Mark Duplass, all playing various people involved in the morning show at the center. Mimi Leder (ER, On the Basis of Sex, and The Leftovers) is onboard as a director, and Kerry Ehrin serves as showrunner. Witherspoon added that the show will be "a high-velocity thrill ride in which we pose questions without easy answers." Near the end of Apple's presentation, the tech company also played a clip reel with a few brief glimpses of everyone on the set (along with teases of Apple's other upcoming shows).