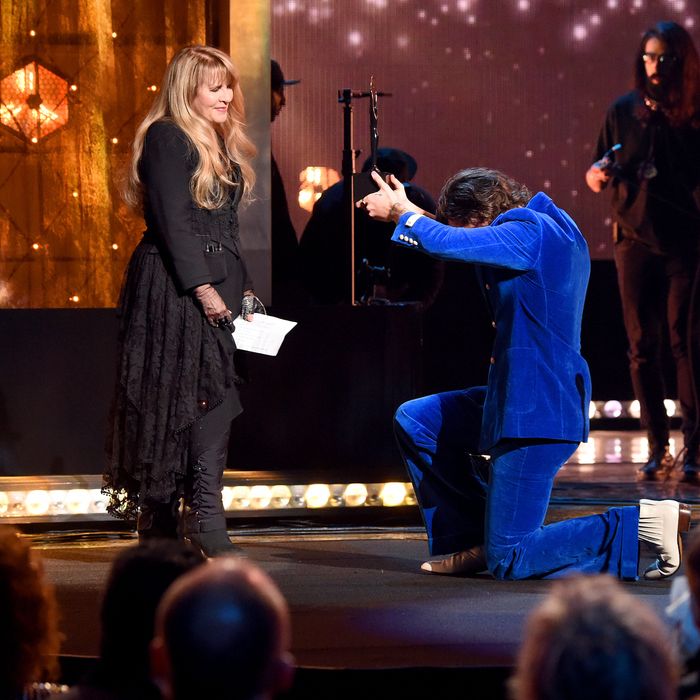 Photo: (C)Kevin Mazur/Getty Images For The Rock and Ro
Well folks, in fear of going full Us Weekly, do we have an exciting celebrity hookup prospect for you to think about today or what?! At Stevie Nicks's induction into the Rock and Roll Hall of Fame on Friday evening, her new pal Harry Styles had the honor of inducting the witchy songstress into the institution — the first woman, in fact, to ever get into the Hall on two occasions. (Her first was with Fleetwood Mac in 1998.) But enough with the historic achievements for now, because we're still speculating wildly about a lil' comment Styles made at the end of his speech, which … uh … maybe alluded to a special relationship the two share. "She is more than a role model — she's a beacon to all of us. Whenever you hear her voice, life gets a little bit better. When she sings, the world is hers, and it is yours. She is everything you've ever wanted in a lady, in a lover, in a friend," Styles said. "Stephanie Nicks, I love you. We all do. And that is true, Stevie." Excuse us, but how would he know that she is the perfect lover? Wa wa wee wa!
Styles's speech, much to the chagrin of the gossip hounds, wasn't brimming with any other winks for us to dissect. Rather, he was keen on reminiscing about what it was like to listen to Nicks as a youngster across the pond:
In my family we listened at home, we listened in the car, we listened wherever we could. "Dreams" was the first song I knew all the words to, before I really knew what all the words meant. I thought it was a song about the weather. But I knew it was a beautiful song about the weather. I always knew the words and I love them all. 
And he also pulled back the curtain on what it's like to have her as a friend:
If you're lucky enough to know her, she's always there for you. She knows what you need, advice, a little wisdom, a blouse, a shawl. She's got you covered. Her songs make you ache, feel on top of the world, make you want to dance, and usually all three at the same time. She's responsible for more running mascara — including my own — than all the bad dates in history combined. That is true Stevie.
Perhaps his most important musing wasn't a personal reflection, but something the world has probably known for years: "Somewhere around 2005/2006, this woman became God." Well, yeah, God is a woman after all.