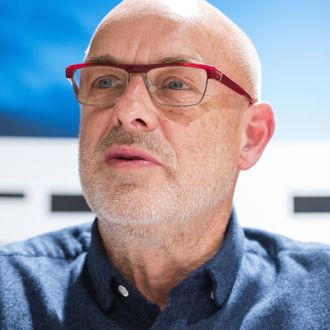 He snapped!
Photo: Daniel Bockwoldt/picture alliance via Getty Image
Move over Radiohead, your messy bitch Rock Hall time is over! Roxy Music has officially confirmed that founding member Brian Eno and longtime drummer Paul Thompson will not be attending the band's induction into the Rock and Roll Hall of Fame this Friday. A publicist for the band said that "other commitments" are preventing the duo from attending, with neither musician offering further comment. (What feud?) In more positive news, frontman Bryan Ferry and the rest of Roxy's inductees — including Andy Mackay and Phil Manzanera — will be making the pilgrimage to Brooklyn for the ceremony, and the band will be accompanied "by a selection of musicians" for a performance of their greatest hits. Duran Duran's John Taylor and Simon Le Bon will be inducting them.
With Roxy Music now accounted for, the lingering thread of this year's Rock Hall drama is whether anyone from Radiohead will show up. Thom Yorke already confirmed he has no intention of going, although two of his bandmates were slightly more open to the idea. Will David Byrne just have to induct their holograms at this point? Stay tuned!