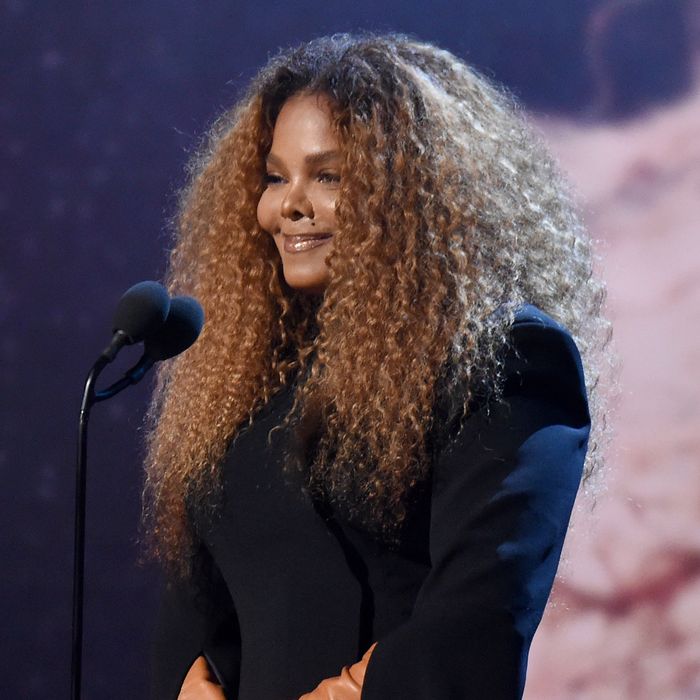 Janet Jackson, who didn't perform at this year's induction.
Photo: Jamie McCarthy/Getty Images For The Rock and Ro
Last year, the weird, beautiful mess known as Dire Straits' induction into the Rock and Roll Hall of Fame birthed a big deviation from the ceremony's storied heritage: The band didn't perform, owing to half of its members refusing to attend. But not only that, nobody performed on Dire Straits' behalf in their half-absence, which had been the longtime fail-safe for non-attendees or posthumous inductees. (The last time it happened was back in 2006, for that amusing Sex Pistols ordeal.) Rumors swirled about what the Rock Hall would do this year in lieu of certain musicians skeptical of accepting the honor — cough, Radiohead — but abandon all hope, ye who enter here, because tradition was broken yet again, and this time it might even spark an unprecedented trend.
Janet Jackson and Radiohead, two of this year's seven Rock Hall inductees, didn't have a performance segment during their respective inductions. To be clear, this meant they eschewed performing themselves, and there was nobody — such as a peer or collaborator — who performed in their place. This marks the first time in the Rock Hall's history such a double deviation occurred, and the reasons for each are pretty murky. Only two Radiohead members bothered showing up, guitarist Ed O'Brien and drummer Phil Selway, although they were effusive in their gratitude for receiving the honor. (Unlike the other three chaps in the band.)
"We may not be the greatest musicians around and we're certainly not the most media-friendly of bands," Selway joked in his speech. "But we have become very adept at being Radiohead." O'Brien added, with a lil' angst: "I wish the others could be here, they would be feeling it." The band never confirmed their reasons for not performing, although with the majority of the band not present, it's perhaps easy to deduce why they didn't. We bet David Byrne, Radiohead's presenter, could've done something great if given the chance, though; they named their band after one of his songs, after all!
As for Jackson, her rationale was reportedly drastically different. Despite showing up for the ceremony and giving one of the best speeches of the evening — and soon embarking on a Las Vegas residency — she opted not to perform because of the Rock Hall's network affiliation. In a month's time, the induction will air on HBO, which is the same network that aired the controversial Michael Jackson sex-abuse documentary, Leaving Neverland. The Jackson estate had previously branded the doc as "tabloid character assassination," and is currently in the process of suing HBO. Jackson praised her brother with the rest of the Jackson 5 in her speech, but, unsurprisingly, didn't directly mention the doc. "Tonight, your baby sister has made it in," she concluded.
So, what does this all mean for the Rock Hall, which has pretty much followed a formulaic induction structure since its inception in 1986? It's hard to say. The three newest inductees who opted out of performances fit on all ends of the music spectrum, which doesn't point to an age or cultural divide. It's also unclear if these acts specifically stipulated no one can perform on their behalf, or if the Rock Hall has ceased trying to fill their slots with another performer, which was done as recently as last year with Lauryn Hill for Nina Simone. (Vulture has reached out to the Rock Hall for clarification.) Either way, as the 2020 induction year powers forward, one thing is for certain: Some musicians just really don't care.