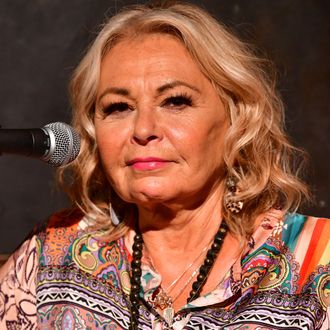 Roseanne Barr.
Photo: James Devaney/Getty Images
With The Conners now settling into a comfortable groove and earning a season renewal, in comes Roseanne Barr, right on schedule, ready to talk some more shit about the racist tweet that got her fired. In a new interview with the Washington Post, Barr now believes her Roseanne co-star Sara Gilbert is the reason her life and career came tumbling down, because of how Gilbert chose to respond on social media to her now-infamous tweet. "She destroyed the show and my life with that tweet," Barr said, convinced they will never reconcile after what happened. "She will never get enough until she consumes my liver with a fine Chianti."
The tweet in question occurred shortly before ABC officially chose to cancel Roseanne, with Gilbert writing how Barr's views were "abhorrent and do not reflect the beliefs of our cast and crew or anyone associated with our show." Fellow co-star John Goodman would later say he believed Barr's tweet was "dumb" and "incoherent," although he was "surprised" that she was fired.
When asked for comment by the Post, Gilbert insisted Barr's animosity was a one-way street. "While I'm extremely disappointed and heartbroken over the dissolution of the original show," she explained, "she will always be family, and I will always love Roseanne." The Conners, which served as Roseanne's official spinoff, concluded earlier this year to decent reviews and ratings. Goodman, Gilbert, and everyone from the main cast returned for the show.