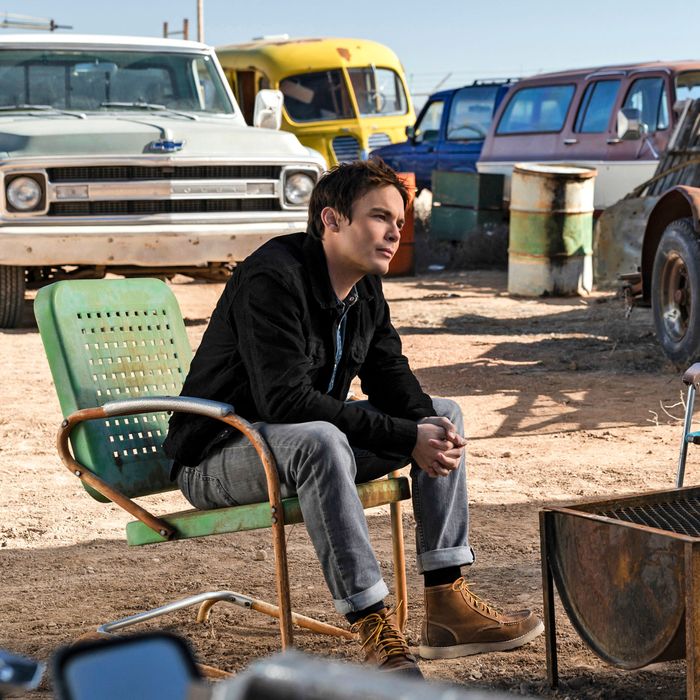 Photo: John Golden Britt/The CW
Remember two episodes ago, when Isobel was stripped and bathed in silver and shuffled back into her glowing alien pod as a last-ditch effort to keep her alive, and there was a very real risk that she'd be in there for years and lose her memories and never be the same again? Never mind, she's back and totally fine, which makes that entire episode feel like empty melodrama in retrospect. The show seems to have lost the balance of breakneck plotting and emotional stakes — Isobel's stasis is the latest of several developments that felt like they should have had more weight and consequences than they ultimately have — but with only four episodes left in this season, there's no time to waste. And thanks to the side effects of Liz's antidote, Isobel's return does bring with it a bunch of intriguing new developments in the Rosa saga.
"I think I was in love with her. I wanted her," Isobel tells Michael, and I will just be over here flying my Isobel/Rosa-ship flag high, even though it seems unfortunately clear that Rosa was Just Not That Into Isobel and was just grateful to have a friend who seemed to understand her. Isobel's flashbacks here flesh out their relationship: they bonded over a mutual feeling that the town of Roswell had already made up its mind about who they were. Rosa wanted to be more than the bad seed; Isobel wanted to be more than the good girl, and for a while they were each other's escape. But was Isobel's obsession with Rosa really her own, or did it belong to whatever was possessing her body?
This question becomes more pressing when the mysterious body snatcher appears to strike again in the present day: There's an active shooting at the hospital, during which Liz's alien research is torched. The attack is presumed to be linked to activists protesting stem-cell research, but Liz very quickly figures out that something is amiss; the shooter is a sweet-natured barista and "pacifist who likes latte art." Nobody who knows him can believe that he'd do such a thing deliberately, and he has no memory of the shooting.
Liz, never without a working hypothesis, figures out that all three perpetrators — Isobel, Wyatt, and now the barista — had preexisting conditions that could cause blackouts. She now thinks Isobel may be completely innocent, because it's clear there's a pattern of unwitting people being forced to carry out violent acts they later don't remember. So does the mysterious fourth alien have the ability to possess the bodies of vulnerable people? Or is the violent body-snatching coming from a different source; maybe somebody who's actively trying to make aliens look like the bad guys?
Meanwhile, after their cards-on-the-table moment last week, Michael shows Alex the partially reconstructed spaceship he hasn't shown to anyone else. "If anyone's gonna destroy me, it might as well be you," he reasons, not knowing that Alex is in possession of the one missing piece of alien shrapnel he still needs to make the ship work. Alex does not seem thrilled by the revelation that Michael is trying to leave the planet, and is probably in no hurry to hand over the last puzzle piece that will allow that to happen. This is a pretty wild emotional dilemma to be faced with, but I can absolutely imagine Alex having the grace to both love Michael and let him go. Let's spend this two-week hiatus emotionally preparing ourselves for that possibility, shall we?
Other Notes:
• "Are you serious? He's still president?" We are all Isobel waking up from her pod, every day, every hour, every moment.
• Michael listing off all the various terrible foster situations he'd been in growing up — angry meth-heads, religious zealots — with studied nonchalance, like he's developed an emotional callus to deal with the memories. Rough. I wanted a little more of a reaction from Alex, but restrained sadness is admittedly his vibe.
• I'm sorry … Noah and Isobel were planning a wine-and-cheese picnic in the middle of a snowstorm? Is this a thing in New Mexico?
• There's something deeply, upsettingly creepy about the idea that Jim Valenti's cancer appeared and grew at a speed that couldn't possibly be normal, and yet there was no recourse: "What was I supposed to do, open a murder investigation over cancer?" So what the heck got to him, and was it his mysteriously sudden brain tumor that left him unable to talk coherently about what he knew? And where does Jesse Manes fit in?
• "It's a real bisexual alien blast around here." More deeply exciting fuel for the #AllAliensAreBisexual fire!
• I was flat-out bewildered by the scene where Noah pulls a gun on Isobel. Given that Noah is later wounded by the hospital shooter, it seemed like it should have been laying groundwork for a parallel or revelation of some kind, but … I got nothing here.
• Bean Me Up is the most charming name for an alien-themed coffee shop.
• The Michael/Maria/Alex triangle is, at least for now, DOA because Maria is a boss and immediately backs off when she realizes that Michael is Alex's legendary museum guy. Further evidence that Maria DeLuca is the greatest of all the friends