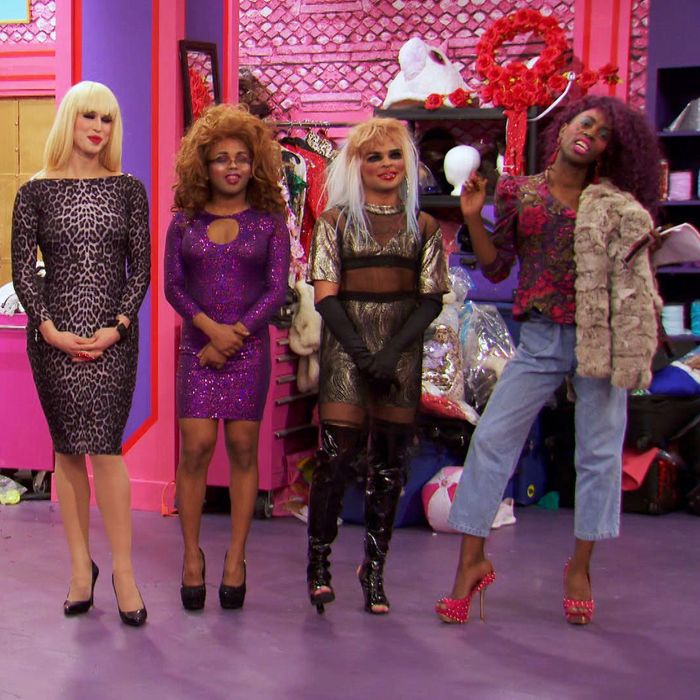 Last week on Drag Race, we said so long to sweet cyst-er Soju, and this week we say a big hello to what is actually a much, much-improved episode that restores my faith in this season. It's early to have an acting challenge (usually the second episode is a big, fat lip-sync extravaganza), but it's nice to see that the majority of these girls actually have what it takes to hold the screen. We're dealing with more personality than we thought! And we love personality! You need personalities for a reality television program. Don't say you never learned anything from reading my 'caps. Now, let's get into this episode, you whores.
The gals all play marry, fuck, kill with each other, and much of the focus is on the fact that many of the girls would kill Silky. Kahanna says she'd fuck and kill her, which actually makes me jealous of Silky? I'm just saying, there'd be worse ways to die. Basically, Kahanna can fuck me until I'm dead. Open invitation. Anyway, Ru pops on the screen and leans hard on the movie-title puns, so we're pretty sure we know what we're getting. An acting challenge! But first, a mini challenge, this time the popular celebrity photobombing game.
We see exactly one fully bare ass (Brooke Lynn) and one entire naked body (Silky Nutmeg). Due to the sheer, ahem, commitment they display, they win the challenge and are named team captains for the main event maxi-challenge. One team will star in the film Good God Girl, Get Out and the other will perform Why It Gotta Be Black, Panther? We can obviously look forward to some prestige filmmaking, here. Brooke Lynn chooses Nina, Ra'Jah, Honey, Shuga, Plastique, and Ariel to perform the Black Panther sketch. Silky selects A'keria, Vanjie, Mercedes, Yvie, Kahanna, and the last-selected Scarlet Envy, who is upset that she's chosen last. Honestly, it does feel strange, as Scarlet already seems to be in a constant performance. Not a read! But also not not a read. These ladies will be scaring us all with their take on Get Out.
I'm not exactly sure how I feel about it being Brooke Lynn's idea that Plastique reads the character of Nails as if she is a Vietnamese nail tech with broken English, but it does seem like it's going to be very funny? There's always a tough gray area with Drag Race when it comes to cultural appropriation versus this being drag, where none of that is supposed to matter. Plastique seems cool with it, so the beat goes on. Eat your heart out, Anjelah Johnson.
Silky gives last-picked Scarlet the lead role in her film, causing Miss Envy to wonder if she's being sabotaged, while Kahanna is immediately nervous that she doesn't have enough lines. She's reassured that it never truly matters how many lines an actress has, that there are no small parts, etc., but two lines is two lines. I'd probably be worried too. Kahanna better be ready to Ruby-Dee-in-American-Gangster the shit out of her tiny part. Or else!
When RuPaul comes through for her walkthrough and asks the Black Panther team what they think of the Get Out girls, Ariel Versace goes in on Silky Ganache. It's definitely a choice to say this much this soon to Ru, and you get the sense that if anyone's thirsty for airtime, a criticism that gets leveled at Silky quite a bit, it feels like it's Ariel right about now. Little schoolyard bitch that she is, Ru basically tattles on the girls to Silky and her group, spilling all the T about how her opposing group thinks she's extra AF and a glutton for the attention. Silky plays it off humorously, cracking Ru up in the process, and also reveals that she has a Master's degree in, like, organizing shit. And soon she'll be a doctor in organizing shit on an international level. So while she loves to play, she also came to slay in an organized way, honey. When Ru walks away from the group, Silky cracks a bit. She lets on that she's upset that shit's being talked about her, and I get it. It's early in the competition, and it's bold of these girls to try to make her look bad in front of Mama Ru.
Michelle and Ross are running the shoot for both of the films, and Black Panther is first. Brooke Lynn has, for some reason, a difficult time landing a very simple joke. She needs a ton of takes to get the line "Beyoncé-what?!" down, and I guess we have to chalk it up to nerves? It would be odd for Brooke Lynn to be bad at acting, as she seems so polished and present. Shuga Cain needs some coaching on how to perform smoking marijuana, but you can tell she's going to be fun in the film. Ariel, in the sister scientist role, seems shook in all of her takes. It's clear that Plastique's Vietnamese accent, for better or worse, is going to steal the whole show, and Nina West also looks powerful and confident in her role. There's a run of Ra'Jah fucking up her lines again and again, but we have also seen her nail this in a previous take a couple scenes ago, so I'm not buying the show trying to make Ra'Jah look like a failure here. Overall, just like the film it's based on, I don't know if Why It Gotta Be Black, Panther? is winning Best Picture, but we're gonna be entertained.
Yvie continues to be a compelling presence, as she takes a note offered by Ross to go bigger with her character (hilariously named Marnie, after Allison Williams's other iconic role) and soars. You gotta be able to take the note people! Also improving once given a direction is Vanjie, in the father role. She's not exactly versatile and this is exactly what's so funny about her. She gamely tries different takes on her character, and everything she does is hilarious. I am thankful for her presence in this show and in my life. Michelle and Ross literally can't keep it together watching her.
Mercedes then gets her moment, and it reminds me of Kenya Michaels. It's tough to expect her to say the word "opulence" exactly the way Michelle and Ross expect her to. There's not much on-camera presence and maybe this wouldn't have been good no matter what role she played, but I have a hard time sitting here and not calling out that of course a contestant who is ESL is going to have a hard time in an acting challenge performed in chock-full-of-pun English. Does this feel unfair to anyone else? Whatever. Kahanna is also there, not slaying. She was probably right to be nervous about her two lines. The two lines aren't popping. Silky is having altogether too much fun, laughing during every take in which she is getting tased by A'Keria's character, and when Michelle calls cut on the whole operation, the girls really don't know how they've done.
On elimination day, Silky is on the hunt for whoever talked shit about her to Ru, and Ariel pretty much outs herself right away. It's refreshing to see someone on their shit so quickly, so I'll give Ariel that much, as the rest of the girls on her team aren't exactly innocent but stay pretty mum on the subject. Yvie can sniff this out from a mile away and shakes her damn head. "The rest of y'all need to step your pussies up," she scoffs, not mad but disappointed. Ra'Jah is not happy with Yvie's attitude in this moment, and puts herself right in the center of the conflict. See my "Said the Bitch!" at the end of this recap to get into what goes down next. I feel it's pretty iconic!
When the girls discuss who has traveled in the past for pageants, Mercedes reveals that she used to jet-set often until she was placed on the no-fly list. Originally born in Mombasa, Kenya, and the show's first Muslim contestant, Mercedes had such a difficult time in regards to travel that she exhausted herself and had a stroke in the middle of a pageant. She lost all feeling on her right side and was resigned to a wheelchair for some time. Breaking down, she's comforted by the rest of the girls in a moment that brings to the forefront the reality of how difficult it is to be an immigrant in this country.
On the main stage, Ru looks absolutely amazing in a dress that would be at home in Wakanda. Fatty Lupone, a.k.a. Bobby Moynihan, and Sydelle Noel, a standout actress from Black Panther and GLOW, are our guest judges, and this week's runway theme is "What's Your Sign?" Astrology may be bullshit, but the fashions this week are largely anything but. It's altogether an impressive week, with highlights including Plastique Tiara's Met Gala–ready Aries look, Yvie Oddly's innovative "digital lion" to represent Leo, and Vanjie's scale-inspired rosy Libra ensemble. Lowlights? Mercedes and Kahanna, who just don't seem ready for the competition when you combine these looks with what happens next.
First we see Why It Gotta Be Black, Panther?, and while the story is not exactly clearly communicated, I am laughing. The supporting actors really pop, notably Plastique, Shuga Cain, and Nina West, while Brooke Lynn is a decidedly weak lead. I am probably a bigger fan of Good God Girl, Get Out, which is strongly performed almost all around and almost an actually sharp parody. Scarlet's lead character and Yvie's "Marnie" start the sketch off right, aided by a cameo from a tech avail Derrick Barry in the place of the iconic ill-fated deer from Get Out. Vanjie and Silky aren't exactly natural as Marnie's parents, but they're committing, which you can't exactly say for Kahanna and Mercedes, who seem uncomfortable in their small parts. The standout, for me, is A'Keria as "Rhonda from the DMV." The whole thing is absolutely insane and ends with some DMV-issued tasering. It's very dumb! I love it.
Brooke Lynn Hytes is kept on stage, and while her Pisces runway is commended, she is read by the judges for not nailing her lines. She was the lead, so it's noticeable. Plastique is praised for both her superlative runway and her great performance in the challenge, and Shuga Cain is given positive notices for her performance as Auntie Maxine in the Black Panther challenge, while Michelle isn't getting Scorpio from her Scorpio look. Ariel Versace is obviously going to be in the bottom, while Scarlet Envy is almost definitely in the top. Ross makes a good point that girls who are given the lead role in these challenges often over-act and do too much, leaving the acting challenges without a grounded lead. Yvie is also soaring to the top, as she had great chemistry with Scarlet and her runway is obviously one of the best up there. Finally, Mercedes and Kahanna are both given negative critiques, with Mercedes explaining to the judges that she is still lacking confidence following her stroke. Ru warns against allowing the inner saboteur in, and Mercedes tearfully nods in a way that says, "Yeah, okay, sure, I had a stroke though, bitch."
We've got two winners this week, as Scarlet Envy and Yvie Oddly's acting duet proves too difficult to choose between. For me, Yvie's runway would have put her over the edge for the sole win, but it's nice to see Scarlet get a win. Mercedes and Kahanna are the bottom two, with Ariel barely surviving the chop. The lip-sync is to "Work Bitch" by Britney Spears, and I think it's safe to say that Kahanna almost kills herself performing the number. Not in the good way, either. It's messy, if entertaining for how all over the place it is. Meanwhile, Mercedes has tricks up her sleeve, including the reveal of what Ra'Jah correctly identifies as a "Toni Braxton wig." Overall, it's obvious that Mercedes wins the lip sync, and Kahanna is sent packing. She's going to be missed in the confessionals. She is positively hot as fuck, if maybe not ready for Drag Race just yet. Methinks the surname "Montrese" probably went a long way in the audition process.
" … Said the Bitch!": A Weekly Quote Roundup
On Yvie Oddly coming for her:
Ra'Jah O'Hara: "Have you ever seen someone finger paint with their feet? That's Yvie's mug. No, bitch, You could never. A girl that looks like you, smells like you, acts like you? No ma'am. An ugly girl could never come for a pretty girl. No. It's a ugly bitch like you crawling out of the swamp to come for me? Mm-mm, girl. I'm over it."
Nothing further!