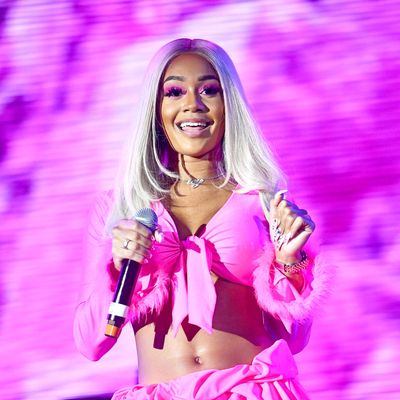 Photo: Scott Dudelson/Getty Images
How a modern rap hit gets made these days might be as easy as trolling the corners of the internet for an unused beat — or, at least, one that hasn't been used the way you intend to — making it your own, pressing upload on a platform like SoundCloud, and watching the streams pour in. For Bay Area rapper Saweetie, it only took a few clicks to put her on the map. First, in early 2017, she opened up Pandora; next she heard Khia's NSFW classic "My Neck, My Back (Lick It)"; then chose to freestyle over it, calling her version "ICY GRL."
At the time, the now 25-year-old was fresh out of USC (yes, she's been following the admissions scam and feels for the kids who have to "sleep knowing they didn't really earn it") and had been doing this same routine for a bit. You can still find videos on her Instagram of her freestyling in her car — but this one, she also released in full on YouTube later that year with a higher-quality music video. Sipping Champagne in her robe in bed in someone's mansion, Saweetie delivers a bossy two-minute motivational speech on taking what's yours by any means necessary. It only took four months after its release for her to get signed and drop her debut EP, High Maintenance, last March.
A year later, after a sprinkling of singles infused with Bay Area Mobb music and Trina swagger, Saweetie is back with her sophomore EP ICY and the stakes have raised: She's now got her own label imprint (also named ICY) to run, is in a public relationship with Migos's Quavo, and all the while, prepping her debut album, but there'll be another EP even before that. Saweetie recently spoke to Vulture about finding her sound, the tough decision to put her boyfriend on her EP, and how we're in a new golden age of women in rap.
Give this East Coaster a little Bay Area personal history real quick. Which songs were your essentials growing up?
The Jacka, "Get Out There": It's a very inspiring song. It begins with [sings] "good girly gon get on out there, show 'em everything 'cause you don't care." It's a real feel-good, get up, grind, and hustle type of song.
Mac Dre, "Boss Tycoon": It's such a bossy song. It makes you proud of owning your shit.
Goapele, "Closer": This is such a euphoric, nostalgic sound. This is the song I listen to when I need to be inspired.
What I really love about the Bay area sound is that it's very unique and that's something I want to strive for, as an artist. It's easy to get caught up in what's trending, but Bay area rap stays true to the local sound. I'm slowly finding that in my own work. It's a little frustrating because when you're starting from scratch, it's easy to just want to find something that's really popular, but I try to not do that.
And I imagine you were making this new EP as your career really started to take off. Did that put the pressure on?
Well, I'm constantly recording music so I've been working on it since High Maintenance. My attitude going into it was I just wanted to have fun. I noticed that during my shows, I have very catchy hooks and choruses, but my verses can be a bit more chill. I want to keep the energy up, like "ICY GRL" and "High Maintenance," and show my personality more on my projects. This EP is all about attitude. It's how I would talk to my girls.
What's the backstory for your single with Quavo? You're in a relationship, of course, but it's not like that guarantees a collaboration.
What's funny is I was playing that song in the background while I was getting ready and he was like, "I need to get on that." I'm so prideful of my work so I was like, "No. This is my song. I'm not getting no features on this." But slowly, after I lived with the song, I said, you know what, I would love to hear what he does with the track. So he did it — I was in the studio with him — and it came out sounding amazing. I'm glad I made that decision.
I love that you made your own boyfriend basically audition to be on your song. It wasn't an automatic yes just because he's your man.
[Laughs] I know, I had to put my pride aside and share it with it him. It also makes sense for what's going on with us right now.
Was it a tough decision to mix business with your personal life? You almost run the risk of the relationship overshadowing the music because then it becomes the story.
That thought did cross my mind. But at the end of the day, my goal is to put out good music. Whether he's my boyfriend or if he wasn't, I would've still wanted him on the song after I heard his verse. I can overthink things sometimes and that was one of the reasons why I originally didn't want him on the song. But, forget it. If we're gonna make good music, we're gonna make good music. And we have great chemistry in the studio so it's only right to put this out.
Right now, it seems like the industry is belatedly starting to make room for more women to co-exist in rap. There are over a dozen women currently in rap not only taking off online but even getting signed quickly, and that feels like a first. It also feels reactionary to Cardi B's success. Have you felt a shift behind-the-scenes?
I feel like it's social media that's opened that door. We're able to accumulate and generate our own fan base. Once we do that and put our own work in, labels take notice that we have our own following. We have to prove ourselves in that way. But it's dope because it does open doors for a lot of women. This past year or two shows we're capable of making a successful career out of rapping.
You've even founded your own label in that time.
I know what it feels like to be that girl with no resources and just want a dope mentor to show me the ropes. It's important for women to have each other's backs. I'd like my label to give women the resources they need to flourish. Because you never know what they're lacking that's been stopping them from pursuing their careers.
Do you plan to put out your debut album later in the year or will there be more EPs before then?
I'm going to put out at least one more EP before my album. And that's only because, if you compare me to my peers, I don't have that much work out. But because "ICY GRL" was such a hit, I was able to get so much work off of it. I'd like to focus on my craft and really put out something to add to my catalogue because, right now, my music is limited to just High Maintenance and there's so much more to me as an artist. I'm still coming up with my sound. That EP was full of experimentation songs and, although I'm proud of that work, I'm still developing my sound. The more I record, the more I get comfortable. So I'm working on that and my stage presence, especially my breath control. Phew! I be losing my breath onstage [laughs].
Had you ever even performed before "ICY GRL"?
Not since talent shows in high school. Never a real show. And I get so nervous now when it's not my show, like I'm not the headliner, because I know that those fans are there for another artist. Many people might not know an upcoming artist, but I've grown to like those shows because if I can control a crowd that doesn't know me, I'm doing my job as an entertainer. I have to rise to the occasion.
This interview has been edited and condensed for clarity.