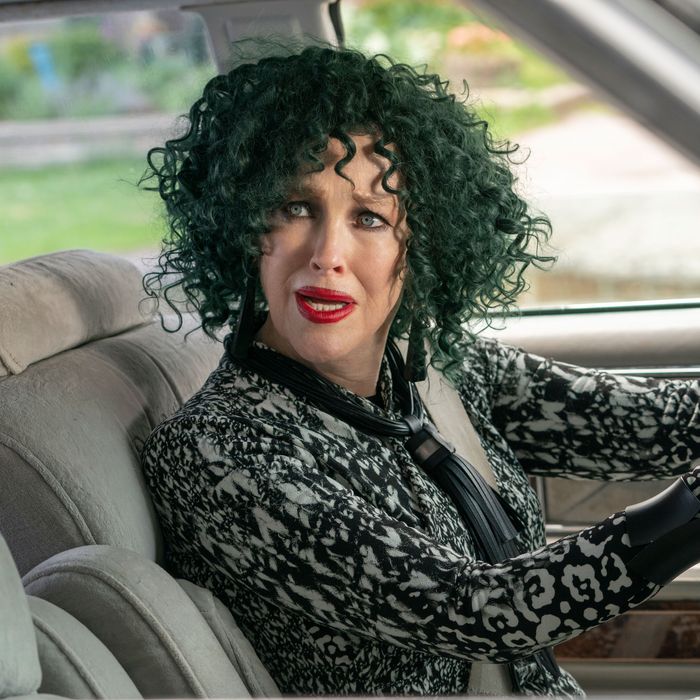 Is it possible I'm still a little teary-eyed from last week's gorgeous episode, in which Patrick comes out to his parents and he and David have the sweetest little slow dance? Yes, of course. Who among us is not still teary-eyed? After such a showcase episode, it's only natural that Schitt's Creek should pivot to a different couple, and "The Roast" takes the spotlight and turns it on Alexis and Ted.
It seems things have been smooth sailing for Alexis and Ted, save for one tiny bout of choppy waters when Fun Ted came out to play (and kiss brothers!), since the couple finally ended the will-they-or-won't-they with a very definitive "they will" during Schitt's Creek's Singles' Week. But it's pretty easy to see that they've fallen into a bit of a pattern, one that Alexis sums up so succinctly when she says that theirs is a relationship of give and take: "He gives me so much and I have learned to take, as well." Even though Alexis forgets brunches they were supposed to make together ("Oh, don't worry baby, I already ate,") and loses Fitbits she borrows, Ted Mullins would do anything for his girlfriend.
Including giving up a "dumb, once-in-a-lifetime job opportunity" to participate in a six-month research program on the Galapagos Islands.
Which brings us to the major conflict of tonight's episode. Ted first attempts to tell Alexis the big news by suggesting they go on a little trip, perhaps to the Galapagos Islands. But Alexis simply sees that as an invitation to brainstorm "less sleepy and less scary" islands to visit, like the Maldives. Or, like, "an island, somewhere, for sure." It's not until Alexis finds the brochure for the research program and learns that Ted was one of ten selected out of thousands of applicants. It's an honor and a dream come true for Ted — who applied before the two reunited — but even so, he is more than willing to drop it. They don't want to do the long-distance thing and Alexis can't leave town for six months — her laptop is here! Ted assures her he's already decided he won't go because Alexis is more important and that it is totally fine. But it is not totally fine, and even someone as oblivious as Alexis can see that.
After a conversation with Twyla in which it dawns on her that Ted makes all the sacrifices in this relationship, Alexis does something truly selfless. She tells Ted that yes, of course she will go with him. This is his dream and he can't give that up. Ted almost talks her out of it by mentioning the sleeping in tents and the insects carrying diseases and the need for shots that are not alcohol-related, but our Alexis stays the course. She's doing this for the guy she loves. This is going to be so good.
Another Rose is being selfless this evening: David has agreed to SPEND TIME WITH HIS MOTHER so that Stevie and Patrick can take super-secret dance lessons behind her back. Moira is an excellent director, but she apparently isn't the greatest choreographer for an amateur dancer; she gives directions like, "Dance like an Indonesian scarf caught in the wind." And Stevie and Patrick are very, very amateur. So they have enlisted the help of another dance teacher to help them not embarrass themselves or David too much when Cabaret opens. That means David's had to distract his mother by taking her out to dinner all week, but he's had enough. He's starting to use words like "merriment" and that is just a bridge too far. But, because David understands that telling his mother they've been rehearsing behind her back with someone else is just too dangerous — she sabotaged him in the Little Mister Pageant by "forgetting" to double-knot his tap shoes simply because he had asked host Mario Lopez for advice — and so he will give them one more dinner.
It's too bad that Moira realizes she's forgotten something at rehearsal and David can't stop her from walking in on Patrick and Stevie performing "Money." You guys, I am so excited to see this production. And you know what? This extra rehearsal time is doing Stevie and Patrick some good. Even Moira can't be upset at their treachery for too long. Although, she does have them apologize to David for lying to him about not being able to socialize because they had to rest. She's very concerned for David's apparent dwindling social life and clinginess to her as of late. She has no idea that David's in on it, and I don't think David's ever been so pleased with himself than he is standing next to Moira playing into her disdain. "I'm so disappointed!" he yells at Stevie and Patrick. He is truly living in this moment. Regardless, Moira allows the extra rehearsals to continue — it's for the good of the show, after all.
With Moira so tied up in Cabaret, she's unable to take her usual spot in the annual Mayor's Roast, which is apparently a disappointment to all — including Roland, the Mayor — because Moira is quite adept at making cruel jokes about Mayor Schitt. As if we ever thought otherwise. Johnny offering to take her place despite everyone doubting he'll be able to pull it off isn't my favorite Johnny storyline of the season, but it's worth it to watch his actual performance at the roast. Johnny vamping while being heckled is a lovely gift to us all. He finally gets a few digs in, and even though he totally whiffs on his big joke about Roland in the bedroom (it's short and quick, etcetera), he walks away feeling like it was a win.
In fact, he's feeling so good about his subpar performance, that Johnny gets home and starts to roast all of his family members — a dig at Alexis's educational woes, calling David out on his summer sweaters, you know, the usual. But Johnny doesn't realize his family is full of people with real "rippers" and they all start to burn each other. Please know that this is real love for the Roses. The whole thing ends on a truly excellent button with information more than worthy to go into the pantheon that is Alexis's Adventures Before Schitt's Creek. David outs her for having a back tattoo that says "that's hot" in cantonese that she got in Hong Kong. Her parents are outraged — "What have you done to yourself?" Moira screams — but Alexis tries to explain: She didn't know any better! She was only 12 at the time!
The Wig Wall
• I'm still laughing over the scene in which Moira comes upon David walking while she's driving back to the motel. First, her beeping. It is outrageous. Second, after they end their chat, she just peels off, leaving David in the middle of the street yelling, "We're both going home, though!" I don't think we've fully realized how blessed we are to have a character like Moira. Some "pretty high heels to fill" indeed.
• "I refuse to buy you another night-light!"
• You guys, we can never call it a "working lunch" or "working dinner" ever again. It is now only known as "a working repast."
• "What is this, Dirty Dancing?"