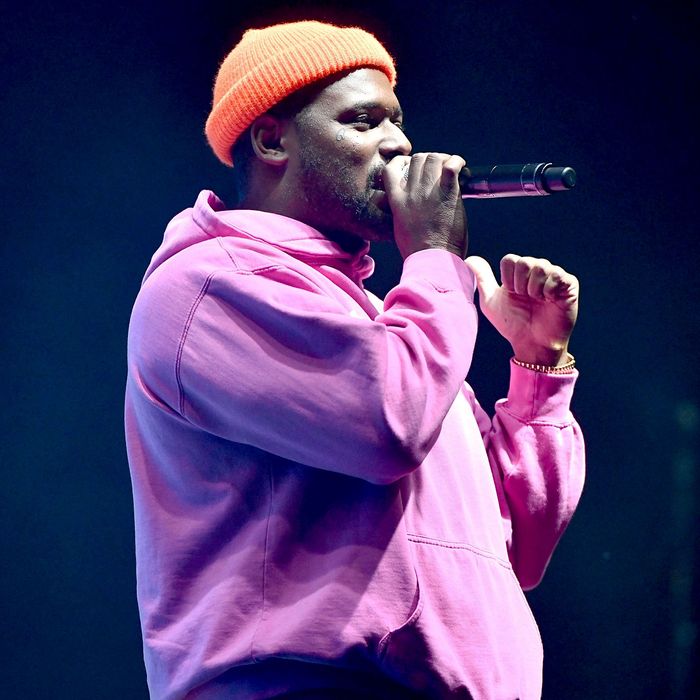 Schoolboy Q.
Photo: Scott Dudelson/Getty Images
Schoolboy Q has always been a perfect foil for fellow TDE member Kendrick Lamar. Kendrick is prone to philosophizing in an effort to make sense of big ideas. Even when he's rapping about something personal, what he's really doing is talking about the state of the world. Schoolboy Q does a version of this as well, but his voice is a perpetual growl. He is never not agitated, even when he's having fun. On the very brief "Numb Numb Juice," which is ostensibly from an upcoming solo album (the last one he released was 2016's excellent Blank Face), Schoolboy Q is in fine form, switching flows and voices like he's at least three different people.
But what's most appealing about the song is the way it builds on the TDE mythology. It's a solo song, but he's pulling flows from his peers — once you hear him do Jay Rock's flow from "King's Dead" it's impossible not to hear it, and even more impossible not to appreciate it.
At the risk of pulling too much meaning about the state of rap music from a song that is under two minutes long, rap evolves faster than pretty much every other genre of music. It consistently sounds like the future even when it references the past, and we are all playing catch up. Hearing Schoolboy Q slot himself into the recent history of his own rap crew — a place he's been largely absent from recently (he only appeared once on the Black Panther soundtrack and didn't show up on Kendrick Lamar's DAMN. or Jay Rock's Redemption) is like finding a missing puzzle piece under your couch. Schoolboy Q is one of the best rappers we've got right now. It's good that he's back.