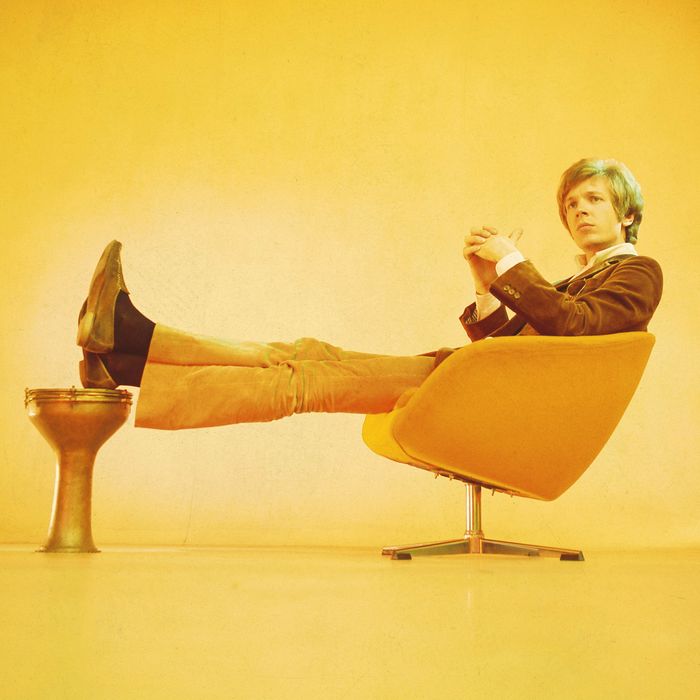 The enigmatic pop star turned iconoclast died Monday at 76.
Photo: RB/Redferns
Though they tussled and toppled the likes of the Rolling Stones and Bob Dylan on the charts with hits like "Make It Easy on Yourself" and "The Sun Ain't Gonna Shine (Anymore)," the Walker Brothers get left out of most hagiographies of '60s rock and pop, banished to the purgatory of easy-listening stations, far from their peers. In turn, with the obituaries that follow now in the wake of Scott Walker's passing this week at the age of 76, it reveals another erasure at work. Most of the summaries of his career highlight those hits and add a throwaway line like "he later went on to produce numerous songs, movie scores, and a number of solo albums," a half-story that's akin to an obit lamenting the death of beloved high-school chemistry teacher Walter White or obscure California musician Charles Manson. It obscures a half-century of deeply enigmatic work that marks one of the most fascinating abnegations in pop music, one that has the likes of Thom Yorke, Marc Almond, and deputy leader of the Labour Party Tom Watson paying tribute to the man.
"This is how you disappear," Walker crooned in that aching baritone of his at the start of his 1983 solo album Climate of the Hunter, well into his transformation from pop idol to iconoclast. Before John Lennon primal-screamed that he didn't believe in Beatles, before David Bowie set off on a career of chameleonic reinventions, before Michael Jackson and Justin Timberlake shook off the shackles of teen pop stardom for serious adult music, Scott Walker had already performed self-immolation on his mid-'60s image as "the Boy With the Golden Voice" and "the Blond Beatle."
Born Noel Scott Engel in Hamilton, Ohio, Engel and his mother settled in California by 1959. He was groomed as a child actor and singer but as a teen, his tastes took in the likes of Bill Evans, the Beats, and the art films of Ingmar Bergman. By the mid-'60s, Engel had teamed up with John Maus and Gary Leeds, rechristening themselves as the Walker Brothers. But in the midst of the British Invasion, the Walker Brothers went against the grain, a trio of California transplants who up and decamped for England, where they soon became pop stars. It would also be the type of counterintuitive, contrarian streak that would come to define Walker's subsequent career.
When he became disenchanted with the strictures of fame, Scott Walker struck a singular path away from it. Inspired by Belgian singer Jacques Brel and his uncanny ability to turn existential matters into chanson, Walker both translated Brel's songs into English (as on his hit single "Jackie") and penned his anglicized version of the European art song. His first three solo albums, 1967's Scott, 1968's Scott 2, and 1969's Scott 3, rose to the top tier of the U.K. charts. But by Scott 4, his subject matter — which now ranged from Bergman's masterpiece The Seventh Seal to Stalinism — revealed how he had turned his back completely. He'd never sniff the pop charts again, preferring instead to move through the unplumbed depths of 20th-century art and music.
It led to some very strange albums in the 1970s, which seemed determined to buck off everyone who had ever called themselves a Scott Walker fan, resulting in head-scratchers like The Moviegoer, his collection of movie-theme-song covers, which Walker famously refused to reissue, and Stretch, which one online commentator described as a "lonely serial killer brand of country music." But when the Walker Brothers released their 1978 swan song Nite Flights, a transformed Scott Walker emerged. One can hear the art rock of Roxy Music and the strange experiments David Bowie had made in Berlin with Brian Eno, but refracted through the cracked lens of Scott Walker. Take the skin-crawling epic "The Electrician," wherein Walker voices a Chilean torturer at the height of Augusto Pinochet's reign of terror. He penned the song while the massacres were still happening in the country.
Juxtaposing soaring strings with dread-inducing drones, it plotted the trajectory of Walker's irascible late career. Where else can you find the likes of Billy Ocean and Dire Straits' Mark Knopfler grappling with free-jazz saxophonist Evan Parker save on Climate of the Hunter? Or have a drum sound derived from punching a side of pork ribs? Late albums like 1995's Tilt, 2006's The Drift, and 2012's Bish Bosch are bizarre and grotesque, bringing to mind Viennese Actionism, black metal, and the triptychs of Hieronymus Bosch. On them, Walker references everything from 9/11 to Elvis's stillborn brother, from the gay lover of Pier Paolo Pasolini to Attila the Hun's dwarf jester Zercon. There are also some fart jokes.
It can sound outrageous and opulent, indulgent even. But it also speaks to the fearlessness of Scott Walker. How many artists are content to mine the same thin vein of music over the course of a career, not just to diminishing returns but to an increasing fear of stepping beyond the familiar? Walker not only threw his pop career into the rubbish heap of history, but sought to push at the boundaries of song, to see what else his words could contain. He could scan as easy-listening music, supple enough for your grandparents and suburban housewives. But while Frank Sinatra might sing about the wee small hours, Walker gave voice to the people that moved in such darkness. His earliest hits were miniature symphonies of heartbreak, but after you've embodied such personal anguish, what other tragedies are there to give voice to beyond yourself? Walker found a way to contain some of humanity's greatest atrocities within his music. In making his baritone voice such horrors, Scott Walker made sure such things wouldn't disappear.