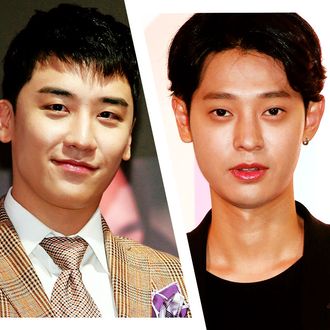 Seungri and Jung Joon-young.
Photo: Getty Images
At least two K-pop stars have retired from music, effective immediately, following an ongoing investigation into sexual misconduct at the popular Seoul nightclub, Burning Sun. On Monday, Seungri (Lee Seung-hyun), the youngest member of boy band Big Bang, announced that he'd quit the group and retired from the music business entirely after police charged him with allegedly running a prostitution ring at the club, where he was a board member and where he oversaw publicity; he could face up to three years in jail. "At this point, I think it would be best if I retire from the entertainment industry," he wrote on Instagram (translation by Soompi). "I decided on retiring from the entertainment industry as the issues that I caused a societal disturbance with are too major. Regarding the issues that are being investigated, I will be investigated diligently and reveal all the suspicions."
An investigation into Burning Sun was first launched in January amid allegations that the club was drugging people and supplying them to customers to be sexually assaulted. In February, texts from a group chat between Seungri and others implicated in the case (including Korean actress Park Han-Byul's husband) were uncovered where they discussed supplying prostitutes to bribe potential club investors and circulated hidden camera footage of women in sexual situations. Over the weekend, police raided the club and Seungri was subsequently charged.
One of the men named in those texts is fellow Korean star Jung Joon-young, who was brought in for questioning on Tuesday on suspicion of violating sexual-violence laws related to the nonconsensual filming and sharing of sexual acts. On Wednesday, the singer and TV-personality confessed to filming women without their consent and sharing the videos in online group chats. "I admit to all my crimes," he said in a statement. "I kneel and apologize to the women who appear in the videos." He went to on say he is suspending all activity within the entertainment industry, will cooperate with the investigation, and "accept punishment for my actions." (In 2016, Jung Joon-young's ex-girlfriend also accused him of filming her without her consent.)
According to Korea's Herald, Jung Joon-young and other unnamed suspects were booked for illegally filming and spreading videos of a sexual nature. Both he and Seungri have been banned from leaving the country. Police say evidence of Jung Joon-young's crimes turned up in their investigation into Seungri and that the cases are "related and not related." Jung Joon-young could face up to five years in prison.