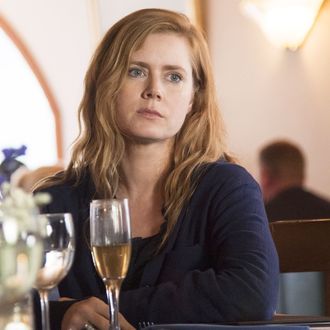 Despite HBO insisting that its summer smash of a miniseries, Sharp Objects, was absolutely going to stay true to its source material — a very spooky novel written by Gillian Flynn — and not mess with perfection with a second season, Peak TV is just a construct of human perception and anything can change in an instant. That's because Marti Noxon, Sharp Objects' creator who adapted the novel for HBO, said at a SXSW keynote on Saturday that the miniseries could perhaps follow Big Little Lies' lead and return for another season, lack of follow-up novel be damned. "Maybe there will be a sequel, maybe we'll get to find out more about Adora and Camille's sister," she said, according to Deadline. "Gillian and I have thoughts on it." Noxon mentioned how she originally intended to adapt Sharp Objects as an "ongoing series" that more thoroughly zoomed in on Wind Gap's denizens, but HBO didn't support this non-miniseries vision.
Should Sharp Objects indeed return for a sequel and continue its quest to make roller-skating groovy again, it would follow HBO's decision to renew Big Little Lies — which, like Sharp Objects, was adapted from a stand-alone novel — for a second season after widespread critical acclaim and massive ratings. Nicole Kidman, Reese Witherspoon, and the rest of the leading cast are set to return for this reprise, in addition to newcomer Meryl Streep.
"It was done, in my mind, for the right reason," HBO programming chief Casey Bloys told us about the renewal at the time. "They set a really high bar, and I think everybody involved believes it's either going to hit that bar and exceed it, or we wouldn't do it … nobody had to do this, so every part had to feel right. Reese and Nicole are not vanity producers. They are in this, having conversations. Where we started was, 'We all want to work together again. Is there more here? Is there something else to do?'" We guess there is.