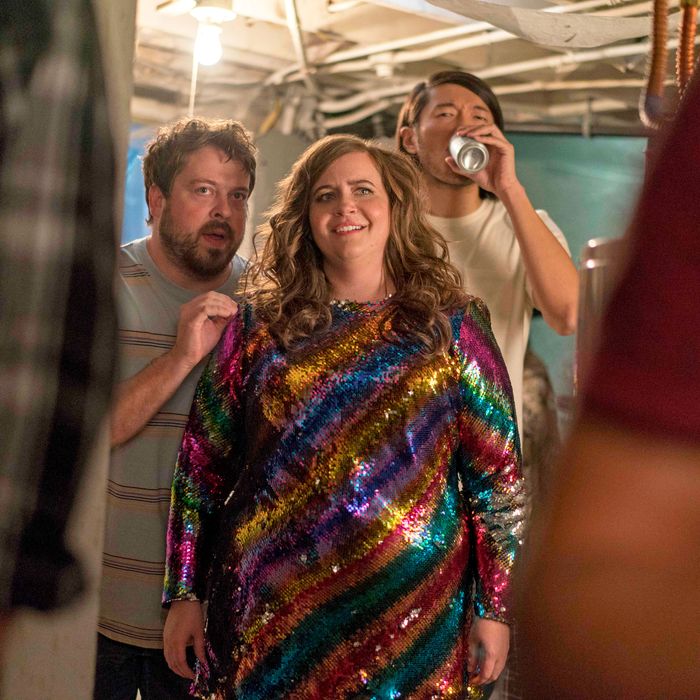 Aidy Bryant in
Shrill
.
Photo: Allyson Riggs/Hulu
In the first episode of Shrill, the main character, Annie, is confronted at her local coffee shop by a physical trainer who insists she should get in shape.
"There is a small person inside of you dying to get out," the trainer tells Annie with an encouraging smile.
Annie responds politely, but looks at this woman like she's out of her mind. That reaction comes naturally because Annie, played by the buoyant Aidy Bryant, has been dealing with people who say condescending things about her size for her entire life. But throughout the fabulous debut season of Shrill, a new Hulu series based on the book of the same name by Lindy West, she realizes just how wrong Personal Trainer Woman is. There isn't a small person inside of Annie dying to get out. There's a bold, outspoken, and amazing one inside of her, and she's already starting to emerge.
As realized by co-creators West, Bryant, and showrunner Alexandra Rushfield, Shrill is steeped in a sense of empowerment and anti-fat-shaming but never succumbs to the sort of cliché, "You go, girl" cheerleading that a less confident show might be tempted to channel. It is a half-hour dramedy that is comfortable in its own skin and doesn't care if you like it. Tonally, the series has the attitude that Annie aspires to have about herself, and that she gets closer and closer to possessing as each of the six episodes progress. By the way, that right there is my chief complaint about Shrill: It's only six episodes. I easily could have watched 10 or 13 or 27 of these half-hour slices of humanity that somehow manage to seem both effortless and meticulously conceived all at once.
Based on West's own experiences, Shrill follows Annie as she attempts to gain bylines and the respect of her extra-salty editor Gabe (a deliciously acerbic John Cameron Mitchell) at the Portland alternative weekly where she works, while also dealing with her wildly lazy quasi-boyfriend Ryan (Luka Jones); blowing off steam with her best friend and roommate Fran (Lolly Adefope); and coping with her judgmental mom (Julia Sweeney) and a father (Daniel Stern) undergoing treatment for cancer. In other words, Annie is a human being with a full and complicated life. Unlike other fat women on TV, she's not on a diet or actively trying to lose weight. Her appearance probably wouldn't even be in her top-ten list of things to worry about on a daily basis if she didn't battle constantly with her own self-consciousness, an internal conflict born out of a lifetime of receiving messages that she shouldn't be happy with her body the way it is.
"It's a fucking mind prison, you know, that every fucking woman everywhere has been programmed to believe," Annie says in a rant at the end of a particularly trying day. "And I've wasted so much time and money and energy, for what? I'm fat. I'm fucking fat. Hello, I'm fat."
It feels wrong to describe Shrill as a breakout role for Aidy Bryant since her talent has been evident for so long on Saturday Night Live. But her performance does feel revelatory because it demonstrates the breadth and depth of what she's capable of in a way that she hasn't gotten to demonstrate before. As Annie, she is confident when it comes to her writing yet just as believably insecure in her relationship with Ryan, who treats her like a doormat, in part, because she keeps lying down and letting him step on her. No note Bryant strikes registers as false, and she never oversells moments, even big ones like that mind-prison monologue that could easily have been ratched up to a notch that would have felt like too much. There's something lovely about seeing Annie come into her own while Bryant, as an actress, seems to be doing the same thing.
Annie isn't the only authentic character on Shrill. Pretty much every person who enters the frame seems to have been plucked from the real world and given real dimension. Ryan, who is, to be clear, a certifiable dumbass, has a naïveté that, as brought to the surface by Jones from underneath a haystack of beard hair, helps explain (a little) what Annie sees in him. Annie's mom comes across initially as a classic passive-aggressive worrier, but by the end of the season, it becomes clear that she's stuck in a different, but equally limiting mind prison. It's nice to see Sweeney, another versatile SNL vet, getting a part like this.
And then there's Gabe, Mitchell's arrogant, desperate-to-be-hip editor, who is impatient with Annie's impatience about her career. He is a total asshole and I love him so much. I love him because, after Annie publishes a blog post without permission that calls him out for his less-than-enlightened views about overweight people — a story line that mirrors an actual public exchange between West and Dan Savage — Gabe defends himself by saying: "Do I look like the Establishment? I'm wearing nail polish." In another perfect detail, when Gabe gets a text message alerting him to the existence of Annie's blog post, he is in his car rocking out to a song by the early '80s British punk band Blitz. The name of the song? "Voice of a Generation." There's a delicious Gen X versus millennial war between the two of them that is spot-on and hilarious to watch.
Shrill is definitely on Annie's side and wants us to be, too, but it's also upfront about the fact that she has flaws. For example: It is wrong for a journalist to publish a piece in a widely read media outlet without clearing it with her editor. Annie can also be very self-involved, something that her work best friend, Amadi (Ian Owens), explicitly points out to her at a key moment in the season.
The point of the show, really, is that you don't have to be a perfect person in order to be worthy of celebration. All the details in Shrill work to communicate that in subtle ways, from its easy, organic visual style to the costumes. Annie is almost always dressed in bright, colorful clothes, which is refreshing since women have been told since the dawn of time that they should wear darker colors because they are more slimming. (Did you know that the first time Eve put on clothes, she chose an all-black ensemble so she'd look less hippy? I'm telling you, it's in the Bible, man!) Annie is the kind of person who stands out in a crowd even when she feels like she wants to disappear, and every creative choice reflects that.
All six episodes of Shrill are great, but the one that feels most groundbreaking is "Pool," directed by Shaka King and written by Samantha Irby, in which Annie goes to a pool party specifically for fat women and fat women only. She shows up wearing a button-down shirt and jeans over her bathing suit, in keeping with what flashbacks show us has historically been her approach toward swimming-related activities: Keep your flesh covered at all costs. But once she's surrounded by so many beautiful women who are letting their boobs and rolls hang out without concern, she strips off her clothes and dives into the water.
Annie glides through the blue, navigating around an endless array of thick, sturdy female legs and feels freer than she has, maybe ever. It's a gorgeous scene and yet another instance of Shrill reminding us that the person inside of you who's dying to get out shouldn't aspire to be small. She should aspire to be larger than life.