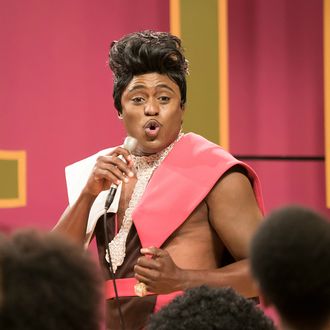 Wayne Brady.
Photo: Annette Brown/BET
*WHOOOOOOOOOOOOO* could portray musical great Little Richard with more flair, more commitment, more that vest than Wayne Brady? No one, which is presumably why the actor and Let's Make a Deal host will be portraying the singer Tuesday, March 5 on BET's American Soul. The series follows Soul Train creator Don Cornelius, played by Sinqua Walls, as he works to bring his legendary show to television in 1970s Los Angeles.
In Brady's episode, "Don is forced into a complicated situation when Little Richard threatens not perform on the show," but the press release also notes the episode contains a performance of the beloved pianist's "Born in the Bayou," so it seems like Little Richard eventually comes around. Could you imagine if they had Wayne Brady and didn't let him perform a Little Richard musical number? Just a tense argument with Don Cornelius and Little Richard leaves in a limo? They wouldn't dare.