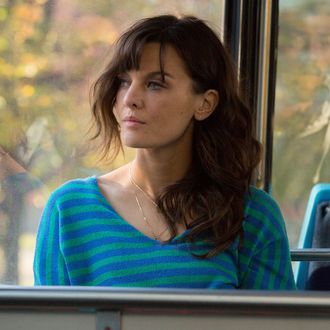 Frankie Shaw.
Photo: Claire Folger/SHOWTIME
Three months after series star Frankie Shaw fielded allegations of misconduct on the set, Showtime has canceled SMILF after two seasons. "After weighing a variety of factors, Showtime has decided that SMILF will not move forward for a third season," the network said in a statement Friday evening. "The remainder of the second season will continue to air as scheduled on Showtime through its series finale on March 31. We remain extremely proud of the two seasons of SMILF, and thank Frankie Shaw for her singular voice and unique creation, as well as the dozens of writers, producers, actors, directors and crew members both in Los Angeles and on location in Boston, who contributed to this exceptional series."
In December, The Hollywood Reporter published claims from SMILF actress Samara Weaving accusing Shaw of acting inappropriately while shooting sex scenes, at one point allegedly pressuring Weaving to undress despite a no-nudity clause in the actress's contract. "When she balked, a source says an exasperated Shaw pulled her into a trailer, yanked off her own top and demanded to know why Weaving had a problem being nude when Shaw had no such concerns," THR reported. Weaving also alleged that crew members were allowed to turn on video monitors, despite the scene being shot on a closed set. Other reports claimed writers of color were separated from their colleagues and "felt that their ideas were exploited without pay or credit."
In statement made through her lawyer at the time, Shaw said, "I work daily to create an environment in which everyone should feel safe, and in which I can continue to grow as a leader and manager. I am now and always have been open to hearing and addressing all concerns and issues that fall within my control. It pains me to learn that anyone felt uncomfortable on my set. I sincerely hope we can work together to resolve any and all issues, as I am committed to creating a workplace in which all people feel safe and heard."
Contributing to Showtime's decision to cancel the series is the fact that it has lost nearly half of its audience this season, but sources close to the show told Vulture that Showtime is not ruling out working with Shaw in the future. In a statement reported by Variety, Shaw said, "I can't express how much I've loved making this show, how much I love the cast and crew and appreciate Showtime as creative partners." ABC Studios also issued a statement Friday: "Frankie Shaw's overall deal with ABC Studios has been suspended without pay while we review our options."
Update, Saturday morning: Shaw responded to the news with a short and "teary" Instagram post.