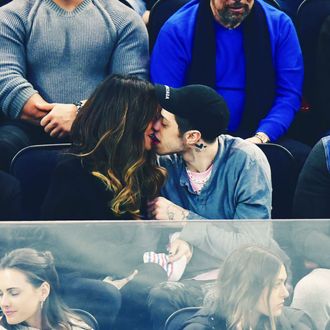 Kate Beckinsale and Pete Davidson.
Photo: JD Images/REX/Shutterstock
Pete Davidson is on the rebound, ladies, and you know what that means: SNL will grant him unlimited time during Weekend Update to give us status updates about his love life, relevance to late-night comedy be damned. Davidson's newest lady friend is none other than noted cool mom Kate Beckinsale, and the two were spotted last week giving each other a very PDA-filled tonguing at a hockey game. And despite the fact Beckinsale is 45 years old compared to Davidson's 25, the duo are enjoying their time together, even if they're aware of the public's skepticism.
"Apparently people have a crazy fascination with our age difference," Davidson explained on last night's SNL when baited by Colin Jost. "But it doesn't really bother us. But then again, I'm new to this." He then proceeded to breathlessly list over a dozen names of famous men who have a proclivity for dating much younger women — would you guess Larry King is named three times? — and how they're not faced with the same criticism.
Elsewhere in his Weekend Update segment, Davidson also addressed how people can still take a moral victory while listening to songs created by embattled musicians, vis-à-vis R. Kelly and Michael Jackson. "Here's my plan and hopefully you guys like it," he explained. "Every time any of us listen to a song or watch a movie made by an accused serial predator, you have to gave a dollar to charity that helps sexual assault survivors. I've already donated $142 and that's just from 'Ignition (Remix)' alone."