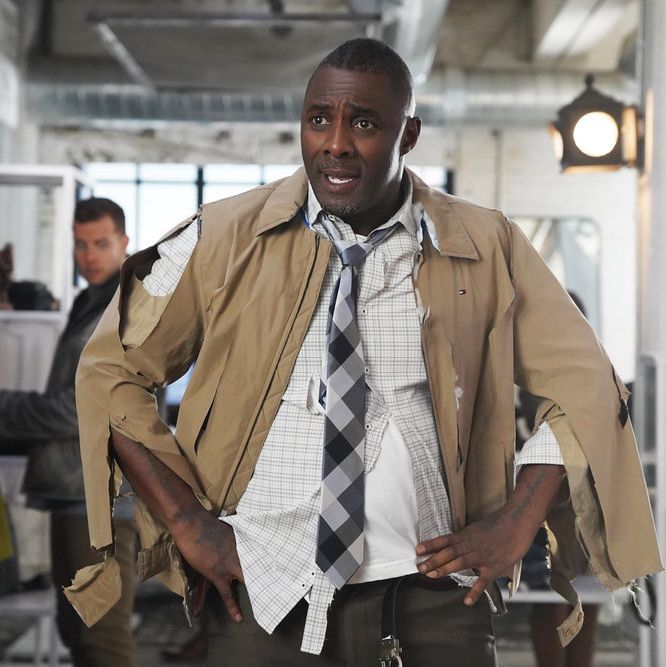 Photo: NBC/Rosalind O'Connor/NBC
Idris Elba is ready to show the world he knows comedy. His body of work — which comprises antiheroes (Luther), antivillains (The Wire), civil rights icons (Mandela: Long Walk to Freedom), gods (Thor) and cats (the upcoming Cats) — doesn't make room for a lot of pratfalls. He's done some voiceover work for movies such as Zootopia and Finding Dory, but there's no need for the Sexiest Man Alive to make himself look foolish to get gigs. Tonight, he hosted SNL in advance of his new Netflix series Turn Up Charlie— which looks to be sort of a Kids-Say-The-Darndest-Things-To-Their-Aspiring-DJ-Mannies. Elba plays an affable host throughout, and though most of his characters are fairly straightforward, he does get a couple of welcome opportunities to play it silly.
(As a reminder, we're ranking these sketches in order of excellence.)
R. Kelly Cold Open
When embattled R&B crooner R. Kelly (Kenan Thompson) sits for an interview with Gayle King (Leslie Jones), things get strange. "Call me 'Victim,' " Kelly asks King, to no avail. Kelly tries to convince King he doesn't have a harem of young girls or a cult, despite appearances. He talks about the devil's good advice, paints himself as a poor man, and wonders why King's crew keeps the cameras out in the open where everyone can see. No, he isn't doing himself any favors, but in his Trapped-in-the-Closet inner monologues, everything is going great and he ought to run for president. Even his crisis manager (Chris Redd) is cool with it all. It's nice to have a cold open that isn't required to address the big political headlines of the week, and this one dismantles an uncomfortable cultural moment in an effective way.
Can I Play That?
This game show, touted as "Actors' Least Favorite," asks performers to imagine what roles they and other actors can play. Oh, did producers mention that the game is produced by Twitter, and that "one mistake will kill you"? David (Elba), Jackie (Cecily Strong), and Lawrence (Beck Bennett) realize they can't play blind people, astronauts, or anyone other than themselves "with a different haircut." Who would play Caitlyn Jenner in a movie? No one; it's an impossible movie to make. In the end, the players have to guess what roles they'd be eligible to play, and it's as limiting as can be. David, though, still holds out hope he can play James Bond. The sketch's take on call-out culture is damning, and well-written, too.
Weekend Update
This packed Update begins with jokes about Paul Manafort's sentencing and Trump signing Bibles for tornado victims. In talking about the 2020 election, Colin Jost makes a nice comparison between Hillary Clinton and Rocky from Rocky IV: "No one thinks she can come out of retirement to beat this Russian hero who barely speaks English. … She's got nothing to lose, except the presidency for a third time." Goop staffer Baskin Johns (Heidi Gardner) comes on to defend the site's products, but again gets nervous with the idea that proprietor Gwyneth Paltrow might be watching. Then her supervisor Fifer James (Paltrow herself) comes on to help talk about ashwagandha (it's from Wakanda) and salt (it's "angry sugar"). Even if it doesn't boast the best writing or characters, there's something enjoyable about taking the piss out of Goop.
"This Wednesday was Ash Wednesday," Jost says. "The day where white people show their support for 21 Savage." It's better when there's a side-by-side image of Savage's tattoo and a forehead smudge, but still. This section also boasts good jokes about the Michael Jackson doc Finding Neverland and Rudy Giuliani. Then Pete Davidson comes on to talk about listening to R. Kelly's music even when he knows that Kelly is a "monster" who "should go to jail forever." Davidson feels "all really talented people are really sick," so if anyone wants to enjoy art, they have to admit that artists are "bad people." For example, if someone buys a Mustang, they have to call out "Henry Ford hated the Jews," while buckling up. Davidson also addresses the age difference between himself and Kate Beckinsale by citing every man in Hollywood who has ever dated a younger woman, few questions asked.
The final segment starts with a few jokes, including one about the character of Batman, who is turning 80 years old. This explains his new nemesis: "Jamaican nurse." Leslie Jones shows up to talk about her big day — nope, not her wedding, her funeral. Stiffler from American Pie will be speaking, J.Lo will be in attendance (but not singing), and the coffin is set to blow if the service goes longer than 90 minutes. Eventually, quaman — not Jason Momoa,  Aquaman — will shoot her body with a flaming arrow. With Jones selling it, it sounds like an event worth attending.
The Impossible Hulk
When he gets angry, Bruce Banner (Elba) becomes something more intense than a green monster who smashes everything in sight; he turns into an entitled white lady (Strong). So when he tries to buy a shirt that is not on sale despite the fact it was in the sale section, or when his loud neighbors won't quiet down, he transforms into an aggrieved white woman who says things like, "Do not rush me, do not try to silence me!" and "I'm being aggressed!" Finally, when he's pulled over by the police, Banner's alter ego manages to get the cop to retreat back to his squad car. There's some real truth in here, though it would have been interesting to see some inclusion of the cultural shift toward shaming the Permit Pattys of the world.
Idris Elba Monologue
This monologue doesn't serve only as an intro to Elba's career milestones, but gives a taste of the actor's life before he was famous. Right off the bat, Elba confirms that "the closest thing I did to a comedy was The Wire." (Ironically, one of his early day jobs in New York was working the door at Caroline's comedy club in Manhattan.) While Elba went on auditions and tried to downplay his British accent, Elba's mother really wanted to him to have a backup plan. "I do have one," Elba tells his mother, "DJ." It wasn't until he went to a Biggie Smalls memorial with his sister that he convinced himself to keep auditioning. It's more charming than funny, but the idea that seeing hip-hop legends in real life was like going to a wax museum in which the figures were "smoking blunts and drinking Alizé" is nice.
PowerPoint
Microsoft employees (Elba and Mikey Day) bring several officemates together in order to help them brush up on their PowerPoint. The focus is soon on receptionists Henrietta and Nan (Aidy Bryant and Kate McKinnon), and their disastrous attempt at creating a slideshow about their passions. One slide is a lot of empty windows with just the word "help" on the screen. One is just the words "corn bread" crossed out. One includes multiple iterations of the name "Carole King," with one picture of Wayne Brady in the corner. And the receptionists are well aware of their failures: They indict themselves as "idiot bitches" while talking about how their husbands tie their shoes in the morning and how they can't effectively wipe their behinds. Neither the slides' modest ridiculousness nor the ladies' self-flagellating can really make this one sing.
Gold Diggers
Three smooth dudes of the mid-'80s — Terry Mack (Elba), Lionel Hodges (Thompson) and Donnell (Redd) — haunt parties that feature a prominent number of WNBA players. Yes, the women's basketball league "changed the gigolo game forever," and now the guys stand in a room and talk about ladies that make a whopping $100,000 a year and whether one particular player has a washer/dryer in the building. Tamika Williams (Jones) is a catch, but she's leaving the party with Trish (McKinnon). She won't even stop when Terry tries to trap her by saying, "You're pregnant, and it's mine!" This sketch has an evocative premise and creates a nice mood, but it doesn't stretch itself very far.
Magic Show
A magician (Elba) laments the fact that his usual assistant "called in pregnant," but invites the casino manager's wife Shia (Jones) to fill in for the evening. Shia's enthusiasm makes her oblivious to the fact she's something of a bigger woman — she stretches out the usual assistant's leotard, still convinced that they're "both size 2." All of the tricks were custom made for another body, so that means Shia has to cram herself into a magic cabinet and is stabbed by a sword during the trick. The casino manager (Thompson) cheers as the duo attempts the Water Tank of Death, but the tank is too tiny to submerge Shia, and the trick is ruined. "I paid you good money to kill my wife!" the casino manager finally admits. Watching Jones do physical bits is always worth it, but it would have been nice if there was a bit more for her to do.
Bok Bok's
At this chicken chain, the food and the deals seem pretty standard, but the chicken mascot (McKinnon) looks uncomfortably like that creepy-ass meme, Momo. No no, the announcer insists, she is not "tempting kids with chicken so she can steal their souls." But the mascot is stuffing fried drumettes into kids' mouths and suddenly appearing in the backseats of cars as they go through the drive-through. The sketch seems predicated on the desire to see McKinnon looking entirely disturbing, and to that end, it works.
Soccer Broadcast
Football commentators Peter Toppam (Day) and Jeremy Feathers (Alex Moffat) are joined by a special guest: injured defender for the Arsenal, Dave "the Bruiser" Kooseman (Elba). Koosman's nickname, "Dumb David," becomes quickly apparent as he draws a dick on the telestrator and talks about how he'd smash his teammate's wife (Gardner) and his teammate's mom (Melissa Villaseñor). After a failed attempt to get Dave to give advice to his own team, the other presenters just give up. Elba plays dumb well, but the package is one-note.
Supportive Friend
Allen (Beck Bennett) and three of his actor pals (Bryant, Moffat, and Strong) commiserate about the ups and downs of auditioning in L.A., waiting for that big break. Another friend Greg (Elba) arrives to announce that he landed the second lead in the new CSI: Memphis. At this, Allen loses his shit. Though he talks a mile a minute, spouting positive ideas that "everything's clicking" and that his "prayers have been answered," it's clear things ain't right. When he excuses himself and stands outside the bar, Allen starts screaming about why it should have been him and, more generally, "somebody love me!" Then he gets goaded into doing some of his best karate moves. Bennett gives a fun performance as an overly positive blowhard, but the sketch finishes in such an awkward way that it must have been cut for time?
There are some sharp sketches tonight, including the look at R. Kelly's TV interview and the takedown of Twitter's callout culture, but otherwise it's a bit of a mixed bag. As long as Update is this week, it reserves some great jokes for each of its segments and once again gets a boost from all of its featured monologists. And while he may not be a revelation as a host, Elba makes it clear that, yes, he can do comedy. During the next live show — March 30 — Sandra Oh will get a chance to make her mark.