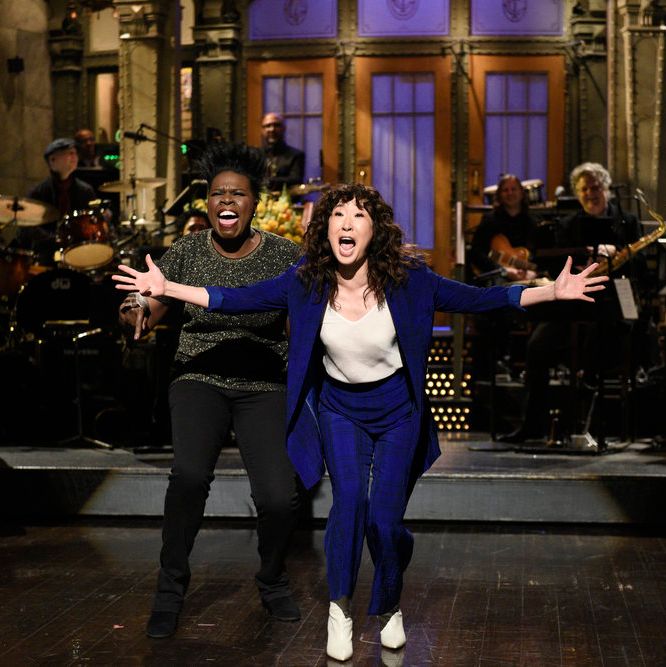 Photo: NBC/Will Heath/NBC
Sandra Oh may not be primarily known for comedy, but she's undoubtedly a comic. Her recent Golden Globes hosting gig (alongside Andy Samberg) brought this into relief, but she's always had the outlook, the timing, and the general willingness to make herself look foolish. Grey's Anatomy fans know that for every Cristina Yang divorce or abortion drama, there was a Cristina Yang bit about missing eyebrows. And, of course, she couldn't pull off Eve in Killing Eve, a series created by Phoebe Waller-Bridge of Fleabag fame, without a beautifully dark sense of humor. This is Oh's first time hosting SNL (which means that, alongside Awkwafina's hosting gig last fall, SNL has upped its Asian-host quotient in any given season by approximately 200 percent), but she approached it with the energy of an old pro.
(As a reminder, we're ranking these sketches in order of excellence.)
Weekend Update
In Update's first half, Colin Jost and Michael Che take on Barr's summary of the Mueller report. Trump's pugilistic response to avoiding charges seems to Jost like Scrooge waking up on Christmas only to take a crowbar to Tiny Tim's legs. Che had high hopes for the report thanks to the "toxic optimism" of white people; that's the kind of optimism that "makes you believe you can get into college because your mom is Aunt Becky." Cecily Strong comes on as loudmouth Fox anchor Jeanine Pirro, who was reinstated this week after being censured for anti-Muslim comments. She thanks her fans, "mean horny men in home hospital beds and white prison gangs who control the remote on Saturdays," and praises Barr's evaluation of the report. Not only was there no collusion, but Trump is a rugged sex god and he's going to create a show starring Roseanne and William Barr. There are also ass-over-teakettle pratfalls. And all of it is great, thanks to Strong's bold and blustery Pirro interpretation.
The second half of Weekend Update looks at everything from the Apple Credit Card to dead zebras. Among the jokes are a good one about a woman with two uteruses who gave birth to twins, less than a month after giving birth to her first child: "This, according to her vagina's suicide note." Che celebrates the tenth anniversary of Grindr, which replaced the "old way of finding discreet gay hookups: church camp." Then Aidy Bryant plays the part of astronaut Anne McClain, who was refused a chance at a space walk because there was only one suit that fit a woman's body — and her fellow astronaut Christina Koch got to go instead. Through forced smiles, McClain confesses that she is "happy as hell" that she even got to "eat all the steak dust and whiz in a tube." Even though there are space suits for dogs and monkeys, she still let loose some happy tears that floated around the capsule for hours after she cried. Bryant is just perfect in this part, carefully articulating one woman's ironic glee.
Mueller Report Cold Open
Robert Mueller (Robert De Niro) alludes to the talking points of his final report, while William Barr (Aidy Bryant) sums them up his way and Trump (Alec Baldwin) tweets reactions. Trump didn't read the report himself, but Sean Hannity "was so excited, he texted me an eggplant." While Mueller remains fairly neutral, Barr introduces a bias that Trump transforms into air horns and threats against Democrats and Puerto Rico. ("I want my paper towels back, amigo.") As far as making the report public, Trump says, "We're gonna black out everything except the words 'no' and 'collusion.'" Rudy Giuliani (Kate McKinnon) arrives to join in the gloating.
Future Self
The self-doubting 15-year-old Trent (Mikey Day) wonders whether things will ever look up for him. In his mirror, he sees a reflection of himself (Alex Moffat) ten years into the future, ripped and happy. His 25-year-old self has muscles, a good job, and a girlfriend. The girlfriend, Tishy (Oh), even shows up. She's got a gaudy cleavage tattoo and a broken arm, guzzles Four Loko, and goes on about her "good goo goo" — which, she insists, is "not what you think." The 15-year-old Trent is gobsmacked. Not even an old classmate (Kyle Mooney) or his 35-year-old self (Beck Bennett) can help him see the value in Tishy. Finally, though, he learns one fact that makes sense. The real gold in this sketch is Tishy, a creepy character to whom Oh completely commits.
Louise's Birthday
In honor of her 85th birthday, the office receptionist Louise (McKinnon) is encouraged by her co-workers (Oh, Bennett, Strong, Day, Kenan Thompson, Heidi Gardner) to ask for something. She shyly requests that two of her co-workers kiss. Or, as Louise mumbles it, "Keeiss." No one wants to cheat on a spouse, but Louise mentions that everyone she knows is dead and that her doctor says she'll die tomorrow. When a couple of co-workers finally go through with it, Louise labels it "not hot." She has a clipboard full of demands including a "six-way Spiderman." The quietly horny Louise is fairly understated for McKinnon, but even the simple little tics reveal this delightful weirdo.
Test Prep
As a classroom prepares for its SAT II, the teacher (Oh) tries to elicit responses from her class (McKinnon, Mooney, and Bryant) about the imagery and symbolism in literary touchstones such as Julius Caesar and Kafka's Metamorphosis. Instead, the kids liken these classics to their own experiences and deliver charged, clichéd speeches about failure and being misunderstood. And, of course, there's romance. A young lady asks her crush, "Remember that night, at the football house, when you showed me what the stars were?" The dialogue is nicely askew throughout; maybe it was penned by "Teacher Fell Down" writer Alison Gates? In any case, it's a well-written and well-played oddball ten-to-one sketch.
Cheques
Sure, Venmo and Apple Pay make transferring money easy, but what about the good old days of writing paper checks? This commercial offers several occasions on which checks make the best prop: "Making him leave your daughter," and "Buying poison," for instance. All of the dramatic highs and annoying lows are worth considering, as well as check designs of Daffy Duck and baseball. It's a bit of instant camp, and while not every laugh line hits, it's loopy and refreshing and has great style. Best guess: It's a Julio Torres.
Network Meeting
Jussie Smollett (Chris Redd) can't get it right. Even after his exoneration in the courts, he shows up late to a meeting with his agent (Oh), Empire co-creator Lee Daniels (Thompson), and other show personnel (Kate McKinnon, Mikey Day). The disheveled Smollett wears a MAGA hat and swears they "are not going to believe what just happened." The others try to stop what's coming, but Smollett has a plastic bag full of "clues" about his new supposed attacker. In the bag: Crest Whitestrips, three big red K's, and a Teletubby doll — "the gay one." It's a sad display, one his agent and the others can't countenance. Smollett tries to turn the tide by leaving and reentering with a neck brace. Points to SNL for taking on a sticky subject, though the take here feels a bit broad.
The Duel
This filmed period piece considers the plight of a woman (Oh) who has beguiled both Mr. Everly and Mr. Atherton (Pete Davidson and Beck Bennett) but "cannot bear to see either of you suffer." As men prepare to duel with pistols, and their intermediary explains the rules, Mr. Everly fires early. The bullet ricochets off of a statue and hits the object of his affections in the arm. She begs them not to worry about her, but this terrible luck continues as the guys get trigger happy. The woman is shot in both arms, the torso and loses some fingers — for a start. Oh plays a great maiden, and the silliness is good, but it feels grislier than it is funny.
Discover Card
A couple (Ego Nwodim and Kenan Thompson) call Discover customer service in order to make sense of some weird charges on their card. The wife tells her husband it isn't machines on the other end, but "real people who are just like you." That may be true, but the operators on the other end are look-alikes wearing red, speaking in creepy voices, and may have used the credit cards to buy items including motorcycle gloves and giant scissors. "While you go on vacation," the service rep tells her doppelgänger, "I sit in a cave." Anyone who hasn't seen Jordan Peele's Us yet will get the drift. It's a fun contextual shift for the movie's terrors, but it only goes so far.
Sandra Oh Monologue
Oh is Canadian and Asian. The former means it is hard for her to accept compliments and the latter indicates she is a "master of deflecting praise." As it is her first anniversary of becoming an American citizen, she wants to toot her own horn and enlists the help of Leslie Jones to make sure it happens. Jones tells her she should celebrate, that America does great things for people. ("Look at Drake — in Canada, he was in a wheelchair.") "It's not about the brag," Jones tells Oh, "It's about the swag." Oh makes it work. It's a simple intro, but one that has a nice little arc to it.
Kremlin Meeting
Vladimir Putin (Bennet) sits with Russian military leaders and diplomats (Day, Moffat, Strong) in the Kremlin to discuss the findings of the Mueller report. If there was no collusion, is Putin actually powerful? The Russian president tries to address his staff's doubts, but their illusions are crumbling. The idea that an American president could be a KGB agent, it seems to them like the plot of an '80s movie. Then Kim Jong-un (SNL writer Bowen Yang) drops in with an interpreter (Oh) to question Putin's influence. "I'm still a powerful, scary guy," Putin says, but it isn't until he delivers some over-the-top threats that his fans feel at ease. While it's has a smart premise, this feels like a cold open that wasn't quite good enough to make the cut.
Electric Shoes
PBS series Roots of Rock, hosted by Lyle Woods (Mooney), unveils footage of famous blues musician Jarvis Fillmore (Thompson) on a long-lost episode of a British variety show. Fillmore finishes his jam, "Electric Shoes," and scuttles off the stage — only to immediately return for a reprise. The same thing happens again. And then again. And again. Even the other musician with whom Fillmore shares a bill (Jones) can't get any stage time. According to Woods, Fillmore played 17 encores before "blowing out one of his balls." Thompson is all joy and high energy, of course, but this sketch is more fun than funny.
For this week's show, Oh had no trouble at all indulging and amplifying her comic instincts. She had several fun features, including a prim Victorian lady and that sloppy wreck of a woman, Tishy. While political bits did fine, they were not particularly remarkable. Some of the most interesting sketches leaned toward the weird — including the dramatic Test Prep and the campy Cheques — and, of course, a sketch with McKinnon as a horny octogenarian isn't likely to fail. Though there were lackluster sketches, it stayed fairly consistent. Next week, ol' Jon Snow (Kit Harington) will surely talk dragons and winter from the stage at 8H.