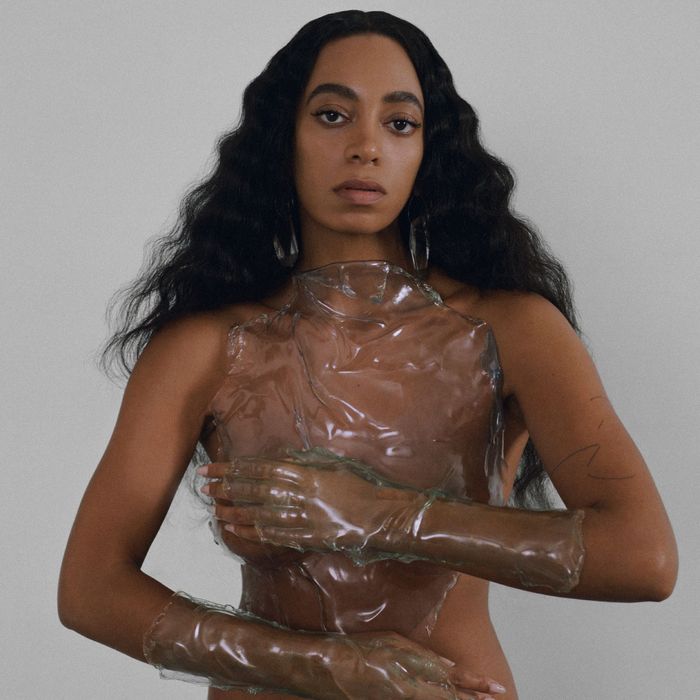 Solange.
Photo: Black Planet
Before we get to hear one of the best songs on Solange's new album, When I Get Home, the artist sets her terms: "Fuck these ho ass niggas," a voice declares. (Let me go on the record here: yes.) "They all be talkin', they all be sayin' shit." Another clearer voice clarifies: "Do nothing without intention." It's a refrain my own mom has repeated — sometimes with tenderness, and sometimes to scold me — often: Everything matters; everything should mean something. And then Solange gives us her the-Dream and Playboi Carti collaboration, "Almeda."
The first lines are delivered like an incantation: "Brown liquor, brown liquor / Brown skin, brown face / Brown leather, brown sugar / Brown leaves, brown keys / Brown zippers, brown face / Black skin, black braids / Black waves, black days," she says. "Black baes, black days / These are black-owned things / Black faith still can't be washed away." I can't wait to scream this in the club. I can't wait to yell this with my friends. I can't wait to raise my voice in my group text: BLACK SKIN, BLACK BRAIDS!" These words are mantras, Instagram captions, and promises. They feel like prayers. "Black faith still can't be washed away," she says. "Not even in that Florida water." Florida water — a spiritual and physical salve. When rapper Playboi Carti comes in, he has some contributions of his own: "Black skin, Black Benz, black plays / Black molasses, blackberry the masses."
So let me tell you what happens when I press play on this Solange song, "Almeda." The calluses strip themselves from my feet. That icy spot that I always slip on, the one on the threshold of my apartment door? It behaves. Last night I went to bed with a zit. This morning when I woke up it was nearly gone. Bradley Cooper released a longer cut of A Star Is Born. The yee-haw agenda is rising, and winning. I want to get married so I can play "Almeda" at my wedding. When I die, play "Almeda" at my funeral. I'm turning this in late to my editor because I'm playing "Almeda" too loud in my room. When I Get Home has other true gems — "Sound of Rain," "Down With the Clique" — but "Almeda" plays with a special alchemy of everything that feels banal, but special. Brown skin, black braids, brown liquor — sip, sip, sip.
Solange's last album, A Seat at the Table, is still in heavy rotation in my life. That's an album about healing, blending the personal and the political to repair the fissures in our own lives. Between that album and this one, Solange was honored at the 70th Annual Parsons Benefit Gala in New York City. At some point during the night, she and some friends (including fellow goddess Kelela) hopped atop their Hummer limo and twerked together. It's an indelible image: Solo waves her arms around, steadies herself on a friend, and drops it low. That's "Almeda," for me. This is music to stand on top of a Hummer limo and celebrate to.