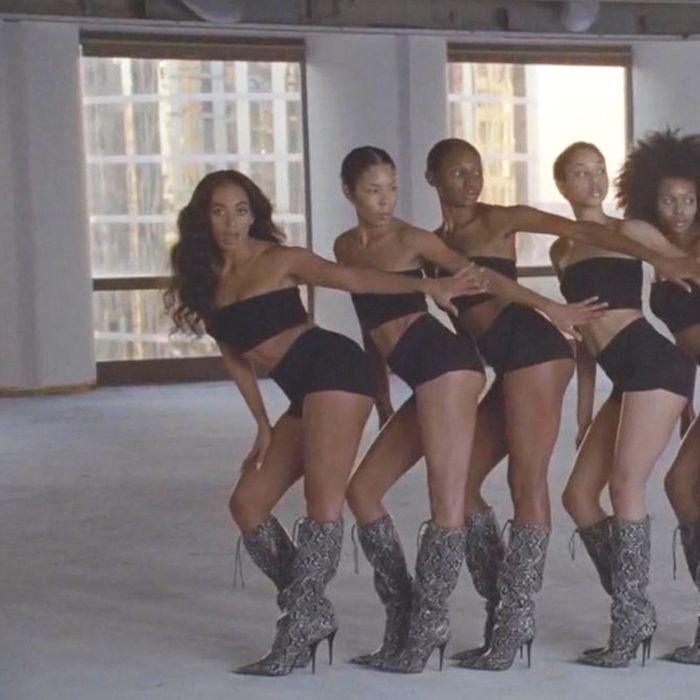 Solange.
Photo: Solange Knowles
With her deeply meaningful 2016 album A Seat at the Table, a record that captured the realities of existing as a black woman in a society that consistently and unforgivingly comes down on them, Solange Knowles turned her pain into an embodiment of beauty — an album of elegance and actualized artistic vision. On her flash-released follow up When I Get Home, which arrived on March 1 with little notice, she explored what it means to be a black woman in relation to Houston, the city in which she was raised and that she revisits as a way of understanding the woman she's become. She does so without the crystallized focus and manicured songwriting of its predecessor, to great effect: When I Get Home is a mosaic of ideas and inspirations, strung together over 19 tracks. For the set, she returned to previous collaborators, including Pharrell Williams, John Carroll Kirby and Raphael Saadiq, and welcomed inspiration from Stevie Wonder, Sun Ra, and Alice Coltrane. Listeners open to exploring the lineage of the album will find a vast musical world well worth exploring.
Stevie Wonder, Innervisions
The abundant social-media comparisons to Wonder's genius stretch of albums released between 1972 and 1976 are fitting. Just prior to the run that culminated in the career-defining Songs in the Key of Life, Wonder had renegotiated his deal with Motown to allow complete creative freedom in an unprecedented agreement that spawned some of the most essential music of our time. Unencumbered by artistic restrictions herself, Solange said that When I Get Home is inspired specifically by a record just outside of that time frame — she pointed to 1979's sprawling Journey Through the Secret Life of Plants — but the burly synthesizers that thread throughout the record recall that of Innervisions, with touches of the experimental jazz-leaning arrangements of Fulfillingness' First Finale. From the opening notes of "Things I Imagined" to the sour bass notes punctuating "Jerrod," Wonder's manifestation lives like a shadow throughout.
Raphael Saadiq, Instant Vintage
Saadiq is a soul and R&B veteran, and it's only fitting that he appears in the liner notes for playing bass on "Dreams." His presence on A Seat at the Table was far more significant — he served as an executive producer — and while his contribution to When I Get Home is certainly understated, it harnesses the same nostalgic crackle of his 2002 solo album Instant Vintage, a record that got somewhat lost amid the neo-soul burnout but stands as one of the era's most enduring.
Erykah Badu, New Amerykah Part One (Fourth World War)

A consistent force in melting down the conventions of R&B and soul, Badu followed the trippy, legs-stretched Worldwide Underground EP with the mind-warping New Amerykah Part One (Fourth World War), a political project that paid little mind to song structure or traditional track length. It's hard not to notice the similarities: On the interlude "Can I Hold the Mic," Solange speaks as background keys trace her vocals in rhythm and time, just as a trumpet did with Badu at the end of "Me."
N.E.R.D., In Search Of …

Alongside Chad Hugo and Shay Haley, Pharrell Williams helped actualize the mainstream potential of a hip-hop band with their project N.E.R.D. (The Roots, of course, were the foremost pioneers of this movement.) Williams worked with Solange as far back as her 2003 debut Solo Star, but they didn't seem to find their groove until he helmed the doo-wop-indebted "I Decided, Part 1," the lead single off her impeccable breakthrough, 2008's Sol-Angel and the Hadley St. Dreams. Williams returns for standout "Almeda" and "Sound of Rain," and while the relation between N.E.R.D.'s seminal In Search Of … is tenuous, it certainly feels like a loose blueprint for the analog feel of When I Get Home.
Tyler, the Creator, Flower Boy
The former Odd Future front man has been a Pharrell acolyte since the beginning of his career, and you can hear it in his production. Flower Boy (2017) leans heavily on seventh chords and synths that could easily be sourced from a Neptunes sample pack. He graces three tracks on When I Get Home, supplying vocals on "Time (Is)" and "Down With the Clique" (he plays keys on the latter). He also serves as a co-producer on "My Skin My Logo," which touts a bass-plucked backing that wouldn't feel out of place on one of his records.
Standing on the Corner, Red Burns
Brooklyn group Standing on the Corner plays a significant role on When I Get Home, lending production to four of its interludes and the disorienting, time-signature-shifting "Down With the Clique." Some of the art-house veneer of When I Get Home can be traced to the psych-jazz and free-associative nature of their 2017 album Red Burns, which plays like it exploded out of a tab of acid.
Blood Orange, Negro Swan
The working relationship between Blood Orange (a.k.a. Devonte Hynes) and Solange reaches back to the latter's career-turning True EP, which was released in 2012 and revealed her more progressive side. Hynes, who joined Sampha, Kelsey Lu, and Master P on A Seat at the Table's "Interlude: This Moment," has centered many of his projects on the struggles of the black experience, notably about black depression on last year's Negro Swan, which carries a similar fluidity to When I Get Home.
Family Circle, The Family Circle

When I Get Home invokes the Delfonics–adjacent stylings of Family Circle on "Exit Scott (Interlude)," which samples the stacked vocals of "I Hope You Really Love Me" that opened their 1973 album The Family Circle. The set, reissued by soul revivalists Numero Group in 2014, is an unsurprising source for Solange, whose appreciation for the classics has rung true through her discography.
John Carroll Kirby, Travel
Los Angeles–based composer, producer, and keyboardist John Carroll Kirby, who appears on A Seat at the Table, also plays a pivotal role in When I Get Home. He's involved in 9 of the album's 19 tracks. His fingerprints are everywhere: from the swoon of the Moog on "Dreams" to the glassy keys humming on "Beltway." Travel, the first of two solo albums to Kirby's name, is an instrumental odyssey with a gently trotting gait that recalls his work on Home, placid as a casual listen with much more beneath the surface.
Earl Sweatshirt, Some Rap Songs
Sweatshirt sorted through trauma and loss on his 2018 album Some Rap Songs, praised for its frayed edges and scattershot sound. He also explained that the record was intended for black listeners: "It's for a specific equation," he explained. His perspective lends itself to When I Get Home, a record about being black in relation to the space in which it exists, and also touts him as co-producer on the meditatively nostalgic "Dreams."
Alice Coltrane, Journey in Satchidananda
In the wake of her husband John Coltrane's death, Alice Coltrane evoked styles and sounds endemic to Africa and India for Journey in Satchidananda, which was released in 1971. The avant-garde elements to the five-track record are grounded by Coltrane's ebullient, arpeggiating harp strums, which dart in and out of time signature as Pharoah Sanders' soprano saxophone plays against it. As challenging as it may seem, it radiates pleasantry and calmness at every turn. Solange mentioned that she listened to Coltrane surrounding the making of When I Get Home, and it shows.
Madvillain, Madvillainy
The comparisons to Madvillain's attention-deficit masterpiece Madvillainy rolled in following the release of When I Get Home with good measure. MF DOOM and Madlib built a world unto itself, strung together with loosely formed and individually strong ideas pieced through found audio and oftentimes frenzied production topped with rhymes that often ran off the runway of the time signatures. (J Dilla's Donuts exists in this world, too.) It's in the DNA of Solange's latest, which opts for mood and vibe over fully formed, conventionally arranged songs.
Amel Larrieux, Morning
There's a distinct parallel between Solange and Amel Larrieux, formerly one half of '90s R&B duo Groove Theory and a neo-souldier turned reinventive R&B scion. It lies in the aesthetic of the music itself: fluttering vocals matched with arrangements that, while often spare, carry depth and warmth. Morning, Larrieux's third solo album that released in 2006, aligns most with When I Get Home not just in the casual approach and insular vibe they inhabit — both albums are testaments to their shared ability to transmute R&B conventions while striking new ground.
Sun Ra, Sleeping Beauty

Solange credited Sun Ra as one of the main artistic sources for When I Get Home, and while it's hard to discern where exactly her record falls on the sprawling experimental jazz musician's discography spectrum, the compass points to 1979's Sleeping Beauty, one of his most textured and readily accessible releases. From the hymnal singing, handclaps and velveteen keys that start off "Door of Cosmos," its presence is felt on tracks like "Exit Scott (Interlude)" and the ambling "Down With the Clique."